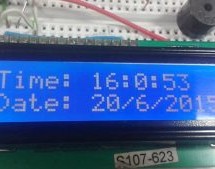 This Arduino based Real time clock is a digital clock to display real time using a RTC IC DS1307 which works on I2C protocol. Real time clock means it runs even after power failure. When power is reconnected, it displays the real time irespective to the time and duration it was in off state. In this project we have used a 16x2 LCD module to display the time in - (hour, minute, seconds, d ...
Read more

›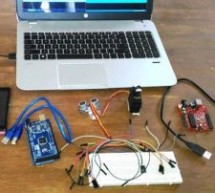 This is an interesting project in which we explore the power of an Arduino and Android to create a Surveillance device which uses Arduino and Ultra Sonic Sensor to broadcast the information to a mobile application (Android) using Bluetooth. Safety and Security has been our primary concern since ages. Installing a security camera that has night mode with tilt and pan option will burn a big hole on our pocket ...
Read more

›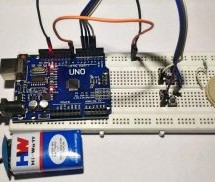 Arduino is an excellent way to simplify and speed up your microcontroller projects, thanks to its community of developers who have made almost everything look simple. There are lots of Arduino Projects out here for you to try and have fun. Some of your projects might need some sounds action to notify about something or just to impress the viewers. What if I told you that almost any theme songs that cou ...
Read more

›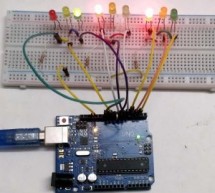 We all know about Arduino. It is one of the most popular open source micro controller board which is highly useful for doing DIY projects. This Arduino based 3-Way Traffic Light Controller is a simple Arduino DIY project which is useful to understand the working of traffic lights which we see around us. We have covered a more simpler version of traffic lights in this traffic light circuit. Here h ...
Read more

›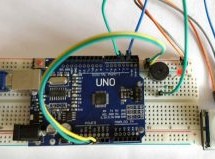 Detecting motions or movements has always been important in most projects. With the help of the PIR Sensor it has become very easy to detect human/animal movements. In this project we will learn how we can interface a PIR Sensor with a microcontroller like Arduino. We will interface an Arduino with PIR module and blink a LED and beep a Buzzer whenever a movement is detected. The following components will be ...
Read more

›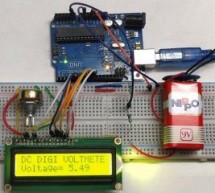 With a simple knowledge of Arduino and Voltage Divider Circuit, we can turn the Arduino into Digital Voltmeter and can measure the input voltage using Arduino and a 16x2 LCD display. Arduino has several analog input pins that connect to an Analog-to-Digital converter (ADC) inside the Arduino. The Arduino ADC is a ten-bit converter, means that the output value will range from 0 to 1023. We will obtain this v ...
Read more

›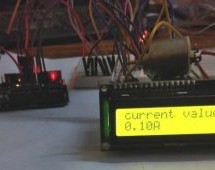 Ammeter is used to measure current flow through any load or device. Here in this Arduino Ammeter, we will explain about measuring of current by using ohm's law. It will be quite interesting as well as a good application of basic science that we studied in our school days. All of us are well known of ohm's law, It states that "the potential difference between two poles or terminals of an conductor is directl ...
Read more

›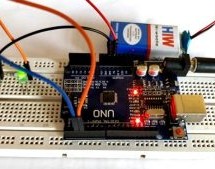 Sensors have always been a vital component in any Project. These are the ones which convert the real real-time environmental data into digital/variable data so that it can be processed by electronics. There are many different types of sensors available in the market and you can select one based on your requirements. In this project we will learn how to use a Hall sensor a.k.a Hall effect sensor with Arduino ...
Read more

›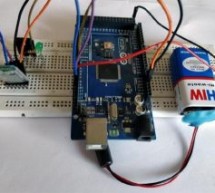 In today's modern world, where ever we go we have lots of electronic devices around us. But, out of all, there is only one device that we personally have in our pockets all the time. Yes, it is our mobile phones. Now Mobile phones have become more than a device used for communication, they are our cameras, they are our maps, they are our shopping karts and what not? With this capability in our hands, it is ...
Read more

›
We have been having some condensation and mould issues in our apartment recently due to, I think, the humidity levels. Our property is relatively newly built and, as such, has very good insulation properties (double glazed windows etc.). The side effect of this is that there is very little ventilation and therefore humidity rises over a period of time and water then condensates on windows causing puddles on ...
Read more

›
In this project we are going to establish a wireless communication between two ESPs and send data from three sensors to an Excel spreadsheet. This tutorial shows a wireless weather station with data logging that you can implement in your home. Before you continue reading this project, please complete the following tutorials: How to get started with the ESP8266 How to make two ESP8266 talk How to ...
Read more

›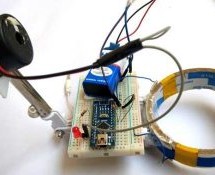 Metal Detector is a security device which is used for detecting metals which can be harmful, at various places like Airports, shopping malls, cinemas etc. Previously we have made a very simple Metal detector without a microcontroller, now we are building the Metal Detector using Arduino. In this project, we are going to use a coil and capacitor which will be responsible for the detection of metals. Here we ...
Read more

›