I wanted to make it possible to control an arduino board from my phone. So that I could control other devices. the easiest way seemed to be using bluetooth. but when I received the parts needed I found it want quite as simple as I had hoped. And after looking on the Internet I didn't find much information to help. so I have decided to write this guide to help other people that are thinking of doing the same ...
Read more

›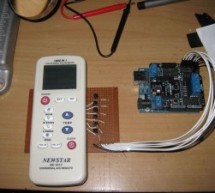 I was supporting a group of student on their graduation project. One of the difficulties they faced was on controlling an A/C unit with Arduino microcontroller. The first experiment we tried to work it out was by record the A/C remote control beam signal for each needed button by using the IRrecvDump code with IRremote library for Arduino (https://github.com/shirriff/Arduino-IRremote). Then, use these signa ...
Read more

›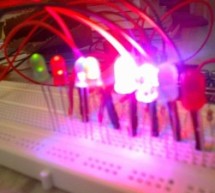 hey guys this is my first arduino project  plz  comment how u feel. Step 1: Things u need As this is easy project for beginner's so parts are also simple Parts: 1- Arduino uno or any other board will work 1-Beardboard 9- jumper wires or wires will also do 8 -leds any color u like i used 3 red, 3 green and 2 blue 8- 1k resistors Step 2: Placing the leds and wiring In this step u have to place the leds on the ...
Read more

›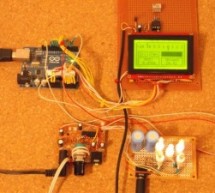 ow my Arduino can precisely measure audio input (VU meter),   and obviously, next thing that comes to mind right after measurements, is regulation or control. There are many different ways how to electronically adjust audio volume or level of AC signal.  I'll name a few: Specifically design IC, Digital potentiometers. Mechanical potentiometers, driven by servo / motors. Vacuum tubes amplifiers in "variable- ...
Read more

›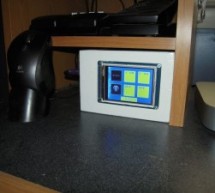 Hey everyone, I finally finished my touch panel for my bedroom wall and am here to show you how i made it. Unfortunately its not installed in my wall yet as I might be moving and don't want to make anymore holes in my walls, but its coming with me and has already proven itself very useful in the state it is in. Overview - Infrared control of TV * Power Toggle * Volume Control * Mute * Input - RF controlled ...
Read more

›
In this Instructable, I will step through controlling the temperature of most kitchen appliances. As an example, I will use an old Westbend Poppery popcorn maker (aka. coffee roaster), but these same techniques will be applicable to most hot plates, coffee makers, and waffle irons. This instructable puts you at risk of electrocuting or burning yourself. I will do my best to point out potential pitfalls, but ...
Read more

›