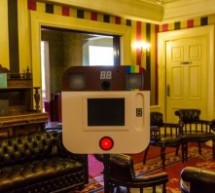 I decided to build a simple photo-booth as a fun addition for events, this goes through the basic steps of how i went from a few pieces of wood to a fully functional booth. I have also included a photo of what the images look like! Step 1: Cutting Wood Square sheet of MDF, 600mm x 600mm with a Red Dome Push Button recessed at the bottom. Step 2: Access Holes Holes were then cut out for camera lens and tv mo ...
Read more

›
Following the instructable here, I was able to turn an old digital camera into a time lapse camera using an arduino, a relay, and an open source software program called makeAVI (windows). To modify the camera I disassembled the camera cover and removed the button that activates the shutter. It is difficult to tell from the picture, but pressing the shutter button pushes two copper terminals together sending ...
Read more

›
My recent arduino project was to build thermal camera on the cheap using an ir sensor and some pan/tilt hardware. If you look at the device picture to the left there is also acoustic range finder mounted to the top. The device works by sweeping a grid of points and assembles the image piecewise. The output consists of two images: 1) an acoustic images which tells the distance to the objects in view and 2) a ...
Read more

›