Designed for use in Advanced Robotics and Drones, Premium Camera Applications, Artificial Intelligence Platforms, and other Cutting-edge IoT Devices.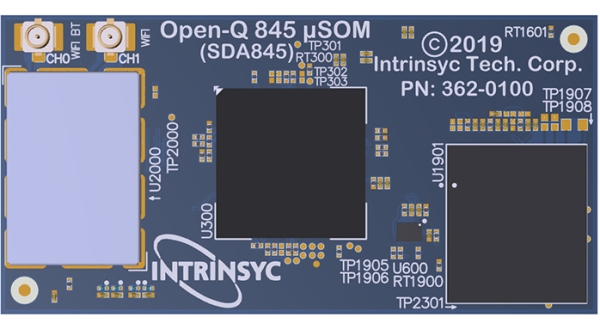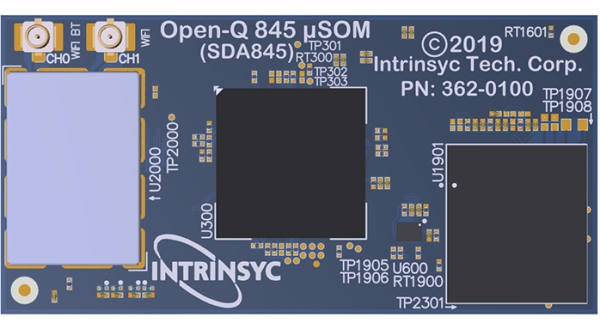 Intrinsyc Technologies Corporation, a leading provider of solutions for the development and production of embedded and Internet of Things (IoT) products, today announced the Open-Q™ 845 µSOM (micro System on Module) and Development Kit, to be available in the fourth quarter of 2019.
The Open-Q™ 845 µSOM is the latest product in the evolution of Intrinsyc's µSOM computing module series. It is an ultra-compact (50mm x 25mm), production-ready embedded module, ideal for powering the most advanced robotics, drones, cameras, and embedded IoT devices requiring the latest on-device AI powers. Featuring the Qualcomm® SDA845 system on chip (SoC) from Qualcomm Technologies, Inc., the 845 µSOM integrates many new features and capabilities in the same small form-factor:
Higher performing Octa-core CPU – up to 2.6GHz on Gold cores
New hardware-based security layers for vault-like defense
Third generation Qualcomm® AI platform for immersive, on-device intelligence
Four camera ports with flexible configurations supports up to 7 cameras
New camera architecture for cinema grade video capture
DisplayPort 4K60 via USB Type-C with USB super-speed data concurrency
Additional USB3.1 port for device connectivity while using DisplayPort
Gen3 PCIe interface.
This powerful new hardware platform will be supported by your choice of full-featured Android 9 or Yocto Linux operating systems, with plans for offering Android 10 by Q2 next year. The Android 9 operating system will be shipped on the development kit and is an ideal starting point for evaluation of the SOM and to kick-start your product development. If you prefer a Linux OS, that will be available to download from Intrinsyc and program onto your development kit. Full software documentation will also be included with purchase of the development kit.
Read more: INTRINSYC ANNOUNCES NEW PREMIUM-TIER SYSTEM ON MODULE BASED ON QUALCOMM TECHNOLOGIES' SDA845 SYSTEM ON CHIP