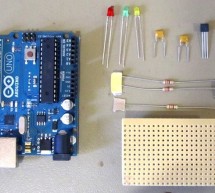 In this Arduino project, you will build a small shield that measures temperature and will switch on one of three LEDs depending on the current temperature measurement. Each LED can be set to switch on in a predefined temperature range. The PC software for the project is written in the Processing language and displays the current temperature, temperature history on a graph and the status of the three LEDs on ...
Read more

›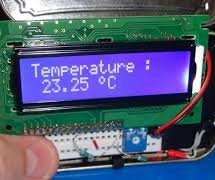 As part of the CanSat Primary Mission, we need to measure temperature.  For this our starter kit has given us an Arduino Uno R3 micro-controller, as well as some resistors and an NTCLE101E3 NTC Thermistor. The thermistor is a special kind of resistor that changes its resistance with temperature.  In our case we have an NTC, or Negative Thermal Coefficient thermistor.  This is just engineering speak for "the ...
Read more

›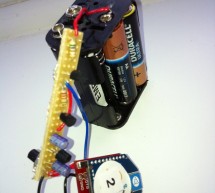 My wireless temperature probes work by using an Xbee module to transmit readings from a TMP36 down to the Arduino base station. The XBees aren't too cheap, coming in around £19 or $23 so I tried to be cheap and ordered mine from Sparkfun, I bought this XBee (series 1) with Chip Antenna and these breakout boards. I was intending to solder the module directly onto the board and didn't take notice of what Spar ...
Read more

›

In this project, we will demonstrate how to build temperature sensor circuit using a LM35 sensor. As a temperature sensor, the circuit will read the temperature of the surrounding environment and relay thi temperature to us back in degrees celsius. The IC we will use to measure the temperature is the LM35 IC. We will integrate this with the arduino to measure the temperature. The arduino will then read this ...
Read more

›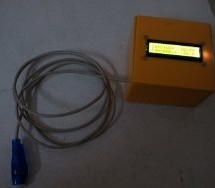 Contents 1 Introduction 2 Components Used 3 Description 4 Idea 5 Plan Of Action 6 1st week: 7 2nd week: 8 3rd week: 9 4th week 10 5th week 11 Expenses(In Rupees) 12 Videos, Photos 13 Code 14 Team Members 15 Resources: Introduction Temperature is the most frequently measured physical quantity, second only to time. Our idea is to make a non contact digital thermometer which is much faster than contact thermom ...
Read more

›
Web site: http://www.icstation.com/product_info.php?products_id=3517 Project Summary: To help electronic DIY hobbyists, will show you how to use Temperature Detecting Heating Control System with Arduino Mega2560. Full Project: The temperature detecting heating control system works with DC5V voltage. This system uses DS18B20 temperature detection chip as the external detection equipment. It works according t ...
Read more

›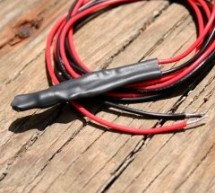 You are building a soil temperature sensor. We need a waterproof thermometer that we can burry in the soil. The sensor is made up of a small circuit enclosed in a piece of heat shrink (to waterproof it). Supplies: (see the parts page) an LM335 temperature sensor a 33K and a 56K resistor a short piece of glue-lined heat-shrink tubing soldering iron and solder lead wires The circuit for the actual sensor This ...
Read more

›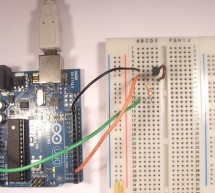 The one wire Digital Temperature Sensor - DS18B20 from Maxim (formerly Dallas) is a great chip for measuring temperature in your projects. Luckily, there is a Dallas Temperature library for the arduino which makes using this sensor very easy. The most recent version of this library can be found at http://www.milesburton.com/?title=Dallas_Temperature_Control_Library We used version 3.6.0 for this tutorial wh ...
Read more

›
One of the goals of Movable Party is to provide an interactive experience for audiences/participants. Since power will be generated from a hub motor attached to the rear wheel of each bike (see this post), the speed of the rear wheel directly translates to the amount of power generated. Detecting how fast the rear wheel is moving thus seems like the most obvious/important piece of data to capture from these ...
Read more

›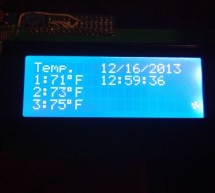 Another project I'm working on required a good timer, but the more I read about Arduino, I realized that I couldn't make an accurate timer using an Arduino that was already devoted to other tasks. The Arduino will always lose time if you perform other tasks. The solution was a Real Time Clock module that keeps perfect time and has a battery backup so it won't reset if the Arduino loses power. I like to make ...
Read more

›
As per an assignment in my digital multi-media class, I've combined two Arduino-related tutorials into a functional object! The result is a pair of infinity mirrors that flash red and blue depending on minute fluctuations in ambient temperature. This is my first experience with Arduino, and my first attempt at building an electronic device from scratch—that is to say, there's lots of rough edges and things ...
Read more

›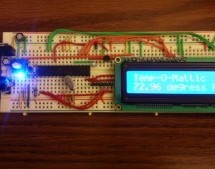 I have loved making projects with Arduinos, but at $30 a piece your projects can get expensive. So I want to show you how you can make your own Arduino from scratch and save money doing it. Make your own Arduino for around $8. For this instructable I show you how to make one on a breadboard and with it make a digital thermometer. Step 1: Parts you need for the Arduino: Full Size Breadboard ($8 adafruit.com) ...
Read more

›