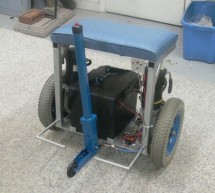 You are never to old to learn and try new things. I think one of the best days in my life was the day I discovered the Instructables web site. It opened up a whole new world to me. This is my third instructable . I really enjoy building anything that I can ride on or get in to. I bought an Arduino Uno and was planning on building a balancing Robot. I was really impressed with the Balancing Skate Board that ...
Read more

›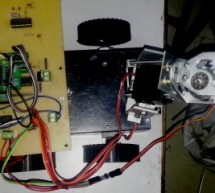 Most of industrial robots are still programmed using the typical teaching process, through the use of the robot teach pendant. In this paper is proposed an accelerometer-based system to control an industrial robot using two low-cost and small 3-axis wireless accelerometers. These accelerometers are attached to the human arms, capturing its behavior (gestures and postures). An Artificial Neural Network (ANN) ...
Read more

›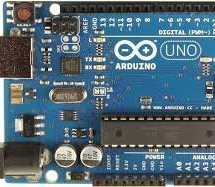 In this proposed system we going to construct a basic DC motored robot which we are going to control with android app easily available on google play store named bluecontrol. With Basic mobility of robot like forward, Reverse, left, right we try to implement four more functions like light turn on and off, horn (Buzzer) turn on and off and so on. What we need 1) Bluetooth Module HC 05: A core element of our ...
Read more

›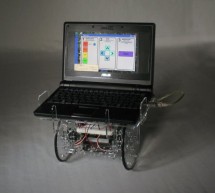 This Instructable will show you how to build your own Web Connected Robot (using an Arduino micro-controller and Asus eee pc). Why would you want a Web Connected Robot? To play with of course. Drive your robot from across the room or across the country, using nothing more than Skype and a web browser (nothing to install on the controlling computer). After that? Dig into the software & adapt it however y ...
Read more

›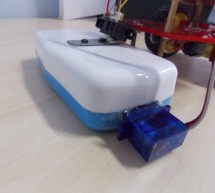 This is a cleaner robot so you can give to your mommy or just use to clean your bedroom =P. Material List: 1x Arduino UNO R3 1x Magician Chassis 1x Shield Motor Driver (Shield 4Power) 1x Distance Sensor 1x Servomotor 1x Hand Sweeper 1x Battery 1. How it works When the robot is on, it moves forward and rotates the hand sweeper (for cleaning). If the sensor detects a wall in front of it, the robot will turn t ...
Read more

›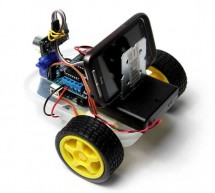 You'll need these: HC-SR04 – Get this ultrasonic sensor from eBay.com.au for $2. SG90 Servo Motor – We've seen this servo selling for around $4 on ebay. Motor drive shield – You can get this expansion board for $5 online. If you're new to APC we've been spending the last few months of this Masterclass looking at how to use the low-cost Arduino microcontroller in the real world. These little 8-bit controller ...
Read more

›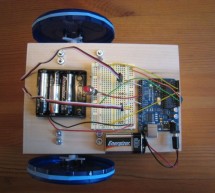 The purpose of this project is to design and build a simple light-following robot using an Arduino Duemilanove microcontroller board. I really wanted to share a robot project that was cheap, simple to build, and had a complete set of instructions for all of the different steps. I hope I've succeeded and I'd love to get comments about making this instructable even better. The design of this robot focused aro ...
Read more

›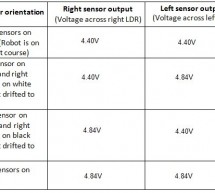 A line follower robot using 8051 microcontroller is already published here and this time the same thing is done using  arduino. This line follower robot is basically designed to follow a black line on a white surface. Any way the same project can be used to follow the opposite configuration with appropriate changes in the software. The entire hardware of this simple line follower robot using arduino can be ...
Read more

›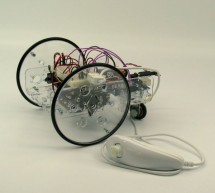 After wearing myself out playing Wii Boxing I got to thinking wouldn't it be great if I could use this to control my robot, (looking to my left hand). Looking around the internet I found a bevy of people doing similar things, (links to everyone just below the video). So what follows is a re-packaging of all their hard work, resulting in a robot controllable by both the Wii nunchuck's joystick or more intere ...
Read more

›
I created this Instructable for the absolute n00by robot wannabe. I have noticed a huge jump in the number of beginners getting into the hobby and the number of "how do I" questions seem to be mounting. Maybe this humble little Instructable will help one or two create their first robot. You will find basic source code at the end of this Instructable. Don't panic at the number of steps... I broke the robot d ...
Read more

›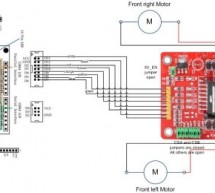 I have created this wiring diagram for the connections between the motor controller, motors, and sensor shield. I'll update it later to include other components. And here is an update that includes the servo motor and the range sensor. And here are the detailed pin assignments for all modules: PIN ASSIGNMENT Arduino Pin Description Motor Controller Range Sensor Servo Motor Line Detector Bluetooth Module VCC ...
Read more

›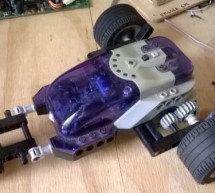 A friend gave me his old Lego Spybotics robot, however, the programming environment that goes along with it is a bit too orientated to the younger user. So why not control it using an Arduino? Step 1: Open up! In order to get this robot moving, we need to borrow its motors. There are two DC motors in the robot. This is great, because we can control them independently, allowing forward, backwards and turning ...
Read more

›