Old cellphones are easy to acquire and they have built in lithium charging circuitry. What a wonderful base for a power supply for small mobile things. I hooked up a cellphone to the arduino with the ability to charge the cellphone when you plug the arduino into the usb port. Please note that this was just a quick rig and as i did not have the correct screwdrivers, does not involve taking apart the cellphon ...
Read more

›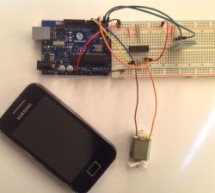 Hi guys, In this project we will control a DC motor with a smartphone via bluetooth. This project is great to learn more about: -DC motor -Interfacing Arduino with your smartphone -Bluetooth module -L293D you can visit my website for more electronic projects, interesting news and tips: http://randomnerdtutorials.wordpress.com/ Step 2: Schematics and common mistakes Two common mistakes: -You need to remove t ...
Read more

›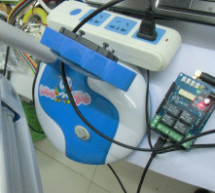 Remote control, especially when this no ethernet or Wifi in the outdoor, has been a very profound things in the past. When I was a child, I always image that I have an equipment which can control all home appliances. Now, this becomes a reality,with Arduino and GPRS modules and some other related modules. And, it is also quite easy, even for the beginners. Here I will step by step to show you how to remote ...
Read more

›
This is a very low cost and simple Arduino GSM and GPRS shield. We use the module SIMCom SIM900 . It's the cheaper module now avalaible in the market. The module is not simple to mount by an hobbyst, so we use the Breakboard TDGGSM_900 that we presented here . You can buy the GSM module premounted here . This is the GSM_shield library documentation: Here is a GSM_shield Library intended for GSM Shiel ...
Read more

›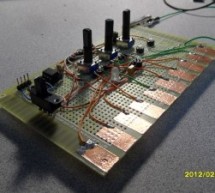 I originally wanted to purchase a Nebulophone but, my El-Cheapo price range didn't like the tag. I realized that I could program my own AtMega 328 by using ArduinoISP Then I found out that if the code was Arduino compatible, why not just use the Arduino as a Nebulophone? Well it was kind of a waste of Arduino but at least I could simplify circuitry. I recently built my DoAnything Shield and could now have a ...
Read more

›
Hi guys, I am Robin, one of the developers of Annikken Andee. Just a few weeks back we were invited to be a part of Arduino Day Singapore 2014. On the day of the event, we showcased a missile-firing lego-crushing smartphone controlled Tank built using our Annikken Andee. It was a big hit with our audience and many of them has enquired on the making of the Tank. We wanted to share our Tank making knowledge t ...
Read more

›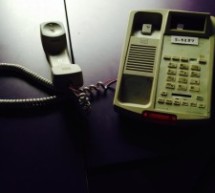 Unfortunately, due to my need to reclaim my arduino and breadboards, we don't have photographic documentation of our circuit. However, the structure of it was rather self-evident. Although we arranged the circuit in a such a way that we could program other functions, but we ultimately opted to keep the programming to a minimum to enable more of the focus to be placed upon the interaction with the phone, as ...
Read more

›
This sketch connects a voice call from your GSM shield and Arduino to a remote phone number entered through the serial monitor. You'll need to attach a speaker and microphone to hear the connected phone and send your voice. First, import the GSM library #include <GSM.h> SIM cards may have a PIN number that unlocks their functionality. Define the PIN for your SIM. If your SIM has no PIN, you can ...
Read more

›
Have an old toy car? I hacked mine using Arduino and an H bridge circuit to control the motors, used my Sony Z1 Android phone to control it with the recent 1Sheeld I got from Kickstarter. I thought to use the Gyroscope sensor in to drive it but after experimenting, I used the gravity sensor instead, will explain in details why later in step 5. Step 1: Required stuff Required components: 1- Android smartphon ...
Read more

›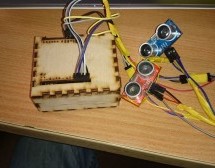 In this project you can cover your eyes and let your smartphone navigate you to avoid obstacles, the application is mainly a DIY navigation device for blind people. I knew that 1Sheeld is about to launch a new text to speech shield, and so I contacted them to let me use it in this project and they accepted since I'm one of the early Kickstarter backers :D By using 1sheeld I made the text to speech part by o ...
Read more

›
My girlfriend, a music buff, asked me to come up with a better way for her to look at the track information of the current song playing on her iPod touch while she was using it in the car. Those of you that have or have had an iPod touch know that it's not the easiest thing to read while driving. To see the song information you have to double tap the home button and then still the text is extremely small. M ...
Read more

›
Ever wanted to have a Phone Book, controlled using a microcontroller, which is very easy to use, and you can use it while talking on phone, and is saving data on SD Card? then this instructable is for you. In this instructable you will learn how to make an arduino controlled Phone Book, and you can control it using only four buttons (Up, Down, Left, Edit), in this instructable you will also learn how to use ...
Read more

›