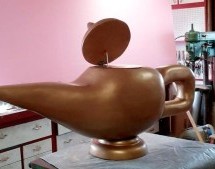 A robot is a virtual or mechanical artificial agent. In practice, it is usually an electro-mechanical machine which is guided by computer or electronic programming, and is thus able to do tasks on its own (http://en.wikipedia.org/wiki/Robot). Well, today you will learn exactly how to build a Homemade Magic Lamp Card Box. Really, this is two instructables combined into one, them being: 1) How to sculpt nearl ...
Read more

›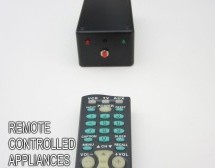 Most of the buttons on a remote control are never used. So why not use them to control appliances and other electronics around your house. In this project, I am going to show you how to use an Arduino to decode the signal from your remote and use it to make an outlet switch that can turn your electronics on and off. When you are done, you will be able to control lights, fans and even your coffee maker with ...
Read more

›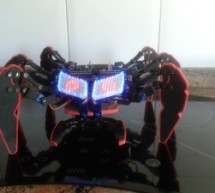 Hello, I'm David and in this instructable I'll show how I made this hexapod whose name is Hexdrake. Since I was 16 I became interested in electronic and later in robotics. After getting some level and programming skills using arduino I decided to build a robot something more interesting than a simple robot with two wheels . I liked the idea of having a hexapod but did not have much money to buy one. So I bu ...
Read more

›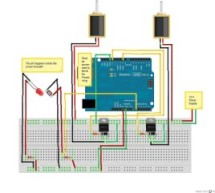 The D.I.Y. movement has many implications for the future of creativity and commerce. The impact of inventing what one needs rather than purchasing it promises to be empowering, fun, and inspirational. In a long term effort to develop dynamic computer controlled surfaces, I began exploring fluid control (in this case, compressed air) as an alternative to electric motor driven actuators. The hypothesis was th ...
Read more

›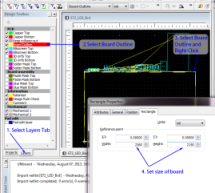 In this lab you will be using a program to enter a schematic and lay out a printed circuit board (PCB) that will then be manufactured.  At this point of the semester you don't know enough to design your own circuit, so I am giving you one that we will use again later in the semester.  The program that we will be using to do the schematic entry is called Multisim and the program for the PCB layout is called ...
Read more

›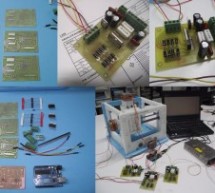 The assignmente for this week is to automate the machine assembled two weeks ago. For this Roxanna milled the Arduino's shield for controlling the steppers, but Alejandro found that we haven't all the components for stuffing, specially the A3982 - stepper motor driver, so as was impossible to get it locally, I decided to design a new one using the L298 (Dual full bridge drive) because it has also the possib ...
Read more

›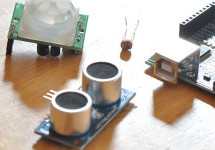 The last time I was home visiting my parents I noticed bumper imprints caused by my mother suburban on the stairs leading up from the garage. Their garage it turns out is just barely long enough to fit their gigantic vehicles. So I decided it would be nice to have some visual cue for parking. Out came the arduino and a sonar range finder from Radio Shack and the result was this tutorial. Hot glue the arduin ...
Read more

›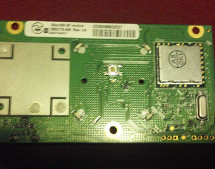 This instructable will go over the steps to connect a RF module from an RROD xbox to your computer so you can use a wireless controller with your computer. ******DISCLAIMER******* DONT TRY THIS IF YOU DONT HAVE ANY EXPERIENCE WITH ELECTRONICS/SOLDERING OR COMPUTERS IM NOT RESPONSIBLE IF YOU SCREW UP.... now that we've gotten that out of the way Step 1: Soldering .... First strip the usb cable, inside there ...
Read more

›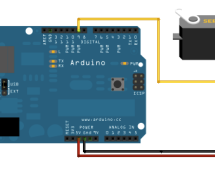 Sweeps the shaft of a RC servo motor back and forth across 180 degrees. This example makes use of the Arduino servo library. Hardware Required Arduino Board (1) Servo Motor hook-up wire Circuit Servo motors have three wires: power, ground, and signal. The power wire is typically red, and should be connected to the 5V pin on the Arduino board. The ground wire is typically black or brown and should be connect ...
Read more

›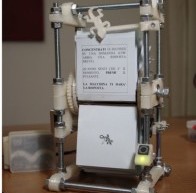 Should you ask your boss for a raise? Call that cute guy you met at a party? Sell your stock?  Wouldn't it be nice to have a handy method of handling some of life's more pressing dilemmas? This machine give you the answer to all you life pressing dilemmas. You need to concentrate on your question for 10 seconds, and when you feel the time is right, press the button, and the machine will give you the answer. ...
Read more

›
Pushbuttons or switches connect two points in a circuit when you press them. This example turns on the built-in LED on pin 13 when you press the button. image developed using Fritzing. For more circuit examples, see the Fritzing project page Connect three wires to the Arduino board. The first two, red and black, connect to the two long vertical rows on the side of the breadboard to provide access to the 5 v ...
Read more

›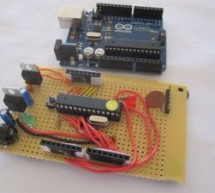 If your are like me which I am guessing you are, then ever since you got into doing stuff with arduino you have wanted to make your own arduino board. You may be surprised to find out that making the prototyping board is actually very easy, and can have several advantages over using the commercially sold board. For one thing, All the components together cost a little over 15 US dollars as opposed to the $30 ...
Read more

›