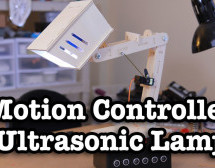 Recently I've been learning about Ultrasonic waves and how to harness their power. It's simple enough to make some type of sonar device, but I wanted to take at a step cooler and see if I could use Ultrasonic waves to not only detect movement, but also the direction of that movement. So let's take it to the ultimate level of awesomeness and use ultrasonic waves to make a motion controlled desk lamp. There's ...
Read more

›
The aim of this project is to make latte printer, I used 1 printers and 1 scanner , it prints one line a time, all what I have done is hacking the sensors of the printer and I used Arduino Uno to send different values to printer's micro-controller created custom shield to control stepper motor and do other taskes ... ,simply I fooled the printer, make it print with no papers :) Tools : - Soldering equipment ...
Read more

›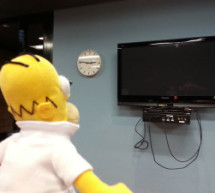 Smart Homer, a Web-enabled TV remote puppet Smart Homer is a Web-enabled puppet that turns on your TV when Simpsons is on. As Homer is too lazy to browse the Web himself, a script in the cloud checks the online TV program for him. If Simpsons is on, the script triggers the Arduino Web service in Homer's belly to activate his infrared eyes. No brain involved. This project by @tamberg was built at the 24-hour ...
Read more

›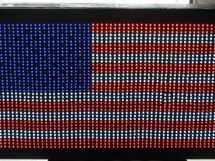 USA flag constructed using a total of 2,301 diffused red, white and blue LEDs completed with Arduino sketch animations, I hope this instructions helps anyone who wants to try this out. This flag can be displayed during the 4th of July, memorial day or during Christmas. If you find this project interesting and you do something similar by making either the hardware or the Arduino software codes better, please ...
Read more

›
1. Background My 1st project with Apduino Online was about to solve a simple problem, close the garage door after sunset, when it has been left open. We have a garage in the basement, which is used not only for car parking, but gardening tools and machines, bicycles, etc are stored there plus there is a workplace. Since there is only one entry into the basement via garage door, normally we leave it open for ...
Read more

›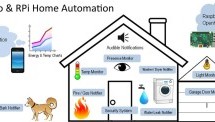 A few years ago, I became a dog owner for the first time. I didn't like leaving Cody in the kennel alone all day. I had a webcam on him, but I couldn't watch it all day long. What if he was in some kind of distress? What if there was a emergency at the house, like a fire? I wanted some way of getting an immediate email notification when he barks, or when something bad happens. So reading lead to tinkering, ...
Read more

›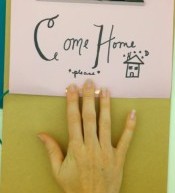 Can you believe that we live in an age where you can touch an object (any object - if it has metal on it) and a light will turn on in your loved-one's space - even if they live in a different city, state, or country!? You could tell your loved ones or friends when you're missing them, or when dinner is ready. The world is yours! We're going to show you how to connect spaces using an online websockets connec ...
Read more

›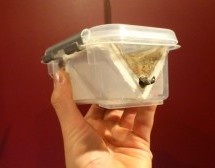 Step 1: Things you will need the images show you what you need. you will also need (but is not shown in picture soldering iron shrink tubes lighter 5 volt power supply usb cable (to program you're arduino)   info on the foamed pvc sheet This is a material that is very easy to cut whit the stanly knife.i found it at the local hardware store.its 6 mm thick and is 50 cm on 100cm in dimension.if you can't find ...
Read more

›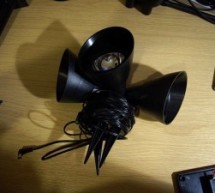 I bought a solar powered garden light. The solar panel charges the batteries and when it gets dark the lights (3x LEDs) turn on until it either gets lights again or the batteries run out. It has a small amount of intelligence (turns on when dark off when light) but not enough! Time for some upgrades. :D First, the batteries. The control box houses the batteries, which are three Ni-MH AA cells. They are 600m ...
Read more

›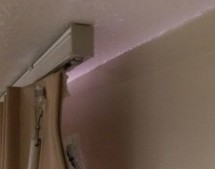 Hate having to manually open and close your drapes? Hate getting back from work/school and your room is dark and dreary? Do you want curtains that open and close themselves? Then you need Dr. Drape! Dr. Drape is an easy DIY project using an Arduino and servo to open and close your drapes at the tap of a button or on an automated schedule. The code included in this tutorial responds to your button press to o ...
Read more

›
THANKS TO CONCERNED VIEWERS, I HAVE LEARNED THAT THIS IS NOT SAFE AND SHOULD NOT BE REPLICATED. SO PLEASE DONT TRY THIS :) THANKS TO EVERYONE WHO COMMENTED, I LEARNED A LOT I am not an engineer, just an experimenter and hacker and prototyper etc, so, thanks to people who know a lot more than I do, I learned that this is not safe to use ------------------------------------ Have you ever wondered how you can ...
Read more

›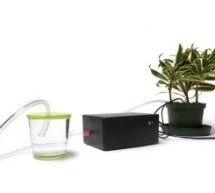 Plants liven up any space by adding a sense of airiness and life. That is - of course - when you don't forget to water them, and they shrivel up and die. I am very bad at remembering to water plants. That is why I built this self-watering plant to do it for me. Using a soil sensor, and an Arduino-controlled water pump, I have created a system that will never forget to do it. Instead of remembering to water ...
Read more

›