IMO, KiCad is one of the best EDA tools out there, with just one major problem: Bill of Materials management is rough. If you make more than 1 board a year, you probably know how frustrating it can be to get everything together for an order. There are multiple ways to export a BOM (each with their own ups and downs), and the process of selecting and entering components is excruciatingly manual. You can of c ...
Read more

›
After making the switch from AVR to STM32 microcontrollers, I redesigned my old 6-pin ICSP pogo-programming adapter for SWD. The new design allows programming with pogo pins or a small pin header soldered to the pogo pads for debugging, all with the same cable. The footprint uses surface mount pads only, so it can be placed on even the most compact board layouts. The ST-link adapter I designed a small PCB w ...
Read more

›
Description Recently I bought two ESP12e, wanted to see how those IoT things work. One thing I know for sure, they don't tolerate 12V 1A ;) yep fired one by accident ... I left with one working, trying to figure out what should I build with it. In the meantime was wondering should I by a smartwatch, do I really need one? What would I use it for etc... then start googling about it, check some stores at net, ...
Read more

›
A couple of weekends ago I was in the mood to do some retrogaming and didn't know what I wanted to play so I asked for some suggestions from Twitter. I played some Castle Wolfenstein, Snake Byte, BC's Quest for Tires, and Miner 2049er on the Apple IIe and then I wanted to try some games on my Apple IIgs. Unfortunately my IIgs has had intermittent issues for a long time, and it was looking like bad RAM might ...
Read more

›
Li-Fi (/ˈlaɪfaɪ/; short for light fidelity) is a technology for wireless communication between devices using light to transmit data. In its present state only LED lamps can be used for the transmission of visible light.[1] The term was first introduced by Harald Haas during a 2011 TEDGlobal talk in Edinburgh.[2] In technical terms, Li-Fi is a visible light communications system that is capable of transmitti ...
Read more

›
I'm using the tiny and inexpensive Nordic Semiconductor nRF24L01+ transceiver (see "Tutorial: Nordic Semiconductor nRF24L01+ with the Freescale FRDM-K64F Board") in many projects: it costs less than $3 and allows me to communicate with a proprietary 2.4GHz protocol in a low power way (see "IoT: FreeRTOS Down to the Micro Amps"). I have that transceiver now running with the tinyK20 board too: The normal 2×3 ...
Read more

›
One fine day, I was weighing my self on a weighing scale. Suddenly a thought came to my mind, 'How much would be the mass of Earth?'. Leave that apart 'How can we even measure it?'. There is no such weighing scale on which, Earth can be placed. There has to be some indirect way to measure mass of the Earth. Here I present implementation of one such indirect method to measure mass of the Earth. Step 1: The I ...
Read more

›
The Z-Wave Alliance, an open consortium of leading global companies deploying Z-Wave, was proud to announce iBlinds as the October 2015 winner of its global IoT developer competition. The Problem If you live in a house, or even a multi-room apartment, you know how annoying it is trying to control the blinds on every window. You wake up in a dark room and have to use an artificial light before letting the su ...
Read more

›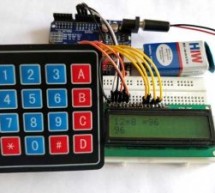 Programming is always fun and Arduino is a wonderful platform if you are just getting started with Embedded programming. In this tutorial we will build our own calculator with Arduino. The values can be sent in through a keypad (4×4 keypad) and result can be viewed on a LCD screen (16×2 Dot-matrix). This calculator could perform simple operations like Addition, Subtraction, Multiplication and Division with ...
Read more

›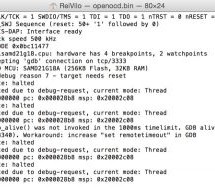 Arduino M0 Pro The Arduino M0 Pro —initially called Zero Pro— board is a major revision of the Arduino line as it is the first Arduino board to feature a debugger. The board is designed around the 32-bit ARM Cortex-M0+ SAMD21 from Atmel and built in Italy. The EDBG chip from Atmel provides the debugging capabilities. The SAMD21 MCU features 256 kB of Flash and 32 kB of RAM and runs at 48 MHz. This is a huge ...
Read more

›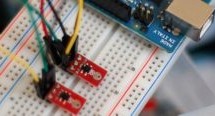 The QRE1113 is a common reflectance sensor often used in robotic line followers. The sensor works by shining an IR LED down and seeing how much of that light bounces back using a phototransistor. Because dark colors will bounce back less of the light, the sensor can be used to tell the difference between white and black areas. So an array of these can be used to help a robot determine where a dark line is o ...
Read more

›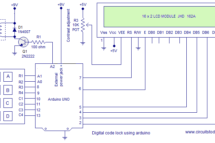 We have published a digital code lock using arduino some weeks before. This one is a little different. The earlier version was based on a defined password, where the user can not change it. Moreover there was no LCD display interfaced with the project to output lock status. This project is a much improved version of the same digital code lock which comes with a user defined password and LCD display. The use ...
Read more

›