Secure OTA via Azure. Control via voice capable UWP app. Includes sample: room thermostat controlled via phone. Things used in this project Hardware components Arduino MKR1000 This is needed for every OTA projects. The components below are needed only for the use case / sample: the room thermostat. × 1 DHT11 Temperature & Humidity Sensor (4 pins) × 1 Relay (generic) × 1 Breadboard (generic) × 1 Software ...
Read more

›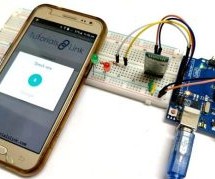 Controlling LEDs with voice command seems to be a difficult task, but it's easy and you can quickly build it. We just need an Arduino UNO to serially communicate with HC-06 Bluetooth module and a smartphone to send voice command to Bluetooth module HC-06. For receiving voice command we are using "Arduino Bluetooth Voice Controller" android app which you can download from play store (link is given below). Ma ...
Read more

›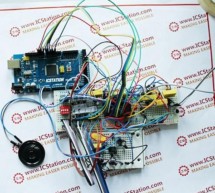 ICStation team introduce you this APR9600 voice recording and playback system used in elevator based on the ICStation Mega2560 compatible with Arduino. It uses DC5V voltage to work. When you press the different keys, the loudspeaker will sound that which floor you arrive. This design uses a APR9600 voice chip as the core of the circuit and realizes the function of auto recording and playback. It uses power ...
Read more

›
The objective of this project is to build an Arduino voice shield to empower thousands of voice related applications! All this mostly thanks to an integrated ISD1790PY chip. This particular voice/TTS  feature can be useful to integrate voice messages in alarm systems, to implement generic I/O controls in home automation or even in home security applications: something like playing an alert when a person or ...
Read more

›
(and partner-in-crime, Abbie). Now, I'm off to the next stage of my life, so I decided to build this friendship photoset for Kevin and Briton to remember our golden era. We called ourselves: "The Suite Bros". This project is actually an extension of the "Voice Activated Arduino (Bluetooth + Android) by ASCAS. I highly advise you guys to read his project first! ASCAS really simplified the fundamentals of the ...
Read more

›
Another quick hack. I purchased a voice changer because I was looking for something cheap that could be hacked into an voice input device. Basically I wanted to animate a skull when I spoke. Added bonus, now the skull puppet would also have a scary voice. I am going to show you how to hack a voice changer to use as a digital input for an Arduino project. I leave the output or reaction up to you. Step 1: Wha ...
Read more

›