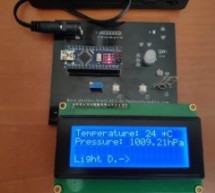 There are plenty of Arduino weather station tutorials available to follow but one published by Kutluhan Aktar not only displays whether information and activate RGB colour patterns but it also includes built-in BMP280 and photo-resistor custom designed by Aktar. If you have never built your own PCB the tutorial provides a great introduction into what you need to do as well as links to PCB manufact ...
Read more

›
Hardware designer and serial Kickstarter entrepreneur Patrick Thomas Mitchell has taken to Kickstarter for the 30th time to launch his new Arduino E-Z COMMS Shield which is equipped with air and integrated LCD two indicator LEDs, and 256 audio words, enabling you to easily add speech to your next Arduino project. Watch the demonstration video below to learn more about the Arduino UNO based shield which is n ...
Read more

›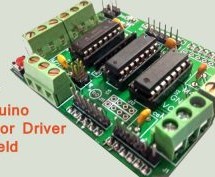 In this DIY session, we make an Arduino Motor Driver Shield to drive DC motors, stepper motor and Servo Motor. Compatible with Arduino UNO and Arduino Mega, this motor driver shield can operate 4 DC motors or 1 stepper motor and 2 servo motors at a time. Here two L293D Motor Driver ICs are used for driving motors and an 8-bit shift register for controlling them. Components Required Motor Driver IC L293D -2 ...
Read more

›
Wearable computing, e-textiles, soft circuits or whatever you want to call it, is a growing field of applying technology to garments or accessories like bags, shoes or backpacks.  It is a fun and creative challenge which goes beyond just adding LED lights to fabric.  For a primer, you must check out the work of Lynne Bruning. Of course, to make things light up really cool, you need some kind of microprocess ...
Read more

›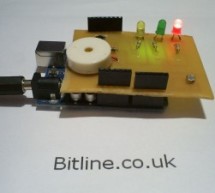 *** I AM THIRTEEN. I REALLY ENJOY PUTTING TOGETHER THESE INSTRUCTABLES. PLEASE SHOW SUPPORT BY VOTING FOR ME IN THE LASER CUTTER CONTEST - http://www.instructables.com/contest/epilog3/*** I started thinking about this project a couple of months ago now. A laser tripwire that can log when the beam is broken and has the ability to take a picture when the beam is broken. Perfect for the bedroom intruder and wh ...
Read more

›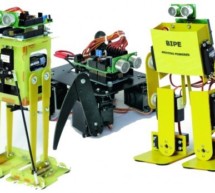 The idea behind this post is to bring together some robot designs and trasform them in a new device with new hardware and standard software (arduino of course) and so easier to use. These robots have three things in common: a mechanical structure, the hardware and the software. While the mechanical part is necessarily different, we wanted to understand if there was a hardware board that could be common, wit ...
Read more

›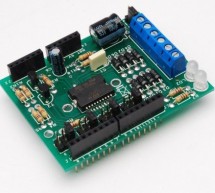 We are not the first to make an Motor Shield for Arduino.  But could be that we are the first that make a Motor Shield with a minimum of flexibility. We are studing a WiFi robot with camera controlled by Arduino. The robot will be controlled by browser. But we find a problem with an existing shield: the pin SPI to controll Ethernet shield (that become WiFi shield) are the same of motor shield. So we reengin ...
Read more

›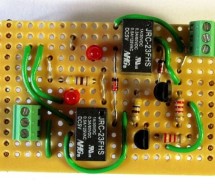 In this Arduino project, you will build a small relay shield from stripboard. The shield can have one or two relays fitted to it. Connect the Arduino and relay shield to your PC via a USB cable. Download the PC software and use it to switch anything on and off that is attached to the relays. The shield is based on the Tiny Stripboard Shield for Arduino project. This video shows the Arduino shield project an ...
Read more

›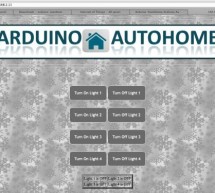 This is Open Source Home Automation Project based on Arduino Uno and Arduino Wiznet based Ethernet shield. How Does it Work The main brain for this project is Arduino UNO Board along with Arduino Ethernet Shield to give it a wireless connectivity.Arduino runs a code to control a Relay board according to the input and also serves a web page through which respective output to the relay board can be controlled ...
Read more

›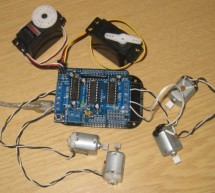 This post starts a small (or larger?) series of tutorials using the Arduino Motor/Stepper/Servo Shield with the FRDM-KL25Z board. That motor shield is probably one of the most versatile on the market, and features 2 servo and 4 motor connectors for DC or stepper motors. That makes it a great shield for any robotic project The series starts with a tutorial how to drive two servo motors. And if this is not wh ...
Read more

›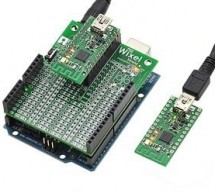 1. Overview The Wixel shield seamlessly enables a wireless link (with a typical range of ~50 feet) to replace your Arduino's USB interface, which means you can use the standard Arduino computer software to: wirelessly program the Arduino (this feature is not available with the Arduino Leonardo or the A-Star 32U4 Prime). wirelessly debug sketches with the Arduino serial monitor. wirelessly communicate with t ...
Read more

›
The objective of this project is to build an Arduino voice shield to empower thousands of voice related applications! All this mostly thanks to an integrated ISD1790PY chip. This particular voice/TTS  feature can be useful to integrate voice messages in alarm systems, to implement generic I/O controls in home automation or even in home security applications: something like playing an alert when a person or ...
Read more

›