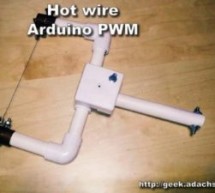 Hardware components: Arduino UNO & Genuino UNO × 1 Atmel ATTiny85 × 1 DigiSpark × 1 Plastic box for electronics × 1 Jumper wires (generic) × 1 IRF530 × 1 Resistor 1k ohm × 5 Resistor 100 ohm × 2 Single Turn Potentiometer- 10k ohms × 1 BC547 × 2 LED (generic) × 1 7812 × 1 Hot wire foam cutter × 1 STORY I did the hot wire foam cutter previously but I missed the temperature control. So that's why I ...
Read more

›
The objective of this post is to explain how to fade a LED with the ESP32, using the LED PWM functionalities. Introduction The objective of this post is to explain how to fade a LED with the ESP32, using the LED PWM functionalities of the microcontroller. I will be using DFRobot's FireBeetle ESP32 board to perform the tests. Since the board as a built in LED, no external hardware will be needed. Note that a ...
Read more

›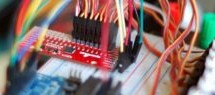 This is something we have been asked a lot about. How do I control a ton of Servo motors with my arduino? Well… using the TLC5940 is one way. And this nice break outboard from sparkfun makes connecting a ton of servos easy. The output pins on the board are all setup and spaced to allow you to just solder some male headers to it and plugin some servo cables. Why Do I need something special to control them? F ...
Read more

›
This LED DIMMER is an Arduino Uno based PWM (Pulse Width Modulation) circuit developed to get variable voltage over constant voltage. The method of PWM is explained below. Before we get start building a 1 Watt LED Dimmer circuit, first consider a simple circuit as shown in figure below. Now if the switch in the figure is closed continuously over a period of time then the bulb will continuously ON during tha ...
Read more

›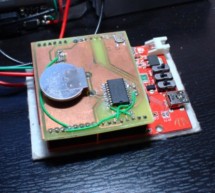 I bought a small aquarium (54l) as an impulse buy and I needed some lights for it, so naturally I wanted to use LEDs. I also needed a timer for the lights. I also wanted the lights to fade in and out when they were going on or off as a cool effect. I ordered four Cree XP-G R5 LEDs (cool white, apparently too warm of a light will cause algae growth) and a one amp (switching) constant current supply (with PWM ...
Read more

›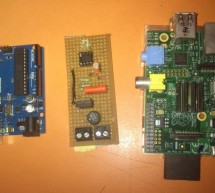 Dimmer With  MOSFET This circuit shows that dimmers intended for use at mains voltage do not always have to contain a triac. Here, a MOSFET (BUZ41A, 500 V/4.5A) in a diode bridge is used to control the voltage across an incandescent bulb with pulse-width modulation (PWM). The power supply voltage for driving the gate is supplied by the voltage across the MOSFET. add on board: raspberry pi diy add-on board S ...
Read more

›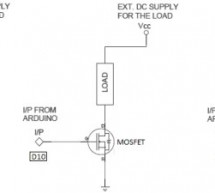 Looking for a simple circuit to control the light intensity of Light Emitting Diodes (LEDs) or similar lighting sources? Here is an Arduino based circuit with three independent pulse width modulated (PWM) channels to fulfil your requirements! Just follow the schematic diagram to complete the construction, and use any standard 9VDC Arduino power source to energize the system. Here, for demonstration, three d ...
Read more

›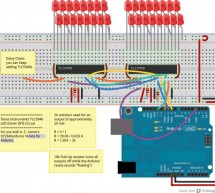 Introduction Microcontrollers like the Arduino were designed to facilitate the use of electronics for designers and DIY enthusiasts. The interface provides a great starting points for a variety of elecronic circuit designs. However, as the microcontroller is standardized, it is also limited in its use. That shows for example in the limited number of PWM (pulse width modulation) enabled output pins. What can ...
Read more

›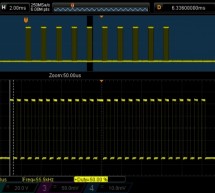 We are often asked on discussion boards, about conflicts between IRremote or IRLib and other Arduino Libraries. In this post, we present a sketch for 'Simple Infrared PWM on Arduino'. This is the first part in a 3 part series of posts. Part 1 shows how to generate the simple Infrared carrier frequency on Arduino, using any available IO pin and without conflicting with other libraries. Part 2 will show how t ...
Read more

›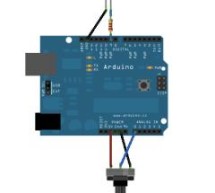 Pulse Width Modulation or PWM is a method of Digital to Analog Conversion. It helps in delivering analog average voltage using digital pulses of variable pulse width. By controlling the on time and off time, we can generate an analog average voltage using the digital pulses. PWM has a wide range of application. It is used in DC motor speed control, Brightness control of LED lamps etc. Here in this simple ex ...
Read more

›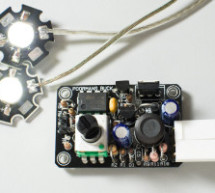 High-power LEDs over 1W are now quite inexpensive. I'm sure many of you are incorporating LEDs as light sources in your projects. However I realize that the finding and configuring the power supply is still not as simple as it can be; commercially available LED drivers are convenient, but often overkill or not flexible. Even my own Universal LED Driver can be overkill at times. Some projects call for a bear ...
Read more

›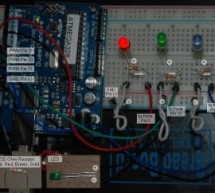 This ones quite simple, just mix/ crossfade 3 separate LEDs using Phase Width Modulation (PWM) and Arduino. You will need 3 LEDs, I'm using a 5mm Red, Green and Blue so I can make the full light colour spectrum (When all combined they make white light). If you look at an LED you will see one pin is slightly longer of the 2, this is the positive (+) terminal, the shorter being negative. Make sure you get the ...
Read more

›