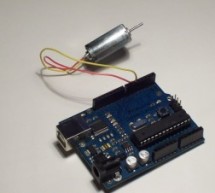 When I say simple, I don't mean use a speed control. But control the motor directly without any external circuitry. Here's how: How this came about: I recently was working on an instructable about charlieplexing with an arduino. And I was wondering if the same principle would work with motors to some extent. So I came up with the idea that if you used a motor instead of an led you could have 2-way control o ...
Read more

›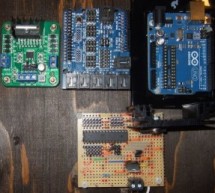 I am presenting a compact design of a stripboard Arduino board (DIYduino) that includes a 2A motor driver and has additionally the functionality of a sensor shield. The 2-channel version cost approximately $29.43 and is more affordable compared to $39.00 for a commercially available system consisting of an Arduino Uno, $21.50, a sensor shield, $8.50, and a motor shield, $9.00. The cost can be further reduce ...
Read more

›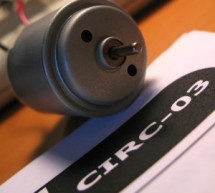 This week, we'll finally be using the Arduino to control some motors! First up, we'll control a standard DC motor running off a 9V battery with the help of an NPN transistor and a PWM (Pulse Width Modulated) signal from the Arduino. [box type="note" color=" #202020 " bg="#ffbb00 " font="verdana" fontsize="14" radius="20 " border="#000" float="right" head="Attributes"]Thanks to Jeremy , for this articles[/bo ...
Read more

›
This instructable will show you show to build an Arduino shield which can be used to control 3 servos and 1 stepper motor using 4 potentiometers. You will need: access to a laser printer/cnc router/etching chemicals 7 x 3 pin 3.5mm terminal blocks 2 x 2 pin 3.5mm terminal blocks 2 x 8 pin stackable headers 2 x 6 pin stackable headers 1 x 8 pin chip socket 1 x L293D motor driver chip optional: access to a la ...
Read more

›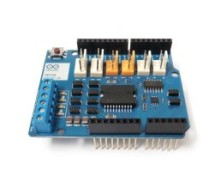 The Arduino Motor Shield allows you to easily control motor direction and speed using an Arduino. By allowing you to simply address Arduino pins, it makes it very simple to incorporate a motor into your project. It also allows you to be able to power a motor with a separate power supply of up to 12v. Best of all, the shield is very easy to find. Aside from being sold a number of places online, they are now ...
Read more

›
Today, I'm going to show you how to make an Arduino motor shield (driver) at a low cost. It works splendidly, its posses almost all the characteristics of the original Arduino motor shield. It's almost considered as a clone. The original Arduino motor shield has the same motor driver chip (L298), the only difference with it, is the package type, my project contains the vertical version of the chip L298 (wit ...
Read more

›