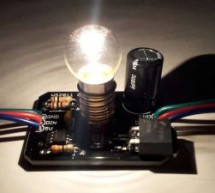 Everyone playing with electronics these days knows about LED strips made of dozens or hundreds of individually addressable RGB LEDs. I love them and make great use of them in the nootropic design Lumazoid music visualizer. But what about incandescent lamps? Old-school light bulbs with a filament have a soft warm glow that you just can't get from LEDs. Wouldn't it be great to be able to control a bunch of la ...
Read more

›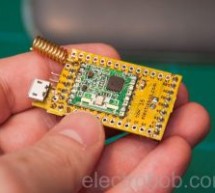 As I was mentioning in my 1000.1000 Hardware selection, I have opted for the cool RFM69HW radio module. Weirdly enough, in quite a few sources (big distributor and ebay) the higher power HW module is cheaper. So there ie no reason not to get the higher power module, given quantity discounts. But I want it to operate at lower power most of times. The datasheet does not show any differences at lower power, so ...
Read more

›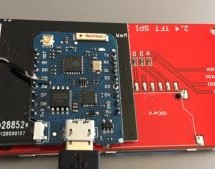 After many hours of work I'm very happy to finally publish all the sources for the ESP8266 PlaneSpotter project. It is not yet really in a V1.0.0 state but I'm sure with the help of the community it will quickly get better. While this post is more a "making-of" you can find build instructions on Github: The Beginnings A few months back I had already built and published a PlaneSpotter project for the tiny OL ...
Read more

›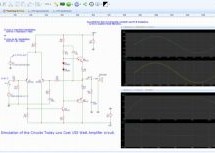 Online circuit simulators are getting more popular day by day. Electronics hobbyists, as well as professionals, use circuit simulators often to design and check circuit diagrams. The best thing about online simulator is, you don't have to install anything at all on your PC or laptop. All you need is a browser and a stable internet connection. Work from anywhere just by opening the online circuit simulator w ...
Read more

›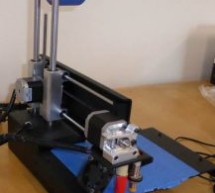 The Makerspace has its own equipment (and a meetup page), which is installed in a multi-purpose room during the events. Library staff also do out-reach events (to schools for example) and in-house courses and workshops (Arduino for example), and the Makerspace has a loose alliance with the Surrey and Hampshire Makerspace, which also meets in Gulidford. Then the library has an alliance with the near-by Unive ...
Read more

›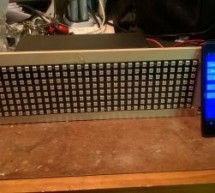 Ever want to say thanks to the nice person who just let you in line? I have thought a lot about that, and here is my solution. Things used in this project Hardware components Arduino MKR1000 × 1 SparkFun Bluetooth Modem - BlueSMiRF Silver × 1 Adafruit 4-channel I2C-safe Bi-directional Logic Level Converter - BSS138 × 1 Flexible Adafruit DotStar Matrix 8x32 - 256 RGB LED Pixels × 1 Adafruit 4-pin JST SM Plug ...
Read more

›
How to work with Light Emitting Diode (LED) in Proteus In this post we will be learning on how to use the "Light Emitting Diode (LED)" component in Proteus simulation software. In case you have not got on through the basics of Proteus, here is the link – Proteus PCB Design and Simulation Software – Introduction. Note:- You may also read our 1st chapter on Proteus Tutorial Series – Switches and Relays in Pro ...
Read more

›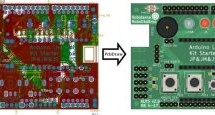 This small Python script takes a KiCAD board (.kicad_pcb file) and produces a 2D nice looking drawing of the board as an SVG file. This allows you to quickly and automatically create awesome pinout diagrams for your project. These diagrams are much easier to read than a labeled photo of a physical board or an actual KiCAD design. You and your users will love them! Dependencies This script requires the pcbne ...
Read more

›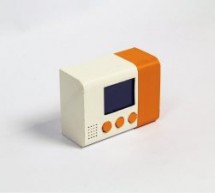 Connect your home heater to Internet and chat with it via Telegram! Things used in this project Hardware components Arduino MKR1000 × 1 DHT22 Temperature Sensor × 1 SparkFun Pushbutton switch 12mm × 3 Resistor 10k ohm × 4 LCD screen × 1 Software apps and online services Arduino Web Editor Arduino IDE Hand tools and fabrication machines 3D Printer (generic) Soldering iron (generic) Story Connect to this smar ...
Read more

›
The "ESP8266 OLED SSD1306″ is an open source library which allows you to control those pretty OLED modules from our beloved ESP8266 module. Fabrice Weinberg cleaned up all the ugly pieces of code which I initially wrote caused by my near C/C++ illiteracy. He also added support for Pasko's BRZO I2C library which is partially written in assembler and allows a much higher throughput over the I2C channel. Fabri ...
Read more

›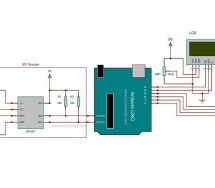 In this article, we are going to build an Arduino Real Time Clock using DS1307 RTC Module and 16×2 LCD module for display. First of all, let's see how to interface RTC Module to Arduino. There are different kinds of RTC modules available in the market. We are using the most common RTC module comes named DS1307 IC, an LCD module and Arduino Uno for this tutorial. Interfacing an RTC module to Arduino is prett ...
Read more

›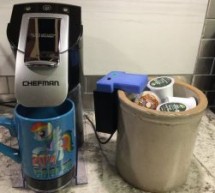 Amazon Dash Replenishment Service Automatic coffee ordering robot using Arduino MKR1000. Never miss another coffee break again! Things used in this project Hardware components Ultrasonic Distance Sensor × 1 LED (generic) × 1 SparkFun Pushbutton switch 12mm × 1 Resistor 100 ohm × 1 Arduino MKR1000 × 1 Software apps and online services Arduino IDE Amazon Web Services AWS SNS Amazon Web Services Amazon Dash Re ...
Read more

›