All the prototyping tools you need in Geppetto workspace on SEEED platform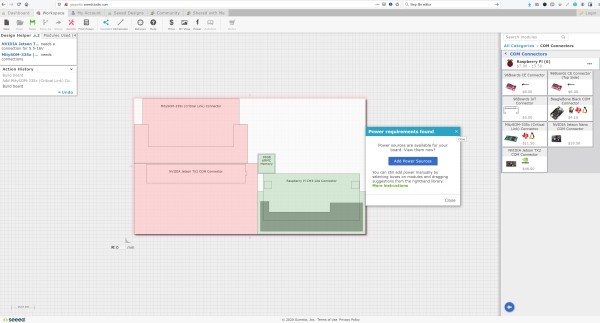 Altium, announces that Seeed, the IoT hardware enabler, has embedded the Geppetto electronic design application into its Seeed platform. Seeed users can now go straight from creating a design, to manufacturing a working printed circuit board in just one session.
Geppetto is a ground-breaking cloud-based design tool that allows anyone to design electronics. Until now, Gumstix was the only company using Geppetto to create and manufacture custom electronics.  Now users can create Geppetto-based designs and have them manufactured by Seeed. A hardware design can be completed in minutes, and ready to ship from 7 – 20 working days.
Exciting new electronics are being conceived by programmers who are putting their innovative software in specialized devices," said W. Gordon Kruberg, M.D., head of Modular Hardware, Altium, LLC." We are thrilled to be working with Seeed to put Geppetto's power of authorship and design in the hands and minds of this new generation of makers.
Geppetto Key Capabilities:
Custom Web-design tool – embedded directly into the Seeed ecosystem, Geppetto provides a simple drag and drop design platform for all levels of designers enabling them to quickly build production-ready prototypes for IoT and AI applications.
Design to Build – Geppetto allows Seeed users, makers or professional engineers, to design custom hardware from the Seeed component library. The Board Builder is a menu driven application that allows users to rapidly populate a Geppetto board, making the design/prototype process trivially easy.
Rapid Manufacturing – Seeed can manufacture and deliver custom hardware directly, or with partners.
About Geppetto
Geppetto® is a free online design tool that lets almost anyone create electronic device designs. Hardware design can be created in minutes, complete with BOM documentation and pricing. Users can create multiple projects and go straight from a design to a production ready order in one session. To learn more about Geppetto's web design tool integration into Seeed visit  http://geppetto.seeedstudio.com/
Read more: ALTIUM ACCELERATES IOT AND AI HARDWARE DEVELOPMENT THROUGH GEPPETTO AND SEEED COLLABORATION