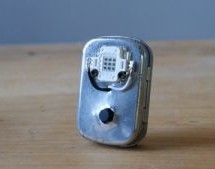 Where won't they put a TV these days? We've even seen one creeping behind semi-transparent mirror film in the ladies' room of a sports bar, though that one didn't last long. Up until that moment, we had never wished so hard for a TV-B-Gone, especially one as small and powerful as this DIY version by [Shane]. The best thing about [Shane]'s DIY TV-B-Gone is the strength of signal, though the size is nothing t ...
Read more

›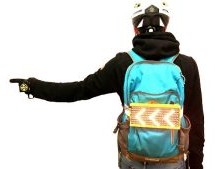 Cyclists share the road with other vehicles, often leading to problems when drivers fail to see or respect the rider's space. To try and alleviate these issues, [Matlek] built the Smartglove to help cyclists communicate their intentions to other road users. The project consists of a glove fitted with an Arduino Nano 33 BLE sense, featuring Bluetooth and motion sensing on board. Combined with TinyML machine ...
Read more

›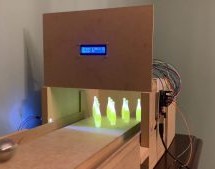 Bowling has been around since ancient Egypt and continues to entertain people of all ages, especially once they roll out the fog machine and hit the blacklights. But why pay all that money to don used shoes and drink watered-down beer? Just build a tabletop bowling alley in your spare time and you can bowl barefoot if you want. Those glowing pins aren't just for looks — the LEDs underneath them are part of ...
Read more

›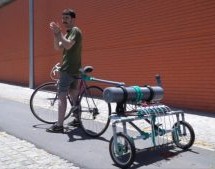 Graffiti is a controversial subject, and whether you see it as art or vandalism usually depends where and how you come across it. From the scribbled tag on a house wall, to highly sophisticated murals, they tend to have one thing in common though: making a statement — whether that's political, showing appreciation, or a simple "I was here". [Sagarrabanana] had his own statement to make, but chose a less per ...
Read more

›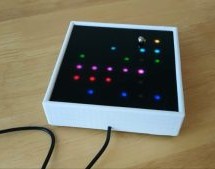 Magnets (especially those ball magnets!) are endlessly fascinating, aren't they? It's almost dangerous to combine them with LEDs, because how are you supposed to get anything done with something like [andrei.erdei]'s Arduino Magnetic Board beckoning from beyond your keyboard? This tons-of-fun board uses ball magnets to light up RGB LEDs as they roll around on the sexy Plexiglas field. Underneath the LED mat ...
Read more

›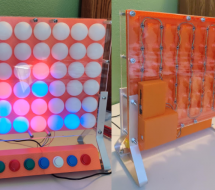 Recreating classic games in software is a great way to get better at coding or learn to code in the first place. If you do it in hardware though, you'll gain a lot more than coding skills. Just ask [Kelly] and [Jack] did, when they built this Arduino-based electronic Connect Four for a school project. We love that their interpretation manages to simplify game play and make it more fun than the original vers ...
Read more

›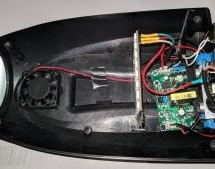 If you've got a party coming up and are looking to add a little bit of excitement, you might be interested in this recent project from [Gav Lewis]. The build is based on a commercially available party light, but with some upgraded components the final product is brighter and more dynamic than it was stock. Realistically, [Gav] has changed out almost every component of this light except for the enclosure and ...
Read more

›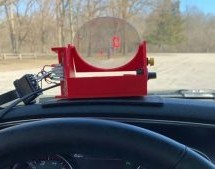 Many cars these days come with a basic Heads Up Display, or HUD. Typically, these display speed, though some also throw in a tachometer or navigational graphics too. Of course, if your car doesn't have one of these stock, hacking in your own is always an option. [PowerBroker2] developed this HUD in a somewhat circuitous way, but it's effective nonetheless. An ELM327 Bluetooth OBD-II reader is hooked up to t ...
Read more

›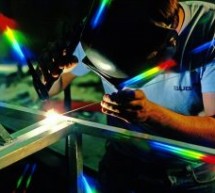 Businesses in every industry need to stay current and modernize to streamline, compete, and take the business forward, but this is particularly true in manufacturing which is a fast-changing environment. There are always new tech developments, trends, challenges, and regulations which can make it difficult to modernize. Still, there are a few key areas to focus on, which will help you to stay current and co ...
Read more

›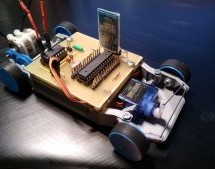 This car was made as a creative activity for students from Erazmus project. The Small Car celebrated big succes. So I've decided to share this small, unassuming and yet very educative project with community. It's ideal to entertain students, for instance during public open day at schools. This project will help students master their 3D printing skills, PCB making skills, constructing skills and programming ...
Read more

›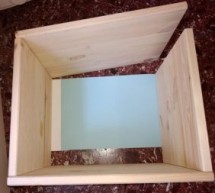 https://youtu.be/JqdOQ7wjEsQ We'll be making a diorama presenting the water cycle, using Arduino and some motors to add movement and lighting. It has a school feel - because it is actually a school project! The presentation scenario is this: The sun rises in the morning [One servo motor moves the sun]. Water evaporates from the sea [One stepper motor raises the "evaporation sheet"] Clouds form in the sky [O ...
Read more

›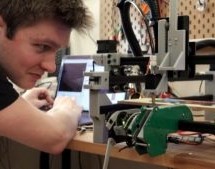 Give your grizzled and cramped hands a break from stuffing boards with surface mount components. This is the job of pick and place machine, and over the years these tools of the trade for Printed Circuit Board Assembly (PCBA) have gotten closer to reality for the home shop; with some models diving below the $10,000 mark. But if you're not doing it professionally, those are still unobtanium. The cost of this ...
Read more

›