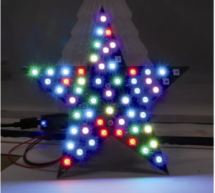 A tech Christmas decoration, created by means of Neopixel LEDs and controlled via an Arduino Micro board, that takes up a minimal amount of space. With the Xmas holidays approaching, we always try to propose a solution or another, one that is capable of combining tradition and innovation, so to avoid the usual or the trivial – even if always welcome – gadget, that is used as a Christmas decoration: and they ...
Read more

›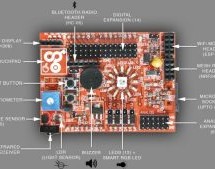 When you are waiting for a very important letter to come, it's really bothersome to go and check the post box again and again. The problem gets worse when you are not at home and anxiously thinking if the letter arrived or not. Well, now IoT or Internet Of Things is your savior. Following this project by CuriosityGym, you can make your own smart IoT post box that sends you an email as soon as a letter is dr ...
Read more

›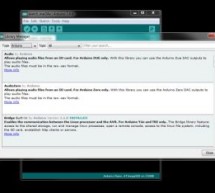 You can download our e-book 'Learn Arduino' from this link Libraries are an essential part in the Arduino world. They are what makes Arduino so easy to use. Libraries are written to encapsulate complex functions and expose them as simple function calls to the user. For example to switch a pixel on and off in an LED monitor. This is relatively very complex but, fortunately some folks at Adafruit created a li ...
Read more

›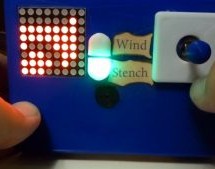 For anyone who's been fiddling around with computers since the days before VGA, "Hunt the Wumpus" probably brings back fond memories. Developed in 1973, this text game has you move around a system of caves searching for the foul-smelling Wumpus, a vile creature which you must dispatch with your trusty bow and arrow. Some consider it to be one of the very first survival horror games ever developed, a predece ...
Read more

›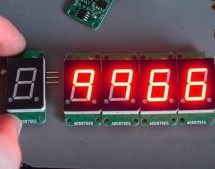 [Sean Hodgins] has a knack for coming up with simple solutions that can make a big difference, but this is one of those "Why didn't I think of that?" things: addressable seven-segment LED displays. [Sean]'s design is basically a merging of everyone's favorite Neopixel RGB LED driver with the ubiquitous seven-segment display. The WS2811 addressable RGB driver chip doesn't necessarily have to drive three diff ...
Read more

›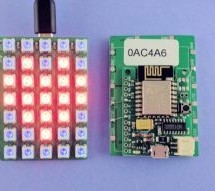 Last Thursday I had a lot of fun doing a workshop at my college (UMass Amherst) where I taught students to use a WiFi-enabled Color LED matrix combined with Javascript programs to create animations displayed onto the LED matrix. The matrix is made of 5×7 WS2812 (NeoPixel) LEDs. I've actually designed it two years ago and wrote a blog post about it. Back then I was using an Arduino-compatible SquareWear Mini ...
Read more

›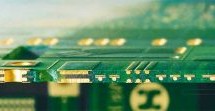 If you have high-powered LEDS, or a power supply, or are trying to control larger motors, you have to get a lot of heat out of your circuit boards. The classic way to dissipate heat is to bolt your power transistor to an aluminum heat sink. That is a slow, messy, and expensive proposition, especially if you need thermal grease between the transistor and heat sink (Figure 1). Another problem with bolted-up h ...
Read more

›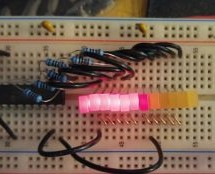 From time to time, I see people trying to build an audio VU meter. In the analog era, that's typically done with a voltage divider + a series of comparators; or using chips like LM3914/3915. Those chips are harder and harder to find, or you may need more resolution, or a different output profile. What to do? Modern MCUs offer an easy solution. their build-in ADC (10-bit or more) is more than enough for this ...
Read more

›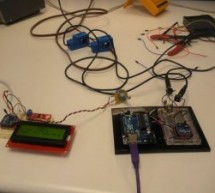 The purpose of the Home Energy Monitor Final Project is to give people a better idea how much electrical power they consume in a residential system. [gallery columns="2" size="medium" ids="31149,31148"] The method used for this application will utilize a clip on noninvasive current sensor on each 120V line coming in to the residential breaker panel box. The power data is then transmitted to a remote LCD scr ...
Read more

›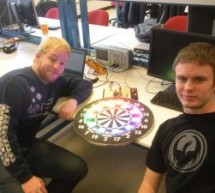 For the final project we made an analog style clock with an Arduino microcontroller. To do this we used three major components: an RGB LED Strip, a DeadOn RTC, and a custom user interface. The LED strip is used to set the display around the clock. The DeadOn RTC is used to keep time independent of the microcontroller and communicates using SPI. The custom user interface allows the user to make various selec ...
Read more

›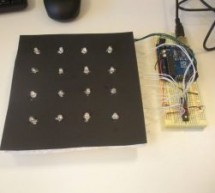 This project involved creating a red, blue, green (RGB) light emitting diode (LED) matrix that displayed the colors of the rainbow. The colors of the rainbow were chosen to show the full color spectrum that the LEDs are capable of, while still giving distinct variation within the LED matrix. [gallery size="medium" ids="31125,31124,31123"] In this project, each diagonal of the LED grid is a different color o ...
Read more

›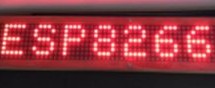 This project is a modification of my previous Bluetooth-enabled LED matrix display project, which used 8×64 monochromatic LED matrix (total 512 LEDs) for displaying scrolling text message. The original project used Bluetooth for display data transfer from a smartphone, but this one now uses Wifi. The display message is sent through web browser to a ESP8266 module that is configured as a web-server. No Ardui ...
Read more

›