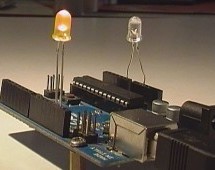 I was recently reserching on LEDs and I stumbled upon this page as I read it I found that LEDs are not just used to emit light but the also have the ability to sense light.At first using LED as light sensor sounds complicated but it quiet quickly becomes clear. This is a fun project in which we will be experimenting with LEDs requires minimal parts. This instructable will explain you how to use a LED as sen ...
Read more

›
One of the biggest dangers to a cyclist is not being seen at night. To counteract this, all manner of lighting and reflective gear is available to help ensure bicycles are seen on the streets. Of course, you don't have to stop at the purely practical. [TechnoChic] decided to have some fun with her ride, festooning her party bike with many, many LEDs. As you'd expect, the RGB illuminations are thanks to WS28 ...
Read more

›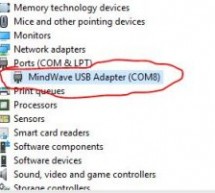 https://youtu.be/kbzIDT0Aby8 Have you ever wanted to turn the lights ON or OFF just by thinking about it? Or do you want to know how stressed you are by looking at the color of a RGB led? While now you can by following this Instructables! To get a feeling for what we are going to make today I recommend you first watch the youtube video above for a short Demonstration! This Instructables actually exists ...
Read more

›
WhatThis button pad is made using a PCB and other components manufactured by Sparkfun. It is driven by an Arduino Mega. Each button is nice and squishy and satisfying to press, and it has an RGB LED inside! I've been using it to control animations I've coded in Processing. The button pad sends a message whenever a button is pressed, saying which button it was. Processing receives these messages and changes ...
Read more

›
Minigolf is a fun, simple pastime that has the benefit of taking up much less space than the classical game it is inspired by. [gcall1979] had built himself a small game for the lounge room, but found keeping score to be a tedious exercise. Of course, that was nothing that couldn't be solved with some electronics! The game consists of a skeeball-type minigolf course, where the score is determined by the hol ...
Read more

›
In this instructable i will explain how to connect 7 segment display, decoder and arduino. It´s pretty easy. At first we have to learn something about decoder. I´m using BCD to 7 segment decoder. My is D147D, this is old chip, but the newer are similar. Documentation about one of them you can find here . Description of D147D you can see on picture two. There are four pins for sending BCD code to the decoder ...
Read more

›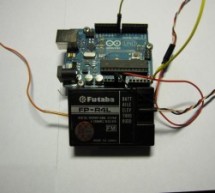 I recently dug up my old RC transmitter and receiver and thought "How can i control my arduino with this?" so i powered on my scope to see what was going on at the receiver. Sure enough, it was sending out the standard PWM signal that servos use. Now I just needed something to control. What's easy and fun to control? LED's of course. Step 1: The Receiver To begin with i had to figure out what pin on the rec ...
Read more

›
My idea was a box that would play music when you open it. It also has a display with an emoji on it that awakes, greeting you. There is also a LED in it that lights up if you hold the Force-sensitive resistor squeezed between your fingers, while the next loop of the song happens. The music stops if you close the box again because the lid presses closed on a button. I wanted to make a box that next to being ...
Read more

›
This instructable shows you how to build a Web-enabled tri-color LED based on an Arduino and the WIZnet Ethernet shield, controllable from any Web browser . Check the live demo at http://try.yaler.net/~arduino/led Because the LED is exposed through a simple RESTful web service running on the Arduino color changes can also be triggered by Pachube or other platforms offering Web hooks. Welcome to the Web of T ...
Read more

›
https://youtu.be/z1V3YJo0Cwk This instructable will show you how to make mushrooms that will glow in the dark. You can turn individual mushrooms off and on again by pressing the top. I started this project for a school assignment where we had to create something using the Arduino Uno. I wanted to create something pretty and magical and quickly decided that I wanted to make glowing mushrooms. Initially, I wa ...
Read more

›
This example shows you how to read different analog sensors to change the brightness of the three colors in the RGB LED. In this example you will read the amplitude from the microphone, the amount of light on the light sensor, and the position of the linear potentiometer. These three sensors will control the intensity of the red, blue, and green colors of the RGB LED. Circuit Only your Arduino Esplora is ne ...
Read more

›
The assignment for this class was simple yet complicated: Make something interactive with an Arduino. It had to be designed well, technically challenging enough and original for as far as original ideas go these days on sites like Instructables. From the start, I was interested in LEDs. My project would have to incorporate something with LEDs, so the first thing I thought of were these LED visualizers which ...
Read more

›