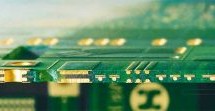 If you have high-powered LEDS, or a power supply, or are trying to control larger motors, you have to get a lot of heat out of your circuit boards. The classic way to dissipate heat is to bolt your power transistor to an aluminum heat sink. That is a slow, messy, and expensive proposition, especially if you need thermal grease between the transistor and heat sink (Figure 1). Another problem with bolted-up h ...
Read more

›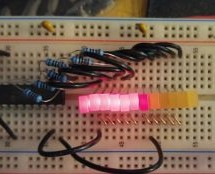 From time to time, I see people trying to build an audio VU meter. In the analog era, that's typically done with a voltage divider + a series of comparators; or using chips like LM3914/3915. Those chips are harder and harder to find, or you may need more resolution, or a different output profile. What to do? Modern MCUs offer an easy solution. their build-in ADC (10-bit or more) is more than enough for this ...
Read more

›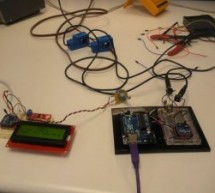 The purpose of the Home Energy Monitor Final Project is to give people a better idea how much electrical power they consume in a residential system. [gallery columns="2" size="medium" ids="31149,31148"] The method used for this application will utilize a clip on noninvasive current sensor on each 120V line coming in to the residential breaker panel box. The power data is then transmitted to a remote LCD scr ...
Read more

›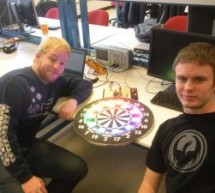 For the final project we made an analog style clock with an Arduino microcontroller. To do this we used three major components: an RGB LED Strip, a DeadOn RTC, and a custom user interface. The LED strip is used to set the display around the clock. The DeadOn RTC is used to keep time independent of the microcontroller and communicates using SPI. The custom user interface allows the user to make various selec ...
Read more

›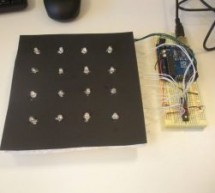 This project involved creating a red, blue, green (RGB) light emitting diode (LED) matrix that displayed the colors of the rainbow. The colors of the rainbow were chosen to show the full color spectrum that the LEDs are capable of, while still giving distinct variation within the LED matrix. [gallery size="medium" ids="31125,31124,31123"] In this project, each diagonal of the LED grid is a different color o ...
Read more

›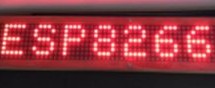 This project is a modification of my previous Bluetooth-enabled LED matrix display project, which used 8×64 monochromatic LED matrix (total 512 LEDs) for displaying scrolling text message. The original project used Bluetooth for display data transfer from a smartphone, but this one now uses Wifi. The display message is sent through web browser to a ESP8266 module that is configured as a web-server. No Ardui ...
Read more

›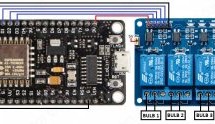 A home automation system is an automating the bulk of electronic and electrical tasks within a home. It uses a combination of hardware and software to enable control and management over appliances and devices within a home. Home automation not only refers to reduce human efforts but also energy efficiency and time saving. Here we are performing home automation by using ESP8266 – WiFi SoC and Blynk Playstore ...
Read more

›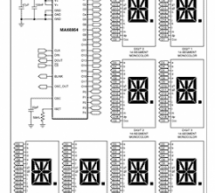 Abstract: This article is how-to guide, intended as a quick learning aid for engineers considering using the MAX6954 to drive 14-segment monocolor LEDs. The MAX6954 is a versatile display driver, capable of controlling a mix of discrete, 7-segment, 14-segment, and 16-segment LED displays through a serial interface. This application note shows a typical application and configuration for driving eight mono-co ...
Read more

›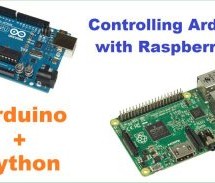 Controlling Arduino with Raspberry Pi using pyFirmata Although Raspberry Pi and Arduino are two different hardware in terms of their applications and structure, but they both are considered as two competing open source hardware platforms. They both have very strong community and support. Today we will slightly change things, and show you how we can take advantage of both of them. If you have both Arduino an ...
Read more

›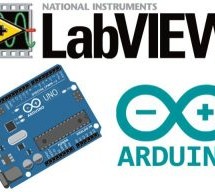 Interfacing LabVIEW With Arduino In previous article of Getting Started with LabVIEW, we have seen about LabVIEW and how it can be graphically programmed and executed in computer (software level). Now in this article we learn about How to Interface LabVIEW with Arduino Board. Requirements To interface LabVIEW with Arduino, you require the following software's and hardware's, LabVIEW (software) NI VISA (soft ...
Read more

›
Description TritiLEDs are always-on battery powered LED glow lights for general night-time marking use. Radioactive gaseous tritium light sources (GTLSs) are allowed in the United States in several consumer product categories, including watches, compasses, and gun sights, but general-purpose markers are considered "frivolous" and are prohibited. Leveraging advances in LED efficiency, battery capacity, and m ...
Read more

›
Today I want to make a LED Scroll Bar as is shown in the picture above. Ten LED strips can flash in different effect by using a control board. Components LED strip, Arduino Nano, Dupont line and a control board. How to make it ? Step 1) Cut the LED strip into 10 pieces with each LED arbitrary number. Then, weld the traverse at an interface of the LED strip. Here I prefer using Dupont line to connect. Step 2 ...
Read more

›