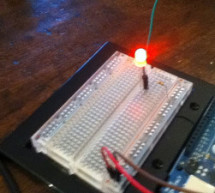 In this instructable, I'm going to show you how to make a simple circuit/code with an arduino, which will make an LED connected to it flash from off to on, with 1-second intervals, as shown below. This is a very easy, basic idea, however it leads to many more complicated codes and circuits. Attaching the Power Cables and resistor to the Breadboard Firstly you will need to plug one end of a wire into the '5v ...
Read more

›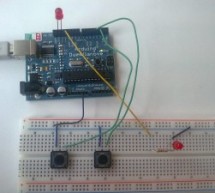 This example demonstrates the use of INPUT_PULLUP with pinMode(). It monitors the state of a switch by establishingserial communication between your Arduino and your computer over USB. Additionally, when the input is HIGH, the onboard LED attached to pin 13 will turn on; when LOW, the LED will turn off. Circuit image developed using Fritzing. For more circuit examples, see the Fritzing projec ...
Read more

›
The 'Poduino Case'. A protective case for your Arduino (with breadboard work area): I just received my Arduino Duemilanove and breadboard today. After some careful thought, I realized there is no way this thing could possibly survive daily life on my desk. I saw some great Instructables on plastic cases, and even one that used an iPod Nano case. However, I have little plastic-working abilities, and I'm chea ...
Read more

›
Have you ever made a city out of Legos? I know i have built many of them but they all missed something... Traffic lights! So i decided to make my very own traffic light setup from my arduino board. Step 2: Get the components I assume you already have an adruino board, and maybe also a Protoshield. You'll need the LED's and resistors the 220 Ohm resistors are color coded so: Red, Red, Brown Step 3: Hook up t ...
Read more

›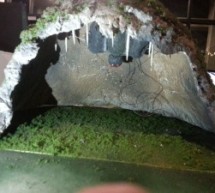 The purpose of this instructable is to outline our development of this bat in the cave as well as provide instructions and tips for future engineers hoping to complete a similar project or use components of our project in theirs. The goal of this project was to create an diarama that could educate people. The main functionality of the bat in the cave is for bat to react to a light source in the cave by stre ...
Read more

›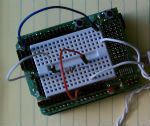 Arduino Python Twitter (Windows) In this instructable we'll modify my simpleTweet_00 and rewrite the Processing code with Python. You can expect an ignorant walkthrough by an illiterate noob, but maybe that's just what you're looking for. Before you begin: If you need help installing Python, navigating Windows from the Command Prompt, or installing packages, then take a look at my instructable How to instal ...
Read more

›
A simple temperature sensor using one LM35 Precision Temperature Sensor , Humidity Sensor and Arduino, so you can hookup on your future projects. The circuit will send serial information about the temperature and humidity so you can use on your computer. I have taken data from my compost. The project is related to an existing product daily dump with which anyone can convert kitchen waste into compost at h ...
Read more

›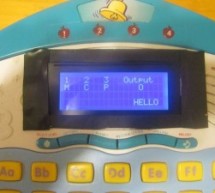 The technology behind Enigma machines and the work done to crack them has influenced cryptography, cryptanalysis, and computer science in general.  If you're unfamiliar with Enigma machines, it's a device that was developed near the end of World War I, then used extensively by the Nazi regime in World War II, to encrypt messages.  The allies (the British in particular) worked tirelessly to break the code.   ...
Read more

›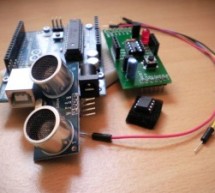 I'm here to show you how to use a HC-SR04 Ultrasonic Range Finder with an ATtiny85 as well as programming the ATtiny85 using the wonderful shield that randofo created. List of materials: ATtiny85 Programming Library Arduino Uno HC-SR04 Ultrasonic Range Finder and Library Jumper Wires Breadboard ATtiny85 Step 1: Program the Arduino Before you connect your shield to the Arduino Uno, y ...
Read more

›