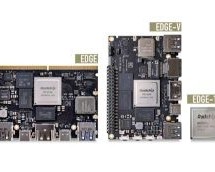 Three open-spec SBCs have been launched on Indiegogo. They are the RK3399-based Khadas Edge SBC, a new Edge-1S model that uses the AI-enhanced RK3399Pro SoC and an Edge-V model that replaces the Edge's MXM3 connector with 40-pin GPIO and adds MIPI-DSI and -CSI. Shenzhen Wesion's Khadas project exhibited the Khadas Edge SBC in July, which runs Linux or Android on Rockchip's hexa-core RK3399 SoC. Now Khadas i ...
Read more

›
We're all pretty well-acquainted with the obstacle avoiding robot. These little inventions use a proximity sensor to detect an object in front of the robot, then circumvent the object accordingly. Brown Dog Gadgets' little robot really caught our eye, mostly because it's kind of cute. This little robot combines a few LEGO pieces, Arduino, and Brown Dog Gadgets' own in-house invention, Crazy Circuits. T ...
Read more

›
Singapore-based startup Kobol has successfully launched its open-spec "Helios4" NAS (network-attached storage) SBC and fanned system. In May 2017, Kobol tried to launch the open-spec Helios4 SBC and fan-equipped system for NAS on Kickstarter. Though a total of 337 backers helped to raise $74K for the Helios4, Kobol fell short of its $110K funding goal. The Helios4 NAS SBC runs Debian on ...
Read more

›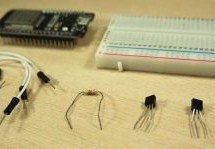 This guide shows how to read temperature from multiple DS18B20 temperature sensors with the ESP32 using Arduino IDE. We'll show you how to wire the sensors on the same data bus to the ESP32, install the needed libraries, and a sketch example you can use in your own projects. This tutorial is also compatible with the ESP8266 and the Arduino boards. We have a getting started guide for the DS18B20 temperature ...
Read more

›
Espruino is a small computer that anyone can use to control things around it. Its JavaScript interpreter gives you instant feedback so that you can experiment and develop whatever your level of experience. Even if you can't program, you can still get started quickly with the web-based graphical code editor! The Espruino family started with one board that promised so much potential after the first launc ...
Read more

›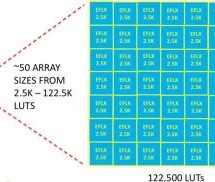 Whether you are designing an SoC, MCU or other chip, the one common heartache is "freezing RTL." Up until that point, it's no problem making a change or update, but once it's frozen, the chip design is "locked in." A change after that point could require a new spin that is not only costly, but can also significantly delay the chip development schedule. Now imagine what it would be like to have no deadline t ...
Read more

›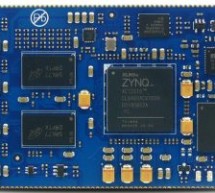 MYIR Tech has launched an $85 module, Xilinx Zynq-7010 or -7007S that runs on MYC-C7Z010/007S CPU Module. MYC-C7Z010/007S CPU Module is a part of their newly launched sandwich-style, $209 MYD-Y7Z010/007S Development Board. There's an open source Linux 3.15.0 based BSP for the module, and the MYD-Y7Z010/007S carrier board ships with schematics. Both the module and development board can withstand -40 to 85°C  ...
Read more

›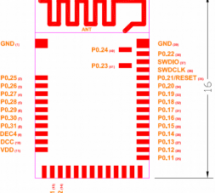 The open hardware innovation platform Seeedstudio produces the MDBT42Q, a Bluetooth Low Energy (BLE) module. It is a BT 4.0, BT 4.1 and BT 4.2 module designed based on Nordic nRF52832 SoC, a powerful, highly flexible ultra-low power multiprotocol SoC ideally suited for Bluetooth low energy, ANT and 2.4GHz ultra low-power wireless applications. MDBT42Q features a dual transmission mode of BLE and 2.4 GHz RF ...
Read more

›
Description MappyDot is a smart ranging sensor which provides system designers with the ability to measure accurate distances on drones and robotic platforms for collision avoidance, area mapping, distance measurement, gesture recognition and motion sensing. The MappyDot uses the VL53L0X laser time-of-flight ranging sensor from STMicroelectronics, which is a tried and tested 940nm Class 1 laser sensor in us ...
Read more

›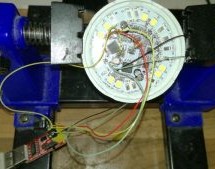 The regular Hackaday reader no longer needs to be reminded about how popular the ESP8266 is; they see the evidence of that several times a day. But what might not be quite so obvious is that it isn't just us hacker types that are in love with the inexpensive IoT microcontroller, it's also popping up more and more frequently in commercial products. As [Majenko] demonstrates, one of those ESP-powered devices ...
Read more

›
Introduction In this tutorial, we will go over how to connect an OpenScope MZ to LabVIEW. To do so, I will be walking you through some example VIs that I made. These examples allow you to access the oscilloscope and Wavegen/DC power supply functions of the OpenScope as well as the GPIO pins and the Logical Analyzer. Materials Hardware OpenScope MZ Software LabVIEW NOTE: Installing LabVIEW requires you creat ...
Read more

›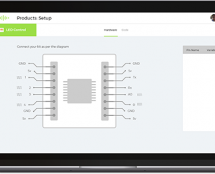 Internet of Things (IoT) is one of the most important technologies these days. It became an essential component of many hardware projects core. And in order to make it easier for developers, Bolt IoT platform appeared as a complete solution for IoT projects. Bolt is a combination of hardware and cloud service that allow users control their devices and collect data in safe and secure methods. It also can giv ...
Read more

›