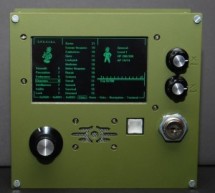 So what exactly is a PIP-Boy, you ask? For those unfamiliar, a PIP-Boy is a device used by the protagonist in the popular Fallout series of video games for navigation, radiation detection, data storage/playback, and inventory management. Being a major fan of the franchise, I decided I wanted to make my own version, but no mere prop, I wanted a functional device that I could really use. This version is very ...
Read more

›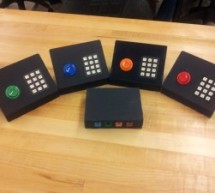 This instructable will teach you how to construct homemade game controllers for personal games, education aids, or anything you want. This system uses 4 controllers which send signals to a central hub which holds an Arduino. It was designed for use with a game called Fraction Smash that my group was developing for a class. Students would enter a fraction using the keypad to re-size their character and then ...
Read more

›
In this Instructable, we'll teach you how to create your own "Would you rather... " board game using conductive paint, an Arduino microcontroller, and some electronics components. Players take turns moving along the game path as directed by an electronic dice roll. Along the way, they answer questions each time their piece lands on an illuminating "special" spot. This design can be adapted to any other game ...
Read more

›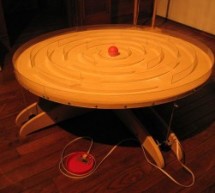 This project was the result of an urge to contribute something to the Creative Games section of my kids' elementary school fair. The kids loved it for it's simple old-school game aesthetic mixed with Wii-style and Kinect-style video game control. It's a spin-off project of an earlier Ball & Plate experiment mentioned here in the Instructables forums. The machine is an over-sized (1200mm (48") diameter) ...
Read more

›
Classical Pong game implemented on an Arduino Uno using a PCD8544 LCD screen which is better known as the Nokia 5110 screen. Player bars are controlled by a potentiometer for each player. If you want the bar to go left, just turn the potentiometer left. Step #1: Connect the Arduino Uno, PCD8544 LCD screen and 2 potentiomaters as shown in the Fritzing diagram. Step #2: Download Arduino software from http://a ...
Read more

›
The project described here is a digital implementation of "book cricket game" which Indian students normally use to play in their childhood time. The heart of the project is 8 bit MCU from AVR family called ATtiny85. ATtiny85 are small and cheap microcontrollers which are convenient for running simple programs with low footprint. The software used for programming the MCU is Ardunio which is a popular open s ...
Read more

›
In this instructable, I will show you how to make a simple Simon Says Game using an Arduino. it's not just simple but we can get a psychological benefit. I have a bad memory to remember something fast or a new things. So this project really suitable for someone like me. hahaha We're gonna using some basic electronics built on top of an Arduino. When the project is finished you will have a working simple cir ...
Read more

›
In this Instructable I will be giving you step-by-step instructions on how to interface The Arduino, A Motor Controller (L293D), and a laptop to make a Wifi controlled rover you can drive around your house or work from anywhere in the world. I started and made this project for my Gr.11 Computer Engineering class, it took approx. 5.5 hours including design, testing and implementation. I will Provide all the  ...
Read more

›
This laser game is a simple project that utilizes an Arduino mini. All target boards have an Arduino, sensors, and servo control ports. Shooting the target center triggers the servo and the board falls flat. Step 1:What you need [box color="#985D00" bg="#FFF8CB" font="verdana" fontsize="14 " radius="20 " border="#985D12" float="right" head="Major Components in Project" headbg="#FFEB70" headcolor="#985D00"] ...
Read more

›
This instructable will show the game TankWars, a web based game played on an iPad that drives a real robot tank to fire lasers at a robot. When you hit the robot target, the game is updated. The tank and the target are Arduino's equipped with RN-XV WiFly modules, the iPad is using a PHP page to send commands to the tank and read the status of the target. Robots, tanks and lasers, what more do you need? This ...
Read more

›
This is a pretty simple game:  The Arduino shows a number in binary on the green LEDs.  You then guess whether your green number is bigger than the computer's number.  The Arduino shows its number on the red LEDs.  If you were right, you will see a green flashing pattern.  If you are wrong, you'll see a red flashing pattern. I designed this project as a workshop for people in a design competition I've been ...
Read more

›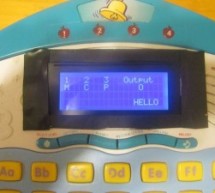 The technology behind Enigma machines and the work done to crack them has influenced cryptography, cryptanalysis, and computer science in general.  If you're unfamiliar with Enigma machines, it's a device that was developed near the end of World War I, then used extensively by the Nazi regime in World War II, to encrypt messages.  The allies (the British in particular) worked tirelessly to break the code.   ...
Read more

›