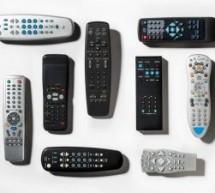 I hate looking where is the remote controller or grab my phone to control my TV or other IR devices. Alexa and hacking saved my day! Story As a lot of lazy folks, Alexa is saving my day. I don't want to spend time looking for my remote controller to turn on TV or switch sources. I would like to be able to ask Alexa to do it for me! I spent some time building that and this article explains how. Demo Before d ...
Read more

›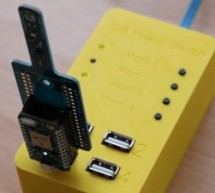 Many devices are powered by USB power now, but few home automation systems provide USB power switching. "Alexa, turn off the ThingyStick!". Story Alexa, Turn on the ThingyStick... Background More and more devices are powered by USB, many of these tend to be "dumb" devices without internet connectivity or home automation options (e.g. LED lights), how can we automate or control them remotely? Perhaps a USB s ...
Read more

›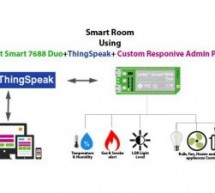 This Project will demonstrate you to control & monitor your room through my custom designed responsive web app. Things used in this project Hardware components MediaTek Labs LinkIt Smart 7688 Duo × 1 DHT22 Temperature Sensor × 1 Resistor 10k ohm × 1 Resistor 221 ohm × 1 Breadboard (generic) × 1 LDR × 1 MQ-2 Gas Sensor × 1 Jumper wires (generic) × 1 5V 4 Channel Relay Module × 1 Software apps and online ...
Read more

›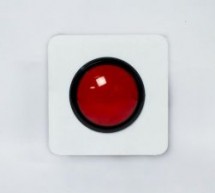 Learn how to connect a simple web app written in JavaScript to Arduino Cloud. Things used in this project Hardware components Arduino MKR1000 × 1 SparkFun big dome red button × 1 Software apps and online services Arduino Web Editor Arduino Cloud Story Following this tutorial you are going to learn how to make your Arduino or Genuino MKR1000 or WiFi Shield 101 interact with a simple webpage hosted in a brows ...
Read more

›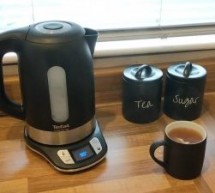 Make a smart kettle for under £60 using Alexa and Arduino. Things used in this project Hardware components Arduino MKR1000 × 1 SparkFun Logic Level Converter - Bi-Directional × 1 Tefal Temperature Control Kettle × 1 Software apps and online services Arduino IDE Amazon Alexa Alexa Skills Kit Amazon Web Services AWS Lambda Shiftr Story [embed]https://youtu.be/7uVDxhh5WL8[/embed] Introduction Why make two trip ...
Read more

›
If you are mainly involved in designing or repairing digital devices, a logic analyzer is more useful than an oscilloscope for tracing signal through circuits. However, does this mean you should rush out and buy a logic analyzer? The instruments from the leading manufacturers are too expensive for home use or startup businesses, and the low-cost alternatives don't do what you want or have half-baked softwar ...
Read more

›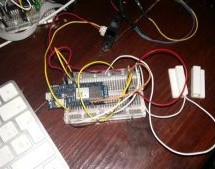 IoT security/environment monitoring device with NFC & fingerprint authentication devices and a Weak Artificial Intelligence Assistant. Things used in this project Hardware components Arduino UNO & Genuino UNO × 2 Arduino MKR1000 × 1 Solderless Breadboard Half Size × 1 SeeedStudio Grove Base Shield × 1 SeeedStudio Fingerprint Scanner × 1 PN532 NFC Module V3 × 1 LED (generic) × 3 Temperature Se ...
Read more

›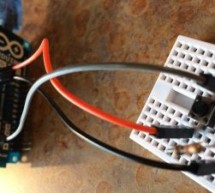 A project using the AmazonDRS library for WiFi101 connected Arduinos. Just like the AWS IoT button, but completely open source! Things used in this project Story TL;DR; Buy some stuff on Amazon by clicking a pushbutton connected to your WiFi101 enabled Arduino. It's like a Dash button, but cooler! Motivation Back in the Spring of 2015 Amazon released the Dash Button to help facilitate frictionless product p ...
Read more

›
A pair of former engineers from Agilent (now Keysight) Technologies are working on an oscilloscope that will connect to an iOS device for its user interface. The Aeroscope, conceived by Alexander Lee and Jonathan Ward, looks like the kind of device that you'd use on home projects or in field locations. I recently spoke with Lee about the design. At this time, Lee expects to ship in the fall of 2016. The Aer ...
Read more

›
This post will describe how I inspected the IP traffic of a cheap pan/tilt IP camera. Then continued to open the camera up, connect to the serial console of the SoC; extracted the root password and logged in via telnet over the wireless interface. My goal was to have a look at the security of these very cheap IoT devices, and see how they could be improved. Let's have a look at our victim: I present to you ...
Read more

›
During the last months, a new WS2812 alternative appeared on the market: The SK6812. I finally managed to get my hands on some of them to take a closer look. In most aspects these devices are basically clones of the WS2812. What is interesting however, is that the manufacturer came up with a couple of new variations of the stock 5050 RGB LED. As with many components from mainland china, it seems very diffic ...
Read more

›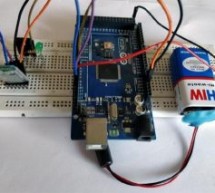 In today's modern world, where ever we go we have lots of electronic devices around us. But, out of all, there is only one device that we personally have in our pockets all the time. Yes, it is our mobile phones. Now Mobile phones have become more than a device used for communication, they are our cameras, they are our maps, they are our shopping karts and what not? With this capability in our hands, it is ...
Read more

›