Renesas Synergy™ TB-S5D3 Target Board Kit helps designers evaluate the operation and performance of the S5D3Microcontrollers. The S5D3 Target Board Kit offers initial firmware development and evaluation of the Synergy Software Package (SSP) on the Synergy™ S5D3 Microcontrollers. The Kit connects via a USB connector for the main MCU, or two PMOD connectors, and a selection of Pin headers. The kit includes 1 TB-S5D3 board and 1 USB Type-A to USB Micro-B cable.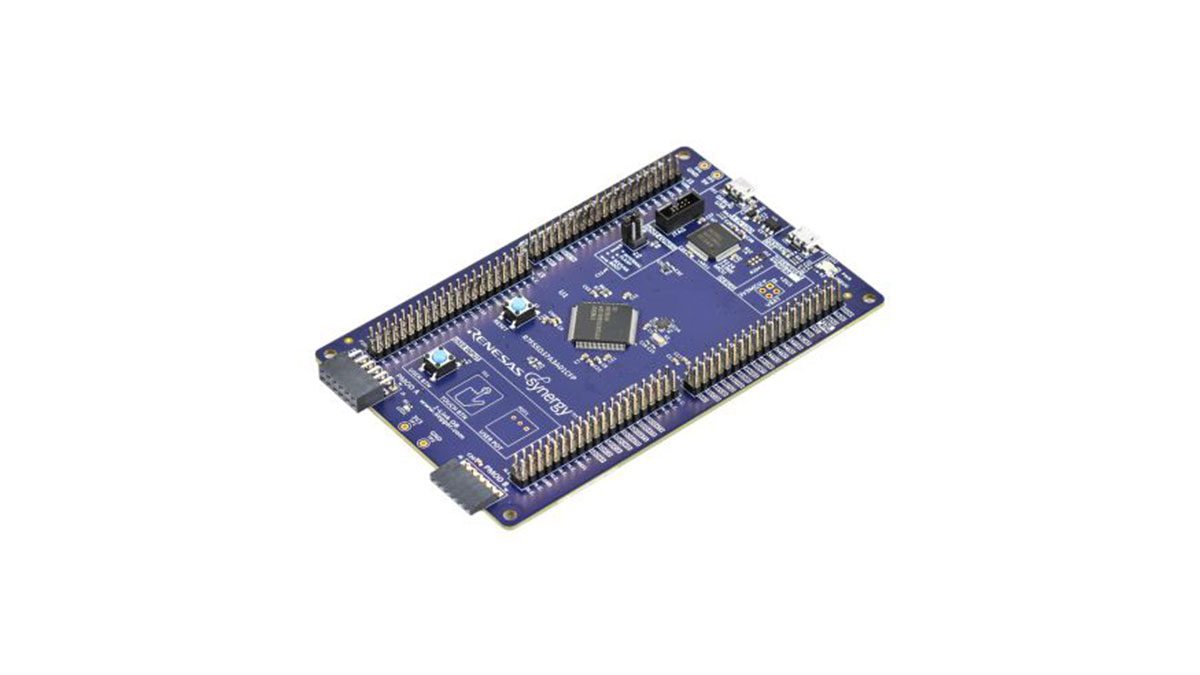 Features
Renesas Synergy™ S5D3 Microcontroller Group

R7FS5D37A3A01CFP
100-pin LQFP package
120MHz Arm® Cortex®-M4 core with Floating Point Unit (FPU)
256KB SRAM
512KB code flash memory
8KB data flash memory

Connectivity

A Device USB connector for the Main MCU
S124 MCU-based SEGGER J-Link® On-board (OB) interface for debugging and programming of the S5D3 MCU. A 10-pin JTAG/SWD interface is also provided for connecting optional external debuggers and programmers.
Two PMOD connectors, allowing use of appropriate PMOD compliant peripheral plug-in modules for rapid prototyping
Pin headers for access to power and signals for the Main MCU

MCU reset push-button switch
MCU boot configuration jumper
Multiple clock sources

Main MCU oscillator crystals, providing precision 12.000 MHz and 32,768 Hz reference clocks
Additional low-precision clocks are available internal to the Main MCU

General purpose I/O ports

One jumper to allow measuring of Main MCU current
Copper jumpers on PCB bottom side for configuration and access to selected MCU signals

Operating voltage

External 5V input through the Debug USB connector supplies the on-board power regulator to power the Target Board logic and interfaces. External 5V or 3.3V may be also supplied through alternate locations on the Target Board.

A two-color board status LED indicating availability of regulated power and connection status of the J-Link interface
A red User LED, controlled by the Main MCU firmware
A User Push-Button switch, User Capacitive Touch Button sensor, and an optional User Potentiometer, all of which are controlled by the Main MCU firmware
Ally Winning @ eenewsembedded.com writes:
The MCU and target board address cost-sensitive applications that require a high-performance MCU, but don't need on-chip graphics acceleration or Ethernet connectivity. The R7FS5D37A3A01CFP and TB-S5D3 integrate a 120MHz Arm Cortex-M4F processor core and advanced security, along with 512-KB Flash and 256-KB SRAM. The S5D3 MCU Group is based on a highly efficient 40nm process technology and is fully supported by the Synergy Software Package (SSP).
Read more: RS ADDS RENESAS SYNERGY S5D3 MCU AND DEVELOPMENT BOARD