RasPiO Night Light is motion-activated RGB light that lights your way in the dark. It's a lovely build-it-yourself kit designed to be gorgeous to look at and fun to build, use and tweak.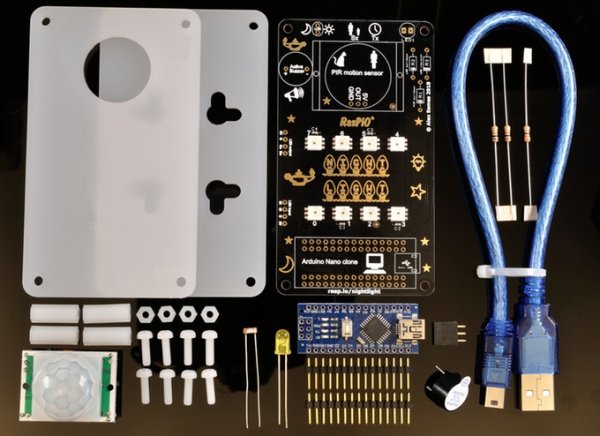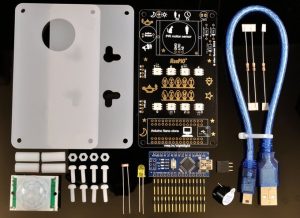 enjoy making it
enjoy tweaking it to your requirements
enjoy being greeted by it when you walk past in the dark
It's great for providing a bit of automatic nocturnal illumination in places like your…
hall
garage
landing
workshop
shed
What's in the Kit?
a beautiful PCB
a laser cut, Polar White frosted acrylic case with 4-way mounting holes
an Arduino nano clone
a PIR motion sensor
all the through-hole components (surface-mount components pre-soldered for you)
nylon nuts, bolts and standoffs
USB to mini-USB cable
It's fully programmable so you can customise it to your own requirements by tweaking the Arduino sketch provided. You could also add any additional sensors or components you want, as all the Arduino ports are broken out to a second set of through-holes (labelled on underside of PCB).
Custom Engrave – Lovely Gift Idea
Add a custom engraving of your choice (optional extra) to the front to make it extra special. This would make a wonderful gift for someone special.
(Maximum engraving area 30mm height x 42mm width. Your text or graphic must 'work' in monochrome.) If you like this idea, a couple of the rewards include custom engraving.
Stretch Goal #1
If we hit and maintain a funding level of £10,000 the case will have two additional diffusing strips covering the long sides.
What Else do I Need?
To assemble the kit you'll need a soldering iron, solder and snippers. You'll also need a 5V power source, which can either be attached to the mini-USB on the arduino nano clone or 5V/GND on the PCB.
You'll also need a computer if you want to be able to flash the software to the Arduino nano clone. (We can do this for you as a 'power-up' but it costs a little extra.)
There will be a "RasPi.TV-style" assembly video and full step-by-step instructions as for other RasPiO KickStarter projects.
Read more: RasPiO Night Light – gently lights your way in the dark