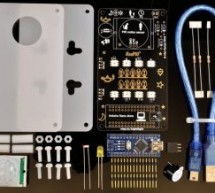 About RasPiO Night Light is motion-activated RGB light that lights your way in the dark. It's a lovely build-it-yourself kit designed to be gorgeous to look at and fun to build, use and tweak. enjoy making it enjoy tweaking it to your requirements enjoy being greeted by it when you walk past in the dark It's great for providing a bit of automatic nocturnal illumination in places like your... hall garage lan ...
Read more

›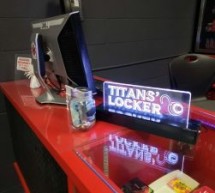 https://youtu.be/AcvpgUQGPn4 Been playing around with the laser cutter/engraver, and really fell in love with engraving in to clear acrylic and shining a light source from the edge. The thickness of the acrylic being used is a .25" sheet, which cuts really cleanly by the laser cutter/engraver (the one that I had access to is the Trotec 300). Started off with a simple OPEN sign with a single light colour sou ...
Read more

›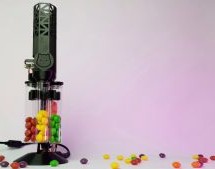 Sorting candy by color is a classic problem that has its roots in the contract riders of rock stars who were just trying to make sure that more important contractual obligations were not being overlooked by concert venues. Through the years, candy sorting has become a classic problem for hobbyists to solve in various ways. After a false start a few years back, [little french kev] was compelled to dust off t ...
Read more

›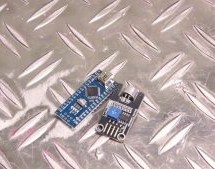 Hi! In this build we'll make a good looking light that dances to all sounds and music, using simple components and some basic Arduino programming. It makes an awesome effect while standing on the desk when gaming, playing music, and anything else that makes sound really. Let's get going! (Click here to download schematic) STEP 1: MAIN SUPPLIES First things first: what kind of supplies do we need and what do ...
Read more

›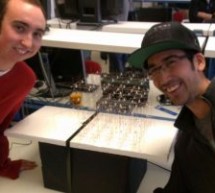 The objective of our final project was to build a 5x5x5 RGB LED cube that can display a certain color depending on the frequency of music playing. There are two main components of this project. [gallery columns="2" size="medium" ids="31240,31241"] The first part is the hardware setup that consists of the LED cube and the circuits that drive the power for each LED which is controlled through an Arduino Uno m ...
Read more

›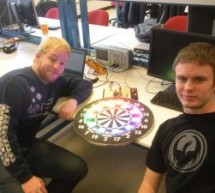 For the final project we made an analog style clock with an Arduino microcontroller. To do this we used three major components: an RGB LED Strip, a DeadOn RTC, and a custom user interface. The LED strip is used to set the display around the clock. The DeadOn RTC is used to keep time independent of the microcontroller and communicates using SPI. The custom user interface allows the user to make various selec ...
Read more

›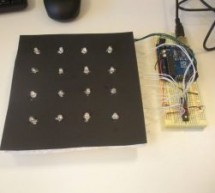 This project involved creating a red, blue, green (RGB) light emitting diode (LED) matrix that displayed the colors of the rainbow. The colors of the rainbow were chosen to show the full color spectrum that the LEDs are capable of, while still giving distinct variation within the LED matrix. [gallery size="medium" ids="31125,31124,31123"] In this project, each diagonal of the LED grid is a different color o ...
Read more

›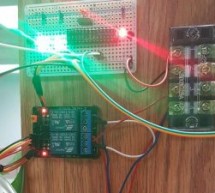 Monitor your plants and let them water themselves when they are thirsty. Story Motivation I work in a rather 'sterile' office, that was once a server room with raised floors. After several years working in there, I got tired of no windows, no outside light, and NO GREEN things, and decided to bring in one of my many plants, from home, in an attempt to bring a little 'green' inside. I brought the plant in an ...
Read more

›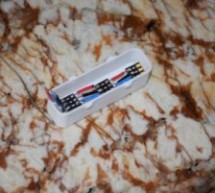 Stand out from the crowd with this unabashedly ostentatious excuse for a wallet. It's got plenty of space, RGB lights, and you can even put your name on it for added vanity. Interested? Keep reading! In the files section of this build you can find two things: a Fusion archive and some STL files. If you're just interested in printing a blank wallet without any text on it then download the STL files. Load the ...
Read more

›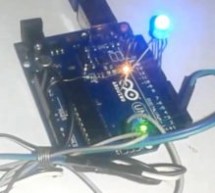 In last tutorial, we explained controlling a Robot using Wi-Fi and Arduino, and in this article we are with our next IOT Based Project- RGB LED Flasher using Wi-Fi. Here we have used Arduino and ESP8266 Wi-Fi Module to control the colors of RGB LED, through a Android Phone, over the Wi-Fi. In this RGB Flasher LED, we have used an Android Mobile App named "Blynk". Blynk is a very compatible app with Arduino, ...
Read more

›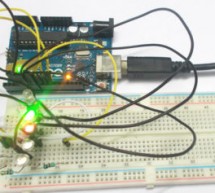 In this project we are going to interface 5 RGB (Red Green Blue) LEDs to Arduino Uno. These LEDs are connected in parallel for reducing PIN usage of Uno.  The RGB LED will have four pins as shown in figure. PIN1: Color 1 negative terminal or color 1 positive terminal PIN2: Common positive for all three colors or common negative for all three colors PIN3: Color 2 negative terminal or color 2 positive termina ...
Read more

›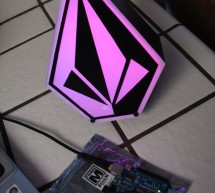 Greetings! I'm Russell Petersen. I'm an engineer, inventor, designer, fabricator, and dreamer. I'm a junior Electrical Engineer by trade, located and working in the San Francisco Bay Area. I love playing with Solid State Lighting, and came up with this idea one night. Simply stated, It's a custom built light box with a logo adhered to the front, and lit by a RGB LED module. This project is easily adaptable ...
Read more

›