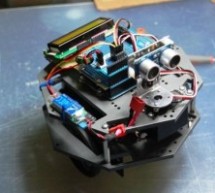 Goals Hello all. I hope to please share a little robot that I have just finished building. There are many Ping Boat, perhaps with a tutorials and display less so without pretension, will illustrate what I could do. I gave myself the goal of realizing a robot that avoids obstacles, hence the use of Ping, who had more autonomy (and less hassle to reload always stylus) and displayed on a LCD display the distan ...
Read more

›
This instructable will show the game TankWars, a web based game played on an iPad that drives a real robot tank to fire lasers at a robot. When you hit the robot target, the game is updated. The tank and the target are Arduino's equipped with RN-XV WiFly modules, the iPad is using a PHP page to send commands to the tank and read the status of the target. Robots, tanks and lasers, what more do you need? This ...
Read more

›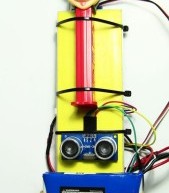 I was strolling down the candy aisle at the supermarket and there it was:  the PEZ dispenser, conjuring up sweet (literally) childhood memories served up by my favorite cartoon characters in squarish sugary pellets.  Then, all of a sudden, an LED went off in my head.  PEZ meets Arduino. In this age of over-automation,  where robots do everything short of scratching nostrils, I figured that my sugar-dispensi ...
Read more

›
Essentially another tutorial involving controlling DC motors. In this post I'm going to first alter a robot arm I had built previously from a beginners kit so that it can be controlled from Arduino. Then I'm going to write a series of posts on different ways to control the robot arm using Processing and other things. You should be able to use all of what I write for work with other toys and motors. To start ...
Read more

›
After I got comfortable programming and building with an Arduino, I used my newly acquire microcontroller skills to build a robot.  Using a microcontroller, four high-torque DC gear motors, spiked legs, a linear actuator, rotation sensors, and 3 L298 H-bridge circuits, this robot can climb up trees of varying diameter.  The very long build log follows. I started out by creating a basic design in Sketchup. T ...
Read more

›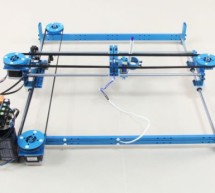 Last month, I made a XY-plotter by Makeblock and use it to built a Drawing Robot. This Drawing Robot was built with two Linear Motion Shaft D8x480mm, two Long Beam0824, the timing belt, two stepper motors, two stepper motor driver, and a micro-controller Arduino.  You can send a picture from the phone or you can take a picture by the phone and then send it to the robot by Bluetooth. After that the robot wil ...
Read more

›
This project idea came to me when I was sitting on a bed on a hotel room on vacation. I thought: "It'd be really neat to have a robotic hand that I can control with my own hand!" Upon returning home, I embarked upon a journey to design and create the project. I hope you enjoy! The basic components of the hand and glove are the hand itself, the servos, the Arduino, the glove, and the flex sensors. The glove ...
Read more

›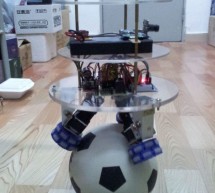 Last year, I have made this ball balancing robot.It can stand on a ball stable by the balance system of itself. There is only one connect point between the robot and the ground, so it is more flexible than the traditional wheeled robot. It can move to any directions without turn. For the traditional wheeled robot when its center of gravity is too high it may fall down, but by using this robot the problem wi ...
Read more

›
My First ever Robot. It tracks objects using Infra-red sensors, and has basic AI that follows and avoid objects. I will describe the how I made this robot, and upload some videos. Version 1 (16 Dec 2011): —————–The components used ———————- I actually planned this robot before making it. I didn't use all the parts expected. here http://blog.oscarliang.net/ir-… I only used these compenents: Arduino 2 x Servo ...
Read more

›
Makeblock is an aluminum extrusion based construction system that provides an integrated solution for aspects of mechanics, electronics and software design. With Makeblock you can make professional robots, toy machines or even art-ware. It's super easy-to-use and helps bring your creations to life. The only limit is your imagination. For more information, please visit Makeblock website here. The Music Robot ...
Read more

›
Introduction The idea of this project was to design and construct a robot that consists of a body and two wheels that would be able to balance on its own. This behavior is similar how a segway (a new mode of transportation) works. Our goal was to have a working finished product – a robot that, without human interaction, could balance on two wheels. High Level – Physical Design The design of this project is ...
Read more

›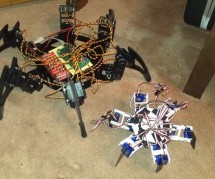 Arduino Hexapod Robot Design I will show you how to build an arduino hexapod robot, from building the body, to how to implement the algorithm. To learn about the implementation of the algorithm, read this first, if you are not sure what is IK, read this. China_icon 中文翻译:http://blog.oscarliang.net/arduino-liu-zhua-kun-chong-liu-zhua-shou-ji-yuan-dai-ma/ I ordered parts from a robot frame manufacturer, but th ...
Read more

›