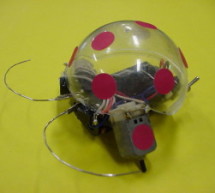 Welcome! I have been in robotics since I was a kid and I am very passionate by robotics. I learn BEAM robotics around 1997-98 and started building robots for a science faire project call "Insectroides" in 2001. http://robomaniac.solarbotics.net ( they change server and the website links does not work anymore it is on Linux and it is CASE SeNsiTIve! ) here is the old one http://members.tripod.com/robomaniac_ ...
Read more

›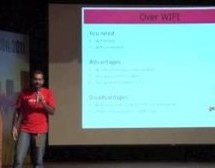 udar Muthu gives a talk on Making Robots Using Android and Arduino at Droidcon India 2011 by HasGeek. ...
Read more

›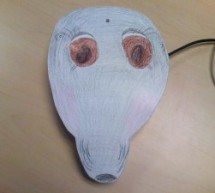 I've made a video documentation of my midterm project for my 544 class. To keep it shorter, I didn't detail in the video that this is only a completed phase of a larger project: an autonomous robot seal. I was originally going to incorporate a whole body that hid his components, but this current prototype is not at a stage that calls for a full body. So, I made a temporary head/face for Buddy that is meant ...
Read more

›
This page provides general information to students enrolled in the EML 6808 course, Analysis and Control of Robot Manipulators. Prerequisites for the course are: EML 4312C, EML 5271, or C.I. Kinematics and dynamics of multibody systems. The topics to be covered include: basic components of robotic systems; selection of coordinate frames; homogeneous transformations; solutions to kinematic equations; velocit ...
Read more

›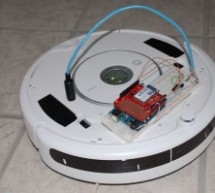 I wanted to see if I could operate my Roomba remotely and get it to report its status via Twitter while I was away from home. I also wanted to make the device independent of a computer. This is the solution I came up with and it works very well. Follow @TheRoomba on Twitter to see what mine is doing! Step 1: Needed Parts and Tools Parts: 1x - Small signal, low power PNP transistor (I used a 2N2907A (may als ...
Read more

›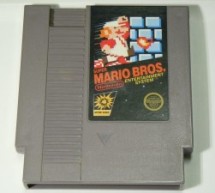 This guide will take you through the steps to build an NES playing robot You will need: An Arduino Duemilanove (other boards will probably work, but you will have to adjust the steps for your device) Working NES Console Super Mario Bros. (Note: this must be only the single game, not the two- or three-in-one cartridge) A controller you can cut the cord from Two LEDs (two different colors are recommended but ...
Read more

›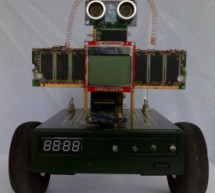 I SHALL CALL HIM " PEE-WEE " Personal Electronics Entertainment With Embedded Education. Basically a project that is fun and I learn a hole lot of stuff from it. . This project started out as just a small robot so I could learn more about my Arduino and coding. And at first he was a simple little bot or tot I guess I should say. With a CD player case as a body, a couple of servos and some old laptop speaker ...
Read more

›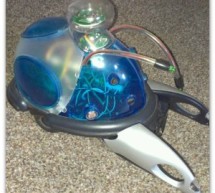 I've had a couple of Cybots as well as the Tom robots for a number of years - every so often they get dragged out and tinkered with. Now is this years turn. I have decided to try my hand at Arduino control of the Bots motors. There seems to be a large number of You tube Videos that say "yes we did it", but not many on how to get there, so I'm going to start from what I think should be the beginning. Assumpt ...
Read more

›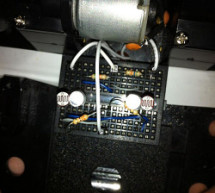 I built a linefollower robot that could be used in many different ways, and I summed up my project in some steps. To begin with, all you need is the following parts: Step 1: Robot frame Parts List: -Robot frame -Two wheels -Two DC motors How to: I used an old robot frame with two wheels commanded by two DC motors, but you can use an equivalent solution as well. Step 2: Sensor ir + photoresistor Parts List: ...
Read more

›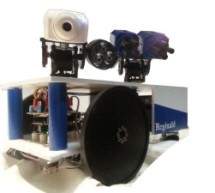 Reginald started from the simple, yet bold idea to control a bot from anywhere in the world with a live video feed. What I wasn't expecting was for Reginald to develop into an involved, feature rich project. With my work and money, I was able to complete a project exactly to my satisfaction and more. This tutorial chronicles the entire project: from top to bottom. Before I started my project, I had several ...
Read more

›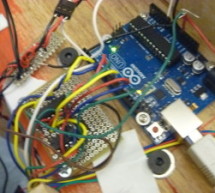 Electrical Components The electrical components are the five motors and their associated circuits, the buttons, and the thermocouple. The Circuit We are controlling two stepper motors, three servos, a thermocouple, and a set of buttons using an Arduino. Our final circuit diagram looks like this: Building the Circuit 1. Stepper motors: The first step we tackled when building the circuit was the stepper circu ...
Read more

›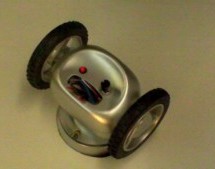 Age Group: 13 - 18 My experimental rover that I built from a Roll-A-Way alarm clock that was on clearance for $5. It can be controlled via the numeric section of a keyboard when the serial port is connected to a computer or a Wii Nunchuck attached directly to it, using either the joystick portion, or the accelerometer while pressing the bigger button. It uses one of my customized Ardweeny and an H bridge L2 ...
Read more

›