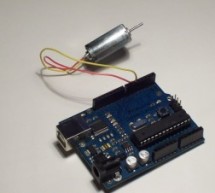 When I say simple, I don't mean use a speed control. But control the motor directly without any external circuitry. Here's how: How this came about: I recently was working on an instructable about charlieplexing with an arduino. And I was wondering if the same principle would work with motors to some extent. So I came up with the idea that if you used a motor instead of an led you could have 2-way control o ...
Read more

›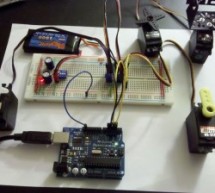 I'm going to show you how to use your Arduino to control up to 12 servos at once with minimal jitter.  Using a simple serial interface you can control the position of up to 12 servo channels.  Up to 10 snapshot positions can be saved and played back at any time.  Start up values for each servo can be saved as well. There are two major parts to the application.  The first part I will discuss is the firmware ...
Read more

›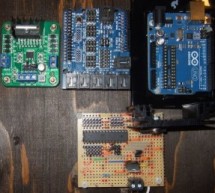 I am presenting a compact design of a stripboard Arduino board (DIYduino) that includes a 2A motor driver and has additionally the functionality of a sensor shield. The 2-channel version cost approximately $29.43 and is more affordable compared to $39.00 for a commercially available system consisting of an Arduino Uno, $21.50, a sensor shield, $8.50, and a motor shield, $9.00. The cost can be further reduce ...
Read more

›
I just got a new go kart engine, i went from 6hp to 10hp. This new kohler engine I got I think was not built to put on a go kart, so I had some trouble finding a way to attach the gas petal. Well after a few days of not really figuring anything out, I remembered that I had gotten an arduino about a week ago, and maybe I could use this to help me out. Step 1: Power and safety circuit below is a diagram of ho ...
Read more

›
In arduino projects, you might add servo to your projects. This short tutorial, show you the basic how arduino and servo works together. Instruction; 1) Connect all jumper wire as shown in diagram. 2) Connect the signal wire from servo to digital pin 9. Upload this code to your arduino /*   Servo Basic   Understanding the basic of servo in arduino projects. Sweep servo to 0, 90, 180, 90 and 0.   Code ...
Read more

›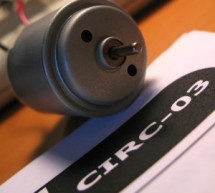 This week, we'll finally be using the Arduino to control some motors! First up, we'll control a standard DC motor running off a 9V battery with the help of an NPN transistor and a PWM (Pulse Width Modulated) signal from the Arduino. [box type="note" color=" #202020 " bg="#ffbb00 " font="verdana" fontsize="14" radius="20 " border="#000" float="right" head="Attributes"]Thanks to Jeremy , for this articles[/bo ...
Read more

›
This instructable will show you show to build an Arduino shield which can be used to control 3 servos and 1 stepper motor using 4 potentiometers. You will need: access to a laser printer/cnc router/etching chemicals 7 x 3 pin 3.5mm terminal blocks 2 x 2 pin 3.5mm terminal blocks 2 x 8 pin stackable headers 2 x 6 pin stackable headers 1 x 8 pin chip socket 1 x L293D motor driver chip optional: access to a la ...
Read more

›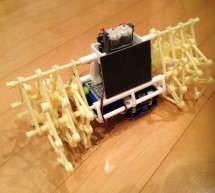 The Strandbot is a DIY upgrade for the Strandbeest originally designed by Theo Jansen.  Strandbeests are amazing mechanical creatures that are able to move on their own using just a little bit of wind power.  Unfortunately my tiny apartment is short on wind, so I decided to upgrade a miniature Strandbeest using an Arduino and some motors.  The brain is powered by a solar-charged Li-Po battery so the Strandb ...
Read more

›
Following the popularity of our self balancing scooter and the SciChair we decided to try something a little edgier, the Self Balancing Unicycle. This project reuses a lot of stuff from our previous projects, using an arduino as the brains behind the scenes. Step 1: Ready your tools Before we begin lets ensure we have everything we need. For this project you probably want to be fairly comfortable with weldi ...
Read more

›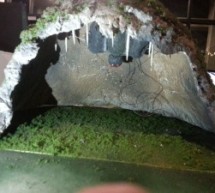 The purpose of this instructable is to outline our development of this bat in the cave as well as provide instructions and tips for future engineers hoping to complete a similar project or use components of our project in theirs. The goal of this project was to create an diarama that could educate people. The main functionality of the bat in the cave is for bat to react to a light source in the cave by stre ...
Read more

›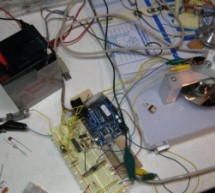 There is a lot of interest these days among hobbyists in controlling brushless DC (BLDC) motors, which have improved performance and better energy efficiency over traditional DC motors, but are more difficult to use. Many off-the-shelf products exist for this purpose. For example, there are lots of small BLDCs controllers for RC airplanes that work really well. For those wanting to delve more deeply into BL ...
Read more

›
Overview Stepper motors fall somewhere in between a regular DC motor and a servo motor. They have the advantage that they can be positioned accurately, moved forward or backwards one 'step' at a time, but they can also rotate continuously. In this lesson you will learn how to control a stepper motor using your Arduino and the same L293D motor control chip that you used with the DC motor in lesson 15. How To ...
Read more

›