Arduino Solar Tracker Using LDR Sensor & Servo Motor
Arduino Solar Tracker
Solar energy is one of the fastest growing industries in the world; today more than 65 GW energy is produced by solar power. Since solar energy is renewable, it is a good power source, especially for developing countries.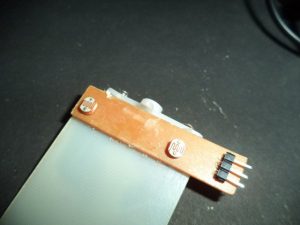 In this project, I am going to show you how to make a solar tracker using Arduino Nano. The solar panel tracker is designed to follow the sun movement so that maximum light intensity hits on the solar panel, thus increasing the power efficiency. Use of a solar tracker circuit in the field of energy production will increase its efficiency by almost 25%. This system can also be successfully implemented in other solar energy based projects water heaters and steam turbines.
There are basically two types of Arduino sun trackers. One of them is the single axis solar tracker and the other is dual axis. Single axis solar tracking system moves the solar panel from east to west in a day to point in the direction of the sun. Dual axis solar trackers uses the motor to move the solar panel in all four directions (North-South & East-West).
South to north is not a viable or big movement, because this movement covers only 20 degrees in half year and in remaining half year it moves from north to south and we can set this, manually in a week. Since the East-West tracking is more important, I will be explaining more of the single axis solar tracking.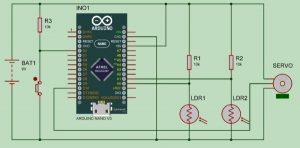 Arduino Solar Tracker – Working
In this project an Arduino Nano is used, which works as a controlling unit. Two LDR's (Light Dependent Resistor) are also connected to analog pins of the Arduino. A dummy solar plate is attached in parallel to the axis of servo motor and both the sensors are kept on the dummy solar plate as shown in the figure below.
The arrangement is made in such a way that the movement of sun is from sensor 1 to sensor 2, as shown in the mage below.
Read more: Arduino Solar Tracker Using LDR Sensor & Servo Motor
This Post / Project can also be found using search terms:
arduino solar tracking book pdf
arduino Solar Tracker
motor car project using arduino nano
Project Ratings:
Related posts