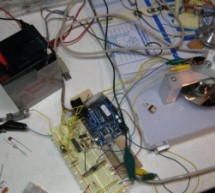 There is a lot of interest these days among hobbyists in controlling brushless DC (BLDC) motors, which have improved performance and better energy efficiency over traditional DC motors, but are more difficult to use. Many off-the-shelf products exist for this purpose. For example, there are lots of small BLDCs controllers for RC airplanes that work really well. For those wanting to delve more deeply into BL ...
Read more

›
Overview Stepper motors fall somewhere in between a regular DC motor and a servo motor. They have the advantage that they can be positioned accurately, moved forward or backwards one 'step' at a time, but they can also rotate continuously. In this lesson you will learn how to control a stepper motor using your Arduino and the same L293D motor control chip that you used with the DC motor in lesson 15. How To ...
Read more

›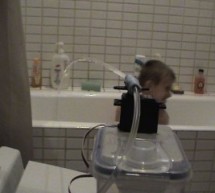 Squirt is a motion activated water cannon using Arduino. This was designed for use in the garden but as it's winter we tested it in the bathroom. It works! True motion tracking is expensive and complicated so this system activates when the victim moves into range and randomises the position of the cannon and the firing time within a limited area. The sometimes fickle readings from the PIR sensor just adds t ...
Read more

›
Today, I'm going to show you how to make an Arduino motor shield (driver) at a low cost. It works splendidly, its posses almost all the characteristics of the original Arduino motor shield. It's almost considered as a clone. The original Arduino motor shield has the same motor driver chip (L298), the only difference with it, is the package type, my project contains the vertical version of the chip L298 (wit ...
Read more

›