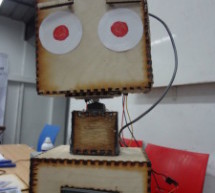 Did you hear before about Social Robot? Did you you see the Pepper Robot or Jibo robot? These kinds of robots that can hear you, understand you and make a social contact with you via sound, facial expressions and body gestures. Social robots have various applications, specifically with elderly people, children and children with a lack in social interaction such as autism. The existence of social robot "phys ...
Read more

›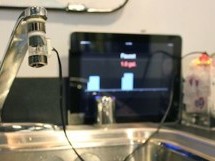 Working with the interaction design team, a bunch of us at Teague have been tinkering with measuring water, analyzing usage data in realtime to affect behaviors, and storing it to see patterns over time. At the heart of the exploration was a need to cheaply measure water from the tap.  Water meters vary quite drastically in price (from $250+ for industrial grade sensors to $6 for garden hose attachments tha ...
Read more

›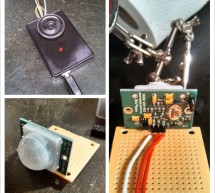 Are you constantly being scared when people sneak up behind your back? Do you have bad hearing and can't hear people approaching you? Do you want to just build a super fun Arduino project? If you answered yes to any of those questions, then this project is for you! I have a workbench in my basement that I use all of the time for homework and projects. The bench is right next to my furnace which is very loud ...
Read more

›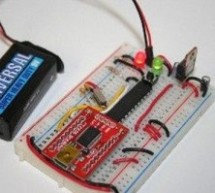 Setting up an Arduino on a breadboard has become a process I have grown to love. Within a few minutes you can have a fully working Arduino platform to work with as you will see in this tutorial. There have been several occasions when I was at school and quickly put together one of these for testing some ideas for a project. Plus it is just looks so neat with all the components laid out over the breadboard. ...
Read more

›
Hello everyone! Today I present you : Arduino Joystick! One day I was checking the inside of old joystick. System wasn't that hard to understand, so I thought of making my of system. The whole build is made only by me. I didn't check the internet pages about joysticks etc. What is it? It's a simple joystick type controller  that uses basic electronic parts and is easy to use even for beginners. Why should y ...
Read more

›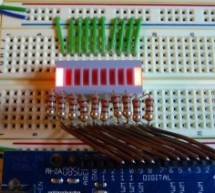 This variation on the For Loop example shows how to use an array. An array is a variable with multiple parts. If you think of a variable as a cup that holds values, you might think of an array as an ice cube tray. It's like a series of linked cups, all of which can hold the same maximum value. The For Loop example shows you how to light up a series of LEDs attached to pins 2 through 7 of the Arduino, with c ...
Read more

›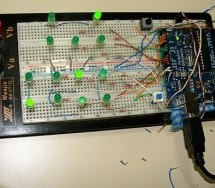 Yesterday I was going to start watching a movie, when me and my friend pedro decided to give up on the movie and build a binary clock. After sometime thinking on how to program it, we made it. It works beautifully, so I decided to show here how I've done. It may not be the easiest way to make it work, but that's what we've done. Parts: - Arduino - 13x Leds (You choose the color) - 13x 220Ohms Resistors - 3x ...
Read more

›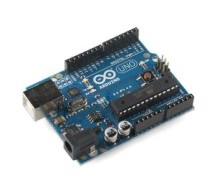 I've read through a lot of tutorials online to make an Arduino Clone on a breadboard, and some of them are great, but none of them really seem to have it all, so I'm going to attempt to bring it all together here and provide a tutorial with schematics, breadboard photos, Bill of Materials, and descriptions of all the materials. I'm going to provide the schematic for the system I am building here along with ...
Read more

›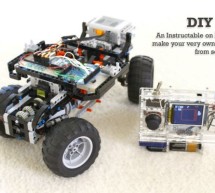 UPDATE (8/29/13): Thank you readers for your enthusiasm and kind remarks regarding this project! It has been a tremendous journey since I started this project back in March, but I am very glad with the resulting product and the excitement with which it has been received by the maker community. Happy building! -Cyrus Do you like Legos? Do you like Arduinos? Do you like RC things that you can bring to life wi ...
Read more

›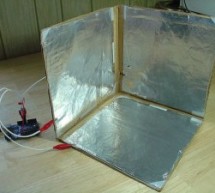 Make a 3D interface using an six resistors, aluminum foil, and an Arduino. Take that, Wii. Update: a much more thorough explanation of this project is available from Make Magazine. It might be easier to follow their instructions, and I think their code is more up to date. The basic goal here was to make a 3D hand-position sensing system that most people can build, while still preserving some semblance of fu ...
Read more

›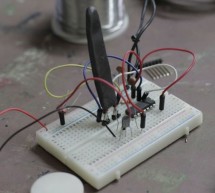 Este es el primero de 5 instructables que surgieron del Instructables & Sugru build night (and day en nuestro caso) que hicimos en el Laboratorio de Juguete, el 20 de julio del 2013:  una Resistencia Flexible o Flex Sensor hecha con Sugru y polvo de grafito: ------------------------------------------- This is the first of 5 instructables from Instructables & Sugru Build Night (and day in our case) i ...
Read more

›
Maker Alessandro Grossi sent us this great DIY build for a 3D scanner built using a laser, a DSLR, and an Arduino controller. Allesandro is a Mechanical Engineer, holding a Ph.D. in product design. His day job involves helping designers and manufacturing firms develop and optimize products by means of FEM analisys and Computational fluid dynamics. This is just what he does for fun. You can read the project ...
Read more

›