Phytec has updated their product pages for three new PhyCore modules, all of which support Linux. The three modules, which employ three different flavors of i.MX8 SOC is phyCORE-i.MX 8X, i.MX 8M, and i.MX 8 SBCs. The PhyCore COMs are based on NXP's Cortex-A53 based i.MX8M, its -A53 and -A72 equipped i.MX8 Quad, and its -A35 based i.MX8X.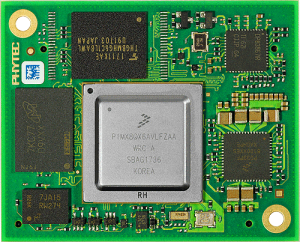 phyCore-i.MX 8X
The i.MX8X SoC found on the phyCORE-i.MX 8X module. This board focuses on industrial IoT applications. i.MX8X includes up to 4x cores that comply with Arm's Cortex-A35.
The i.MX8X SoC is further equipped with a single Cortex-M4 microcontroller, a Tensilica HiFi 4 DSP, and a multi-format VPU that supports up to 4K playback and HD encoding.
There's no onboard wireless support, but support for dual GbE controllers (1x onboard, 1x RGMII) are available. There are MIPI-CSI and parallel camera interfaces, as well as ESAI based audio.
phyCore-i.MX 8M
The phyCORE-i.MX 8M supports the NXP i.MX8M Quad and QuadLite, both with 4x Cortex-A53 cores, as well as the dual-core Dual. All are clocked to 1.5GHz. They all have 266MHz Cortex-M4F cores and Vivante GC7000Lite GPUs, but only the Quad and Dual models support 4Kp60, H.265, and VP9 video capabilities.
In addition to the i.MX8M SoC, which offers "128 KB + 32 KB" RAM, the module ships with the same memory features as the phyCore-i.MX 8X except that it lacks the SPI flash. Once again, you get 512MB to 4GB of LPDDR4 RAM and either 128MB to 1GB NAND flash or 4GB to 128GB eMMC. This 3.3V module supports an RTC, watchdog, and tamper protection.
phyCore-i.MX 8
The phyCORE-i.MX 8, is ideal for image and speech recognition. It is the third module to support NXP's top-of-the-line, 64-bit i.MX8 series. The module supports all three flavors of i.MX8 while the other two COMs we've seen have been limited to the high-end QuadMax: Toradex's Apalis iMX8 and iWave's iW-RainboW-G27M.
Read more: Phytec Develops Three PhyCore Modules – i.MX8, i.MX8M, and iMX8X, Driven By Linux