NVE Corporation announced the new SM124-10E Smart Magnetometer. The new sensor combines a Giant Magnetoresistance (GMR) sensor element with elegant digital signal processing. The versatile product can be used for current or proximity measurements.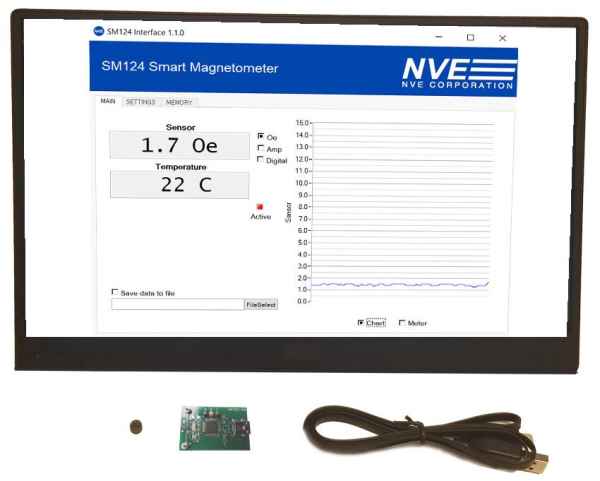 In-Plane Sensitivity
Unlike awkward, old-fashioned Hall-effect sensors, GMR is sensitive in-plane for optimal current sensing and easy mechanical interfaces.
A Slick, Elegant Data Structure
All data and parameters are input and output as single bytes (eight bits). This provides better than 1% precision while eliminating the need to concatenate upper and lower bytes.
No Communications Overhead
Data are always valid, so there is no need to wait for data during an I2C read, and there are no set-up commands or error handling required.
Factory Calibrated
The sensor is factory calibrated for sensitivity, offset, linearity, and temperature compensation. Users can also calibrate the output for a particular system.
Amazing Features
Key SM124-10E features include:
Can detect magnets more than 50 mm away
I2C and digital threshold outputs
7-bit output resolution
In-plane sensitivity – more usable than Hall effect sensors
Programmable offset and gain compensation
Calibrated internal temperature sensor
Internal temperature compensation
Optional magnet temperature compensation
2.2 to 3.6 V supply
Ultraminiature 2.5 × 2.5 × 0.8 mm TDFN package
Evaluation Kit
AG952-07E Smart Magnetometer Evaluation Kit.
The simple AG952-07 Evaluation Kit has everything needed to calibrate, test, and evaluate SM124-10E Smart Magnetometers.
The kit includes:
A 1-inch by 1.625-inch (25 mm by 41 mm) USB-powered evaluation board with:an SM124-10E GMR Smart Magnetometer
a microcontroller connected to the sensor via I2C
a regulated 3.3 volt supply to power the SM124-10E
a current-carrying trace under the sensor for evaluating as a current sensor
A small ceramic magnet for evaluating as a proximity sensor
USB cable to connect the Evaluation Board to a computer
Windows user interface software
Easy Programming
A self-contained programming module with easy-to-use thumbwheel switches and a socket will be available soon to program the sensors' switching thresholds without need of a computer or microcontroller.
Read more: NVE Introduces Smart GMR Magnetometer