Makerdiary one of the most innovative startups in the IoT devices space which are known for a series of development boards like the nRF53832-MDK V2 IoT module, and the nRF52840 MDK USB dongle, among others, recently launched a new addition to their impressive line of Nordic's nRF528xx-series of SoCs based IoT devices, called; Pitaya Go IoT Development Board.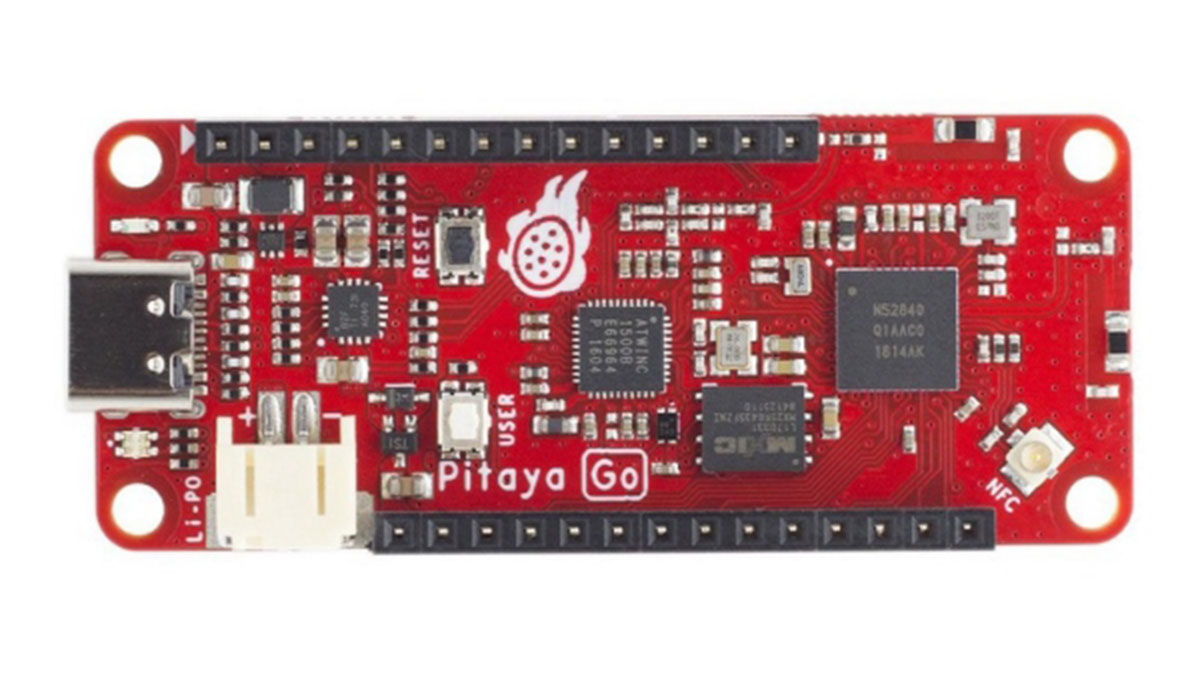 The Pitaya Go combines the Nordic's nRF52840 SoC with an Arm Cortex-M4 (256Kb of RAM/1Mb of Flash) with FPU, and a Microchip's ATWINC1500B Wi-Fi controller, in a 60.96mm x 25.4mm x 7.6mm package. This combination brings in a wealth of features which drives the array of connectivity options and high performance associated with the Pitaya Go.
Some of the features of the Pitaya Go include;
Nordic Semiconductor nRF52840 SoC

64 MHz Arm® Cortex-M4 with FPU
1 MB Flash + 256 KB RAM
Bluetooth 5, Bluetooth mesh, Thread, Zigbee, 802.15.4, ANT and 2.4 GHz proprietary
Arm TrustZone® Cryptocell 310 Security Subsystem
Integrated USB 2.0 Full-speed Controller
QSPI/SPI/TWI/I²S/PDM/QDEC/ADC support
Integrated NFC-A Tag

Microchip ATWINC1500B Wi-Fi Network Controller

Shipped with the latest firmware 19.6.1
IEEE 802.11 b/g/n 20 MHz (1×1) Solution
Extreme low power with Shutdown Control
On-Chip Network Stack to Offload MCU
Supports Soft-AP
Security protocols supported: WPA/WPA2 Personal, TLS/SSL
Enterprise Security with WPA/WPA2 (802.11x)
Network services: DHCP, DNS, TCP/IP (IPv4), UDP, HTTP, HTTPS, MQTT, etc.

64Mbit ultra-low-power QSPI Flash Memory
Integrated Li-Po Battery Charger with Power Path Management
Additional NFC-A Tag PCB Antenna
User-programmable RGB LED and Buttons
Dual Wi-Fi/Bluetooth 2.4G Chip Antennas
Reversible USB-C Connector
Li-Po Battery Connector
Easily expandable dual 14-Pin Header Sockets
Measures 2.4″ x 1.0″ x 0.3″ (60.96mm x 25.4mm x 7.6mm)
Rounding out the Pitaya's features are an integrated Li-Po battery charger (with power path management), additional NFC-A tag PCB antenna, programmable RGB LED and buttons, dual Wi-Fi/Bluetooth 2.4G chip antennas, USB-C port, Li-Po battery connector, and an expandable 14-pin header.
Read more: MAKERDIARY RELEASES PITAYA GO IOT DEVELOPMENT BOARD BASED ON NORDIC'S NRF52840 SOC