Meet Makerarm
As makers, we have ideas all the time––to improve things, to make our lives better. But to make our ideas happen, we need access to tons of machines, materials, and tools that are too expensive.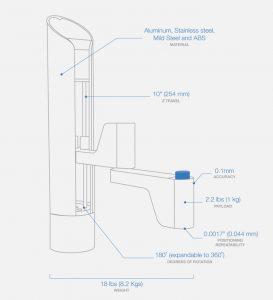 That's why we created Makerarm: a complete digital fabrication system packed into an affordable robotic arm that makes just about anything, anywhere.
"Makerarm is a robotic 3D printer, laser cutter, drawing and ink printer, fabricator and assembly machine all rolled into one that fits on a desktop and promises to make pretty much anything." TechCrunch
"'Makerarm,' 3D Printer On Steroids, Aims To Make DIY Projects Easier." Huffington Post
"Makerarm wants to 3D print, plot, and carve its way into your heart." Engadget 
"Makerarm is a digital fabrication system that lets virtually anyone make virtually anything." Digital Trends 
"Check out a new robot that can 3D print, mill, assemble electronics and even ice a cake." Fortune 
"Altogether, this makes the Makerarm one of the most flexible and capable desktop hybrid machine yet designed." 3D Printing Industry
"Perhaps the best part is all of this can be done right on your desk." Robotics Trends 
"Makerarm: The Robot That Can Make Anything." Electronics-Lab. 
New videos with our features!
Makerarm's CNC milling tool head is used to cut a piece of plywood for a cabinet.
Makerarm CNC mills the Kickstarter logo into Aluminum using a Dremel Fortiflex tool!
Makerarm shows off it's laser engraving function. 
Makerarm shows off its pick and place function by unboxing an iPhone 6 plus. 
Makerarm PCB fabrication demonstration.
Makerarm is multi-purpose
Makerarm works with interchangeable heads for countless applications.
It 3D prints: Makerarm is not confined to a box and can 3D print with both filament and resin.
It carves and mills: Makerarm includes high-speed desktop milling (light duty) and carving. You can mill on a variety of materials including plastics, wood, and soft metals right on your desktop. You can even hook up heavy duty flex shaft tools such as the Dremel Fortiflex to Makerarm for power-carving, grinding, or shaping applications (with speeds up to 23,000 RPM!).
It laser engraves: Makerarm's high power 500mW laser head (405nm) engraves and etches on plastics, wood, leather, cardboard, and more.
It picks and places: Choose from vacuum pump coupled suction cups, electromagnetic heads, or grippers to carry out pick and place operations.
It assembles: With the assembly heads, you can automatically place and fasten screws, carry out gluing, and perform pick and place functions.
It's a PCB fab: PCB milling, drilling, solder-paste dispensing, pick and place assembly (PCBA), and automated soldering take the hassle out of prototyping.
You can also add custom tool heads: A special hardware development kit (HDK) will allow owners to create their own custom tool heads for an unlimited number of projects!
Read more: Makerarm: The Robot That Can Make Anything!