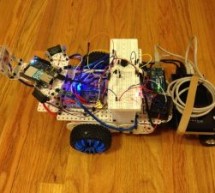 Duffy the mobile robot moves alongside you connected through a "light leash" and alerts you of objects around the path. Story 1)    Background Audible Vision is designed to alert a person of objects around them. The project's brain is the Arduino Uno, which is wired up with two IR Distance Sensors to tell you how far an object is. Mounted onto the Arduino is a Bluefruit EZ-link Bluetooth shield that connect ...
Read more

›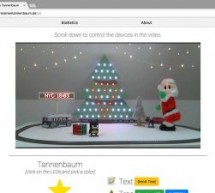 Control any of the 55 RGB LEDs on the tree, let Santa twerk for you, control a model railroad, or display custom text on a LED dot matrix. Story Ooooops.. I think I made a mistake and accidentally posted the project twice, on "Arduino Create" AND "Hackster.io". Please visit: this site to read about our crazy idea. Sorry! ---------------------------------------------------------------------------------- Have ...
Read more

›
Pick N Place robot is a basic level robot for beginners and leaders to learn all about the laws & concepts of Physics, Electronics & Mechanics hence it helps one to inherit this knowledge as one is implementing it. It helps you to get a feel of what robotics is all about. Features: Arduino programming Bluetooth Application based Android smartphone control Wheel with track belt drive Pick and place o ...
Read more

›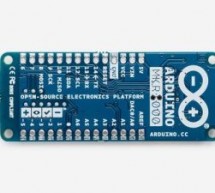 Amazon Dash Replenishment Service Automatic coffee ordering robot using Arduino MKR1000. Never miss another coffee break again! Story Coffee fuels our nation, according to this Gallup article Just under two-thirds of U.S. adults drink at least one cup a day Coffee drinkers average 2.7 cups per day, unchanged from 1999 A quarter say they're addicted, but only 10% want to cut back We all love our coffee. We w ...
Read more

›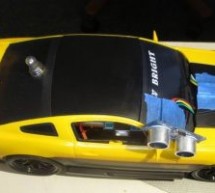 Here's a little history on how this all got started :D So my club was in desperate need of a new project, and it so happened that I had stumbled across an RC car at GoodWill for about 75 cents. It was here that we figured: "Hey, we can build something out of this." However, once we were knee deep in the project, we realized we had bitten off more than we could chew. However, in the end we managed to swallow ...
Read more

›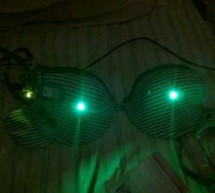 Sexy bra using Arduino MKR1000, Neopixels, and controlled from your smartphone. Story Motivation Many makers sacrifice their social life to play with devices and spend many hours and days making fun things. However, the non-maker do not understand that a robot is something beautiful even if there is a breadboard, components and noise in this tinny thing. Wearable devices are an opportunity towards the recon ...
Read more

›
WIP- Using a MKR1000 to create a WiFi Enabled 2/4 Wheeled Robot Platform, Hardware is in hand, now to implement software Story This is my 1st published hackster build. I have been interested in Wifi enabled Robot platforms since hearing about the raspberry pi for $25..... Now I have many Robotic Platforms built around the Raspberry Pi, Arduino, PcDuino and many clones of each of them. I have not mastered co ...
Read more

›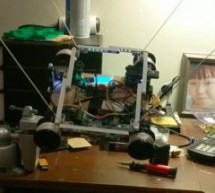 An interesting Arduino project has been created by Nathaniel Nifong and kindly published to Reddit, offering insight on how to create your very own DIY ceiling mounted cable robot powered by an Arduino Mega development board. More commonly associated with sporting events cable robots offer an easy way to view the action on large pitches and are normally mounted with cameras and microphones. Although Nathani ...
Read more

›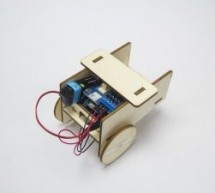 This project consists of a small robot controlled via WiFi using an Arduino MKR1000, MKR2UNO Shield Adapter and Arduino Motor Shield! Things used in this project Story Aim of this project This project aims to show how to use the MKR2UNO Adapter with a MKR1000 and an Arduino Motor Shield. It combines together the Arduino MKR1000 web server abilities and the Arduino motor shield feature to drive two different ...
Read more

›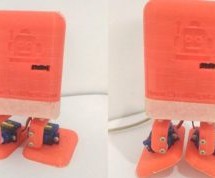 Welcome to another project in which we will build a small Robot which can walk and dance. The project aims in teaching you how to make small hobby robots using Arduino and how to program your Servo motors for such applications. At the end of the project you will be able to make this walking and dancing robot that takes command from an Android Mobile Phone to perform some pre-defined actions. You can also us ...
Read more

›
Ever wanted to build a Face Tracking Robotic Arm or Robot by simply using Arduino and not any other programming like OpenCV, visual basics C# etc? Then read along, in this project we are going to implement face detection by blending in the power of Arduino and Android. In this project, the mobile camera will move along with your face with the help of servos. The advantage of using the Android Mobile Phone h ...
Read more

›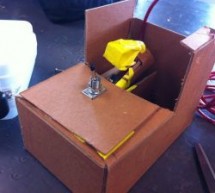 A machine that turns off the knob that you've just switched on- a ruthless battle between human and robot. Story Fascinated by this humorous anthropomorphic idea on instructables that left me philosophizing deeply about the essence of art, I decided to make this a project after witnessing many ruthless battles between human and robot on youtube. How does it work? The Arduino "listens" to the state of the sw ...
Read more

›