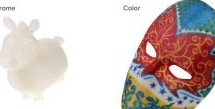 3D Printing became an important process in prototyping, and sometimes in manufacturing. But till now, the filament types available in the market are limiting printing colors. Although there are many multi color printers, printing a design in full color is still a dream. XYZprinting has announced its da Vinci Color printer, the world's first full color 3D printer. In fact, the printer combines inkjet techniq ...
Read more

›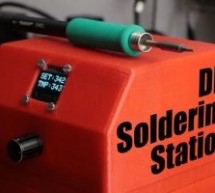 In this project I will show you how to create an Arduino based soldering station for a standard JBC soldering iron. During the build I will talk about thermocouples, AC power control and zero point detection. Let's get started! Step 1: Watch the Video! The video gives you all the basic information you need to build a soldering station. In the next steps though I will present you additional, helpful informat ...
Read more

›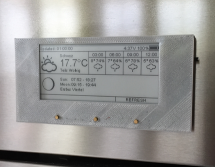 I'm a fan of all kind of weather stations. When Daniel Eichhorn twittered about his new version using an E-Paper display module, I immediately preordered one. I decided to build a station with a custom enclosure, so here is my version of a 3D printed version, featuring magnets so it can be attached to the fridge: Using e-paper for a weather station is an ideal solution, as the data does not need to be updat ...
Read more

›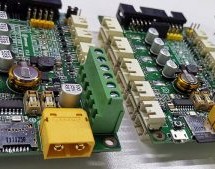 It might not be the kind of thing you've given much thought to, but if you've ever used a desktop 3D printer, it was almost certainly being controlled by an 8-bit CPU. In fact, the common RAMPS controller is essentially just a motor driver shield for the Arduino Mega. Surely we can do a bit better than that in 2019? For his entry into this year's Hackaday Prize, [Robert] is working on a 32-bit drop-in repla ...
Read more

›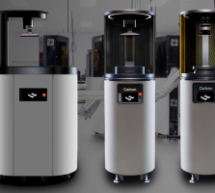 Since 2013, the additive manufacturing startup Carbon had altered the 3D printing industry. Carbon produced its industry-changing M1 3D printer and CLIP 3D printing technology, bringing never-before-seen printing speed and end-use-quality polymer parts to the market. Today Carbon is on a mission to help manufacturers and designers cut their costs, waste less energy and materials while speeding up the ...
Read more

›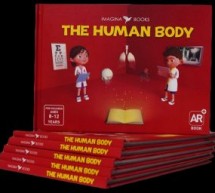 Virtual reality and Augmented reality became essential technologies these days. They have an important role in making products much exciting and entertaining, especially in education. Recently, Livit Studios announced its new augmented reality book series "Imagina Book". Imagina Books is an educational book series that converts the classic and traditional book into an interactive and 3d visualized. It provi ...
Read more

›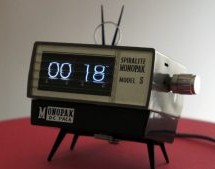 After covering a few of his builds at this point, we think it's abundantly clear that [Igor Afanasyev] has a keen eye for turning random pieces of antiquated hardware into something that's equal parts functional and gorgeous. He retains the aspects of the original which give it that unmistakable vintage look, while very slickly integrating modern components and features. His work is getting awfully close to ...
Read more

›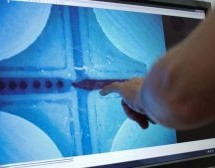 Researchers at Cardiff University use 3D printing to create small devices that move small volumes of fluid and are used in various areas of research. 3D printing makes it possible to share the devices with other researchers, making the study of microfluidics more accessible to a wider audience. The 3D printed devices offer a cost-effective alternative to the traditional ones, which are expensive and require ...
Read more

›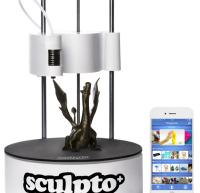 Two years ago, the Sculpto 3D printer appeared to make 3D printing more affordable and user-friendly for everyone. Recently, the new version Sculpto+ came with more useful features, making it a unique printer with the same printing area and price range. The Sculpto+ printer is a compact printer for beginners, kids and adults to start with 3D printing in a simple way. In addition to small size and lightweigh ...
Read more

›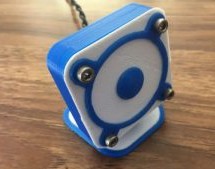 The common magnetic loudspeaker is, fundamentally, a fairly simple machine. A static magnetic field is generated by a permanent magnet, and a membrane is mechanically connected to a coil. When a varying electrical current is passed through the coil, this causes the coil to move due to the magnetic field, vibrating the membrane and producing sound. [Mattosx] put this theory into practice with a simple 3D-pri ...
Read more

›
An infinity mirror with an RGB LED strip that can change its color using Infineon's 3D magnetic sensor knob connected to an Arduino MKR1000. Things used in this project Hardware components Infineon 3D Magnetic Sensor 2Go × 1 Arduino MKR1000 × 1 Darlington High Power Transistor × 3 RGB LED Strip × 1 Jumper wires (generic) × 1 Software apps and online services Arduino IDE Hand tools and fabrication machines S ...
Read more

›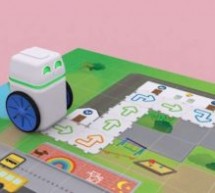 STEM kit seller Pitsco Education has introduced a new line of robotics and coding products for its K-12 classroom catalog. Those include: UKITs, from robot maker UBTECH Education, which come in three flavors: beginner for elementary classrooms, intermediate for middle school and advanced for high school. Each set provides snap-together components (including servos) to create structures and robots that can b ...
Read more

›