LaserPecker Pro-The Most Advanced Portable Engraver. Compact, Safe & Easy-to-use ​Laser Engraver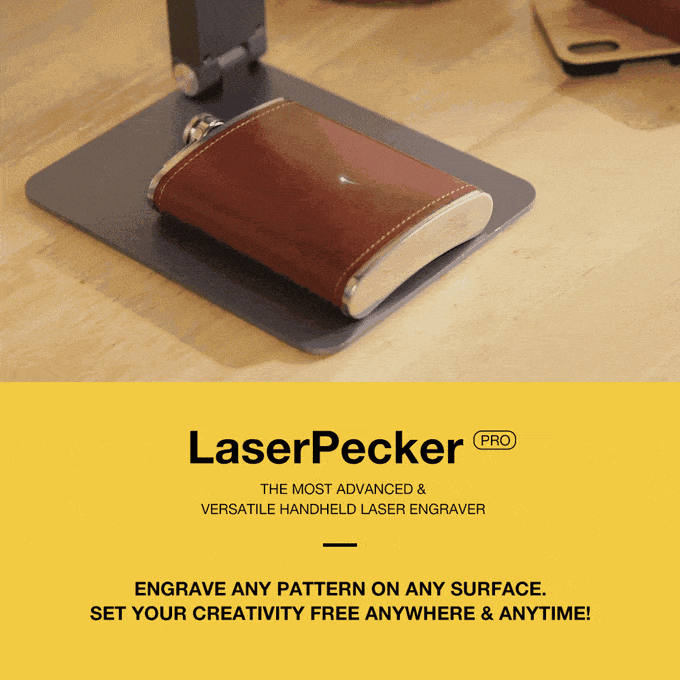 LaserPecker recently announced a Pro version of their LaserPecker portable, affordable, compact laser engraver. Launched earlier this week on Kickstarter, the Laspecker Pro surpassed its modest funding goal of $10,000 in just 14 minutes and is currently approaching $200,000 with over three weeks left to go in the campaign. LaserPecker states their engraver can burn images, words, and patterns on nearly every material — food, metal, plastic, leather, and more.
According to the company,
LaserPecker Pro is upgraded with an auto-adjusting support stand that sets up and focuses in seconds. All you have to do is put the engraving target on the spot. The built-in sensors of the stand will measure the distance between the laser generator and the target and automatically adjust the height to make sure the focal point is the correct distance from the surface of the object.
LaserPecker upgraded the laser on the Pro version from a 450nm blue laser with 0.3mm light spot to a 450nm blue-violet laser with 0.15mm beam, which the company claims has over a 10,000-hour working lifespan. The Pro is a plug-and-play engraver ready to go outside the box and can use multiple power sources, including wall outlets, battery packs, and via USB Type-C cable.
Read more: LASERPECKER PRO – THE MOST ADVANCED PORTABLE ENGRAVER