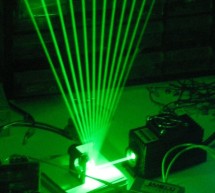 We are a generation that love sound and light – can't do without them really. Our most preferred time of day is night, or what we would call evening. We are particularly well acquainted with technology; doesn't hurt these days. Our prerequisite for everything is that it be 'cool'. Put it all together and in a stroke of brilliance, and a little help from our friend the internet, we have the ideal solution – ...
Read more

›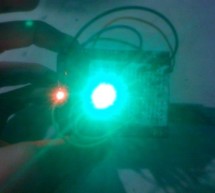 This is a simple arduino based project that consists of a laser tripwire that, when triggered, will begin a countdown sequence on red, orange and green LEDs. I designed this to be an easy project for someone learning how arduinos work (like me). This is my first instructable so please bare with me :) (I'll apologies in advance the picture quality, my phone's camera isn't too great) Let's Go! Step 1: Materia ...
Read more

›
I have always enjoyed the various acrylic laser-cut night lights that others have made. Thinking more about these I thought that it would be great if the night light could also double as a form of entertainment. With this is mind I decided to create jigsaw puzzle that would fit into a thin box that would then be illuminated by an LED strip. Regarding the actual lighting, I wanted the LEDs to slowly cycle th ...
Read more

›
I know that I am not the first to make a word clock, using an Arduino. Still it was always something on my 'to do' list to make a Dutch one. For a different project I've bought a 'colorduino / rainbowduino / funduino' a long time ago to test something. This gave me the inspiration to make an 8 x 8 word clock. I noticed now that I am also not te first to make a 8 x 8 word clock and not the first to make a Du ...
Read more

›
In this instructables I will show you how I made my own DIY laser engraver for very cheap. Also most of the parts are either salvaged from old things or are very cheap. This is a very interesting project for any electronics hobbyist. This engraver will be able to engrave wood, cardboard, vinyl stickers etc. and also for cutting paper due to the 250 mW laser that we will be using. If this instructables helps ...
Read more

›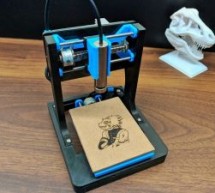 https://youtu.be/ZeAug4SNUSI This is an Instructables on how I Remixed my old CNC Laser engraver and made a Stable version of an Arduino based Laser CNC engraver and thin paper cutter using old DVD drives and using 250mW laser. Old Version of My CNC :https://www.instructables.com/id/Mini-CNC-Laser-Wood-Engraver-and-Paper-Cutter/ Old version was not much stable and had some wobble due to uneven parts, so I d ...
Read more

›
Hello Guys Whatsup, In this instructable, I am making an Awesome mini laser engraver from old DVD writers. It's an amazing machine. You can use this laser engraver machine to make any kind of design, logo, art on the surface like WOOD, MDF, PLYWOOD, VNYL Paper. It's little difficult to make a high-resolution laser engraver from DVD writer. But I tried my best to make a pretty close one. In this instructable ...
Read more

›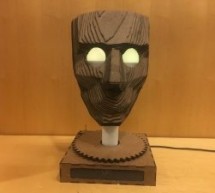 https://youtu.be/Nqh3Ej8qfTU Meet Chartreuse! Chartreuse's face follows you when you walk by. When she sees you, her eyes turn yellow and she gets a happy expression in her eyes. As you walk away, her eyes change to blue and she sadly turns away. Chartreuse is powered by an Arduino Uno, two servos, and a stepper motor and a couple of addressable LEDs and constructed from a few pieces of 1/8" hardboard. Supp ...
Read more

›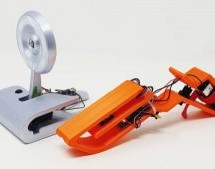 [a-RN-au-D] was looking for something fun to do with his son and dreamed up a laser blaster game that ought to put him in the running for father of the year. It was originally just going to be made of cardboard, but you know how these things go. We're happy the design went this far, because that blaster looks fantastic. Both the blaster and the target run on Arduino Nanos. There's a 5mW laser module in the ...
Read more

›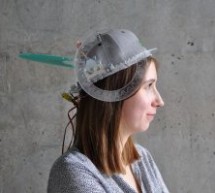 The project conducted as part of the Computational Design and Digital Fabrication seminar in the ITECH masters program. The sun blinds you and you have no hand free? No problem anymore... Here you can find all the important information to build your own adaptable sun visor cap. As well all the files for cutting and programming are attached. Step 1: What You Need. On one of the images you can find ...
Read more

›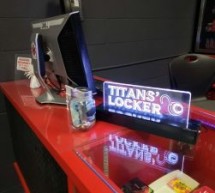 https://youtu.be/AcvpgUQGPn4 Been playing around with the laser cutter/engraver, and really fell in love with engraving in to clear acrylic and shining a light source from the edge. The thickness of the acrylic being used is a .25" sheet, which cuts really cleanly by the laser cutter/engraver (the one that I had access to is the Trotec 300). Started off with a simple OPEN sign with a single light colour sou ...
Read more

›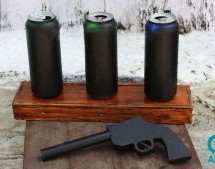 In the lesson I will show you how I made a toy on arduino that will suit beginners. If you start working with sensors, then this toy will suit you as a homemade product. Step 1: Watch the Video https://youtu.be/WQGvIEtyMRw Step 2: Material: - plywood - PVC tube - arduino - servo - photoresistors - power supply +5V - button - laser - aluminum tube (10mm) -wires - resistors 10 kOm Step 3: Box First you need t ...
Read more

›