LAKE WALES Fla.—Graphene is easily grown with chemical vapor deposition (CVD) on copper foil, but a simple way of etching out the necessary circuit patterns and transferring them to a non-metallic substrate has eluded engineers. Now researchers at the University of Illinois (Urbana-Champaign) claim to have a one-step room temperature process for quickly patterning and transferring graphene circuits to flexi ...
Read more

›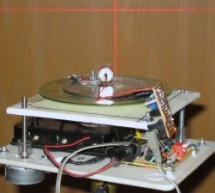 So this Lazy Old Geek purchased a Laser Cross. I created a manual leveling Laser Cross to use for aligning stuff on my drill press: http://www.instructables.com/id/ManualLevelingLaserCross/ Well, being a Geek I decided to make an automated platform that adjusts automatically with an Arduino. Well, the picture may look a little scary but I'll break it down into little bitty parts. Step 1: Parts Lists Parts L ...
Read more

›
Abstract Established and already commercialized energetic materials, such as those based on Ni/Al for joining, lack the adequate combination of high energy density and ductile reaction products. To join components, this combination is required for mechanically reliable bonds. In addition to the improvement of existing technologies, expansion into new fields of application can also be anticipated which trigg ...
Read more

›
[highlight bgcolor="ffbb00"]I have collected 2 methods to create laser range finder, one is very simple but for hobbiest the first one using arduino clock but it comes with errors. Its just to conceptulize how we can create range finder. The second one with the The 7558 and 7555 Series Rangefinder/Processor professional one. It uses already built kits we only have to use these to developer arduino based ran ...
Read more

›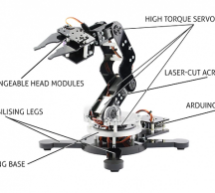 About this project This is a Robot Arm with 5-axis range of motion allowing movements similar to assembly line robots. It was designed to offer the highest quality while remaining one of the most affordable robotic arms on the market. Three years ago, we created MandleBot, a 5-axis aluminum robotic arm currently being used in schools, robotics clubs, summer camps and even factories. We have enjoyed sharing ...
Read more

›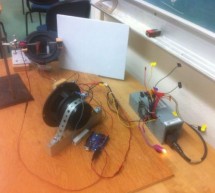 This project uses an Arduino, a pair of speakers, and a laser pointer to create a laser projector able to trace out designs in a dark room. To power it, I've cannibalized a PC ATX power supply capable of delivering plenty of current for the speakers. Most of this project was directly adapted from the excellent Arduino Laser Show with Full X-Y Control by Rich Olson / nothinglabs. Step 1: The Big Idea Laser p ...
Read more

›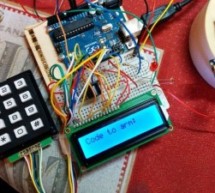 For this dandy little project you'll need: Arduino - I'm using an Arduino Uno a 3 x 4 keypad a 16 x 2 LCD screen a laser module/sensor a light dependent resistor (LDR) a buzzer 3 x 220 ohm resistors 1 x 10K resistor 1 x 10k potentiometer (optional, it's to adjust the LCD screen brightness) an LED and a ton of wires! So, first thing I did was to get the LCD and keypad working together. For this I pretended t ...
Read more

›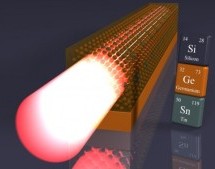 Swiss scientists have created the first semiconductor laser consisting solely of elements of main group IV (the carbon group) on the periodic table. Simply, this means that the new device is directly compatible with other elements in that group – such as silicon, carbon, and lead – and so can be directly incorporated in a silicon chip as it is manufactured. This presents new possibilities for transmitting d ...
Read more

›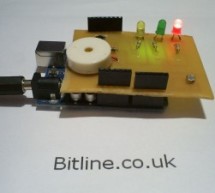 *** I AM THIRTEEN. I REALLY ENJOY PUTTING TOGETHER THESE INSTRUCTABLES. PLEASE SHOW SUPPORT BY VOTING FOR ME IN THE LASER CUTTER CONTEST - http://www.instructables.com/contest/epilog3/*** I started thinking about this project a couple of months ago now. A laser tripwire that can log when the beam is broken and has the ability to take a picture when the beam is broken. Perfect for the bedroom intruder and wh ...
Read more

›
Duino tagger- General introduction Duino tag is a laser tag system based around the arduino. Finally a laser tag system that can be tweaked modded and hacked until you have the perfect laser tag system for office ordnance, woodland wars and suburban skirmishes. Laser tag is combat game like paintball or airsoft without the pain, it uses infrared light (IR) to simulate the tagging / shooting of other players ...
Read more

›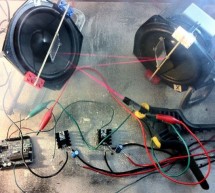 Update! See Step 32 to find out how to use this project with a green laser! Also - checkout the LaserTweet Instructable to make this project display data from Twitter: http://www.instructables.com/id/LaserTweet-Twitter-Projecting-Laser-Show/ This project uses an Arduino and some cheap audio speakers to create a real laser show with full X and Y axis control. The included source code lets you easily draw tex ...
Read more

›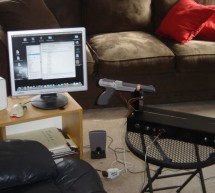 I created this Theremin like device after seeing this article in Make magazine: http://m-cdn.dashdigital.com/make/vol15/?pg=69#pg67 While this looked pretty straight forward it turned out to be a bit much for me at the time.  But after much effort, I got it to work pretty good. I had trouble getting the laser to aim correctly so I chose to mod a zapper I had available to hold the laser.  This worked well. S ...
Read more

›