The RSL10 from ON Semiconductor is an ultra-low power Bluetooth® 5.0 radio SoC for sensor and IoT applications. Designed for applications using 1.2V or 1.5V batteries, it runs from a supply between 1.1V and 3.3V without the need for a DC-DC converter.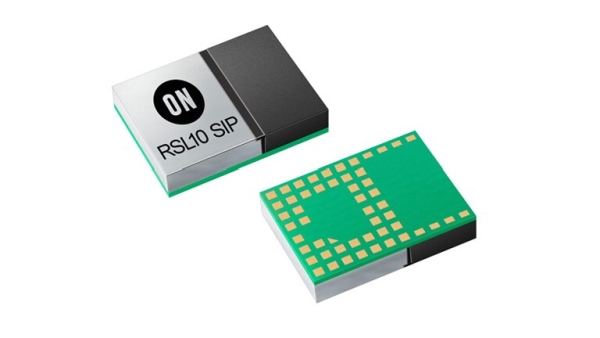 Ultra-Low Power Bluetooth 5.0 Radio SoC – Free RSL10 Evaluation Kits Available | Future Electronics
Bluetooth 5.0 SoC from ON Semiconductor offers extremely low power consumption in wireless sensor applications
ON Semiconductor's RSL10 is a complete Bluetooth® 5.0 wireless system-on-chip which offers outstandingly low power consumption in wireless sensors and other IoT applications.
An evaluation kit for the RSL10 is available free to qualified customers of Future Electronics.
Apply today and get started with development on the RSL10, or buy online from www.FutureElectronics.com
The RSL10 is intended for use in applications which need to take advantage of the low-power characteristics of the Bluetooth Low Energy protocol. It is ideal for applications using 1.2V or 1.5V batteries, and supports a supply-voltage range between 1.1V and 3.3V without the need for an external DC-DC converter. Power consumption is the industry's lowest in Deep Sleep mode (62.5nW) and Receive mode (7mW).
Other Key Features Include:
-94dBm sensitivity
Up to +6dBm Transmit power
Available in 5.5mm2 chip-scale package or 6mm x 6mm QFN
The RSL10 Is Suitable For Applications Including:
Fitness and wellness monitors
Smart watches
Smart locks
Home appliances
Lighting equipment
The RSL10 includes two processor cores, an Arm® Cortex®-M3 controller core and an LPDSP32 for intensive signal-processing functions. It offers users the flexibility to support both Bluetooth Low Energy and 2.4GHz proprietary or custom protocols.
Read more: FUTURE ELECTRONICS PRESENTS ULTRA-LOW POWER BLUETOOTH 5.0 RADIO SOC