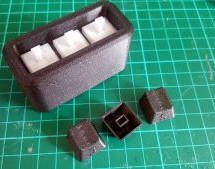 Building a macro pad inside of a 3D printed enclosure is hardly news these days. Neither is adding 3D printed keycaps to the mix. But if you go as far as [James Stanley] has, and actually print the switches themselves, we've got to admit that's another story entirely. Now you might be wondering how [James] managed to print a mechanical keyboard switch that's the size of your garden variety Cherry. Well, the ...
Read more

›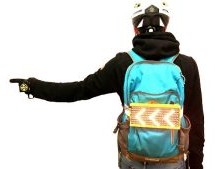 Cyclists share the road with other vehicles, often leading to problems when drivers fail to see or respect the rider's space. To try and alleviate these issues, [Matlek] built the Smartglove to help cyclists communicate their intentions to other road users. The project consists of a glove fitted with an Arduino Nano 33 BLE sense, featuring Bluetooth and motion sensing on board. Combined with TinyML machine ...
Read more

›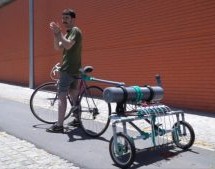 Graffiti is a controversial subject, and whether you see it as art or vandalism usually depends where and how you come across it. From the scribbled tag on a house wall, to highly sophisticated murals, they tend to have one thing in common though: making a statement — whether that's political, showing appreciation, or a simple "I was here". [Sagarrabanana] had his own statement to make, but chose a less per ...
Read more

›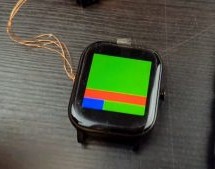 [Aaron Christophel] has been busy, he picked up a P8 smartwatch of the type that many of you will no doubt have seen. They cost almost nothing and do almost… nothing. In all fairness, they do connect to your phone using Bluetooth LE courtesy of a chip from Nordic (the NRF52832), and they can do several simple tasks. But they don't run applications in the way an Android or Apple watch does. [Aaron] wants to ...
Read more

›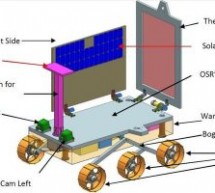 https://youtu.be/mcdEGQTxE88 This project is inspired by the Indian moon mission Chandryaan-2 Which will take place in September 2019.This is a special mission because they are going to land on the spot where no one has every landed before.So to show my support i decided to build the actual rover based on the images of the rover online. I was restricted by my 3d printers size so i had to do some slight modi ...
Read more

›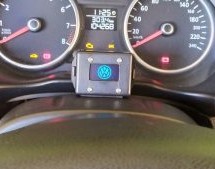 It's likely that many readers will have an OBD dongle through which they can peer into the inner workings of their car, but the chances are that most of us will have restricted our curiosity to the Bluetooth or USB interface it was supplied with. Not [Frederico Souza Sant'ana] though, because he's modified his OBD dongle to expose the serial lines between its ELM327 OBD chip and its Bluetooth chip. These go ...
Read more

›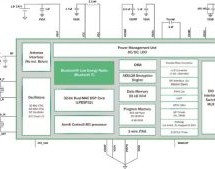 Bringing the industry's lowest power Bluetooth® low energy technology to IoT with a highly flexible multi-protocol 2,4 GHz radio RSL10 from ON Semiconductor. RSL10 is a multi-protocol Bluetooth 5 certified radio System on Chip (SoC) which brings ultra-low-power wireless technology to IoT. Offering the industry's lowest power consumption, RSL10 helps provide devices like heart rate monitors with advanced wir ...
Read more

›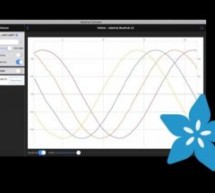 Adafruit has made it even easier to wirelessly connect your computer to their range of Bluefruit LE modules using Bluetooth LE to control and communicate with your projects, with the release of the new Bluefruit Connect for macOS application which is now available to download directly from the Apple Mac App Store. "Unlike classic Bluetooth, BLE has no big contracts to sign and no major hoops that you have t ...
Read more

›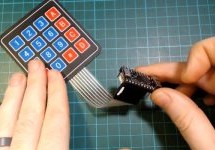 Most people associate the ESP family of microcontrollers with WiFi, which makes sense as they've become the solution of choice for getting your project online quickly and easily. But while the WiFi capability might be the star of the show, the ESP32 also comes equipped with Bluetooth; we just don't see people using it nearly as often. If you're looking to get started using Bluetooth on the ESP32, then this ...
Read more

›
This is a Arduino RC car, originally based off of a project made by Owen_soo. It is very maneuverable, able to do quick turns, go backward and forward with just a flick of a switch. This was originally just going to be a very basic RC car that can go forward and turn right or left. It uses an Arduino Uno. I decided to change the software and use Labview instead. Step 1: Parts This are the necessary parts ne ...
Read more

›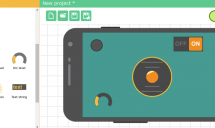 [Labpacks] wanted to build a robot car controlled by his phone. As a Hackaday reader, of course you probably can imagine building the car. Most could probably even write a phone application to do the control. But do you want to? In most cases, you are better off focusing on what you need to do and using something off the shelf for the parts that you can. In [Labpacks'] case, he used Visuino to avoid writing ...
Read more

›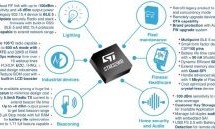 The new STM32WB from STMicroelectronics is a new wireless supporting System on a chip (SoC) that comes with a fully-featured ARM Cortex-M4 (@ 64 MHz) based microcontroller to run the main computing processes. It also has an ARM Cortex-M0+ core (@ 32 MHz) to offload the main processor and offer real-time operation on the Bluetooth Low Energy (BLE) 5 and IEEE 802.15.4 radio. The SoC can also run other wireles ...
Read more

›