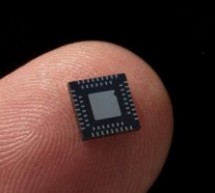 Atmosic Technologies Inc. (Saratoga, CA) has launched the M2 and M3 Bluetooth 5.0 transceiver chips, claiming them to be the lowest power Bluetooth wireless chips available. Atmosic took a wireless agnostic approach to determine the most power-efficient foundation for its first IoT connectivity solutions. To radically reduce power consumption, Atmosic has developed three key technologies: Lowest Power Radio ...
Read more

›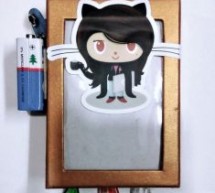 Are you the kind of person who's not good with managing keys and always have to try each key for every other lock? Well don't worry, just grab a little bit of motivation and your maker tools to innovate your very own voice controlled smart key holder. Because there's no problem too small or big that cannot be solved and there's no maker that cannot solve it. All you have to do is, just ask your smartphone a ...
Read more

›
The finger-tip sized ARM Cortex-M4F module with BT 5, BT Mesh, and 30 I/O The arrival of Bluetooth 5 was a significant leap forward for the IoT developer community, especially with its new Bluetooth Mesh functionality, which connects more devices and more sensors. Nearly four billion devices are expected to be shipped with Bluetooth technology in 2018. Bluetooth is driving innovation and creating new market ...
Read more

›
Step 1: Project Presentation This project/instructables shows how to make a nerf gun operated by a remote control. The nerf gun is placed on a bracket which parts are 3D printed and laser cut. That way the nerf gun is able to stand by it self.The nerf gun rotates and moves on the x- and y-axis which results in it being able to move up, down, left and right. However there is also a kind of a dimensional z-ax ...
Read more

›
Today you can hardly surprise anyone with a mobile phone with a camera, wireless gadgets and other technical advances. Thanks to the Arduino platform, millions of people have discovered the wonderful world of electronics and programming. 100,500 instructions were written on how to exchange data between a mobile phone and Arduino via bluetooth ... What am I talking about? Yes. I want to exchange data between ...
Read more

›
This instructable describes how to turn a Commodore 64 computer into a bluetooth keyboard. It involves programming a micro controller with the Arduino IDE and constructing a circuit board. Supplies you'll need (some are optional): Commodore 64 with keyboard (remove mother board, it is not used)(2) 74HC595 shift registers(8) 1N4148 diodes(3) 220 ohm resistors(1) RGB Led (common cathode)(1) Adafruit Feather M ...
Read more

›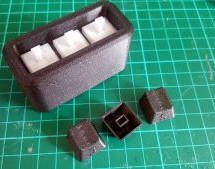 Building a macro pad inside of a 3D printed enclosure is hardly news these days. Neither is adding 3D printed keycaps to the mix. But if you go as far as [James Stanley] has, and actually print the switches themselves, we've got to admit that's another story entirely. Now you might be wondering how [James] managed to print a mechanical keyboard switch that's the size of your garden variety Cherry. Well, the ...
Read more

›
Beacons which became popular back in 2013 when Apple introduced the iBeacon, are Bluetooth powered devices. They promised so many applications and created hype around the business world, that was believed to be the next big technology seeing applications in several industries from retail, movies, security and to the advertising industry. I even wrote a piece about how beacons can be used for ...
Read more

›
Hello, Guys! In this instructable tutorial, I'm going to make an Arduino nano based smartphone (Bluetooth) controlled car. All we know that Arduino is an excellent prototyping platform, principally because it uses a friendly programming language and there are a lot of extra incredible components that provide us great experiences. We can integrate the Arduino with different shields or modules and build fanta ...
Read more

›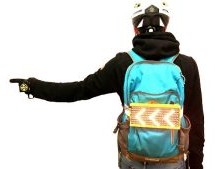 Cyclists share the road with other vehicles, often leading to problems when drivers fail to see or respect the rider's space. To try and alleviate these issues, [Matlek] built the Smartglove to help cyclists communicate their intentions to other road users. The project consists of a glove fitted with an Arduino Nano 33 BLE sense, featuring Bluetooth and motion sensing on board. Combined with TinyML machine ...
Read more

›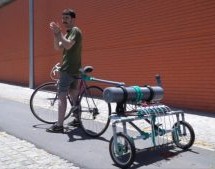 Graffiti is a controversial subject, and whether you see it as art or vandalism usually depends where and how you come across it. From the scribbled tag on a house wall, to highly sophisticated murals, they tend to have one thing in common though: making a statement — whether that's political, showing appreciation, or a simple "I was here". [Sagarrabanana] had his own statement to make, but chose a less per ...
Read more

›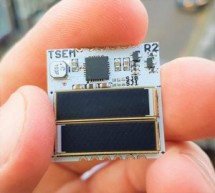 Description This is a 1x1 inch PCB module with two tiny solar cells, a highly efficient Li-Ion battery charger and with two regulated outputs (3.3V and 1.8V). It harvests enough power from indoor light to power a simple BLE or LoRa sensor. The board has castellated vias so it can be surface mount soldered onto a mother PCB as well as soldered onto 0.1" headers to be used in a bread board. Based on TSEM I de ...
Read more

›