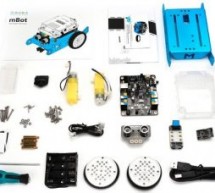 Makeblock was founded in 2012 in Shenzhen as the world's first open-source robot and programing platform. With more than 400 mechanical components, electronic modules, and software tools, the company is determined to bring meaningful STEM education opportunities and the maker mindset to the mass consumer market to make a real difference in society's future with robotics. Makerblock has a variety of products ...
Read more

›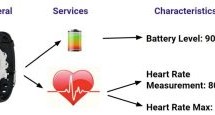 Chrome Browser version 53 came out with a new feature: Origin Trial for Bluetooth which allows websites to use this feature and enable Web Bluetooth for all their visitors. Web Bluetooth is a new technology that connects the Web with the Internet of Things, this technology will provide a level of integration in the IoT scene that never happened before making web designers eager to get their bits out into th ...
Read more

›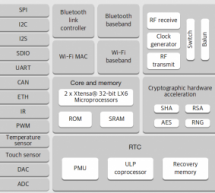 It has been about one year since the announcement of ESP32 SoC and the beginning of its beta testing for some developers. Last Month we covered the release of ESP-WROOM-32 module datasheet,  which promised that "New SDK features, tutorials and example applications will be released over the next few months.". The ESP-32 datasheet was released at the end of August. So let us discover the details of ESP-32 SoC ...
Read more

›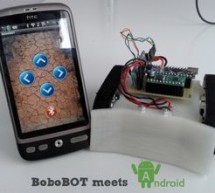 Android robot project built on the Arduino Nano sumo the Sumo robot motor control Qik2s9v1 dual serial motor controller module, Xbee for communication via your Android phone with Bluetooth module is being used. The... Electronics Projects, Arduino Nano Android Robot Project Qik2s9v1 Xbee Bluetooth"arduino projects, avr project, microcontroller projects, " Android robot project built on the Arduino Nano sumo ...
Read more

›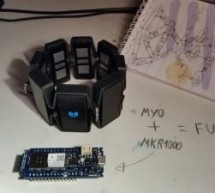 Not only this project has all the Smart Home features but it also includes MYO gesture control, allowing control of lights with your arm. Story Home Automation is the biggest domestic technological improvement of this generation, toe to toe with drones. It can provide full control of every piece of hardware in a house, if done well: from light control to preparing coffee at a specific hour of the day, key-l ...
Read more

›
When you connect a microcontroller to a sensor, display, or other module, do you ever think about how the two devices talk to each other? What exactly are they saying? How are they able to understand each other? Communication between electronic devices is like communication between humans. Both sides need to speak the same language. In electronics, these languages are called communication protocols. Luckily ...
Read more

›
Bluetooth has been around for quite a while now. Being a common way to communicate with mobile phones, it was only natural to include this protocol in the Arduino arena.   Bluetooth is typically a low power, medium range device, in fact it can reach up to 10 meters. Bluetooth operates on the same frequencies as WiFi, 2.4Ghz.Connections are normally one to one meaning no group communication is allowed by the ...
Read more

›
Nowadays, manual labor is being reduced at big scale industries and factories to increase efficiency and gain profit by installing robots that can do repetitive works. A onetime installation of such a device may cost a huge amount, but in the long run, will turn out to be more profitable that manual labor. Out of the lot, a simple robotic arm is one of the most commonly installed machines. We are introducin ...
Read more

›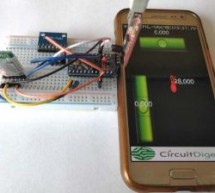 The MPU6050 is an IC 3-axis accelerometer and a 3-axis gyroscope combined into one unit. It also houses a temperature sensor and a DCM to perform a complex task. The MPU6050 is commonly used in building Drone and other remote robots like a self-balancing robot. In this project we will learn how to use the MPU6050 is built an Inclinometer or Spirit Leveller. As we know an inclinometer is used to check if a s ...
Read more

›
Pick N Place robot is a basic level robot for beginners and leaders to learn all about the laws & concepts of Physics, Electronics & Mechanics hence it helps one to inherit this knowledge as one is implementing it. It helps you to get a feel of what robotics is all about. Features: Arduino programming Bluetooth Application based Android smartphone control Wheel with track belt drive Pick and place o ...
Read more

›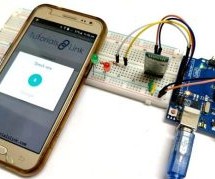 Controlling LEDs with voice command seems to be a difficult task, but it's easy and you can quickly build it. We just need an Arduino UNO to serially communicate with HC-06 Bluetooth module and a smartphone to send voice command to Bluetooth module HC-06. For receiving voice command we are using "Arduino Bluetooth Voice Controller" android app which you can download from play store (link is given below). Ma ...
Read more

›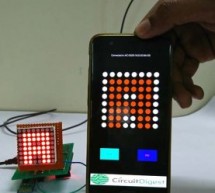 Be it the long stretched highways or your doctors front door, we have sign boards placed everywhere to provide us information. But these sign boards are often boring and cannot be configured as per our interest from time to time. So in this project we are going to build a Bluetooth controlled Sign board using an 8*8 Matrix display. A unique feature of this project is its android application which allows the ...
Read more

›