This project is about how to make a time machine! This machine looks like a glove, and can "stop" any moving subject. At first, watch a video with some demonstration and experiments, guess how it works, and then read about how to make it =)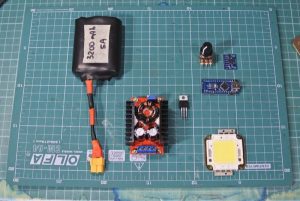 This effect looks like better in real life (by naked eye, not through a camera), without black lines. Smooth perfect time stop effectc!! IT IS REAL "OH MY GOD" REACTION!
Step 1: All We Need
Generally this project is about Arduino, high-power LED and some tricky magic with soldering iron. Here is some list with links to Aliexpress
Step 2: Wiring
Step 3: Assembling Power Part
At first connect battery, DCDC and MOSFET. Also you need to tune DCDC to 34 V output voltage.
Step 4: Assembling Logic Part
Connect potentiometer and IMU to arduino
Step 5: Fixing on Glove
Fix all parts on glove, using cable ties and velcro strip.
Step 6: LED and Cooling Plate
Fix LED on copper plate, and don't forget to smear thermal paste between them.
Step 7: Fixing LED
Finely, place LED on it's place on glove in order:
Metal mount
Glove fiber
Lense
LED
Cooling plate
Step 8: Flashing Arduino