I have done several designs of digital clocks for Arduino using LEDs and LCD displays, but this one is more special because I added other features like alarm and motion sensor (PIR).
Main features
PIR (Presence Infrared Sensor)
Encoder to set the time and alarm
Permanent memory for time and alarm data even when the power supply is off
Main functions of the PIR
Activates the display only when movement is detected around the clock.
Turns off the alarm if any movement is detected.
If you or your children have a deep sleep and it is difficult to wake up in the morning, this last function is perfect for you because the alarm remains activated with a noisy buzzing until the sensor detects the movement of your body.
You should definitely get out of bed and keep moving!
Shake your body !!
Display CATALEX 4 digits x 7 segments (TM1637)
Temperature & Humidity sensor module (DHT11)
Rotary Encoder Decoder module (KY-040)
Sensor Shield for Arduino UNO (optional)
Sensor Shield for Arduino Nano (optional)
2) Assembly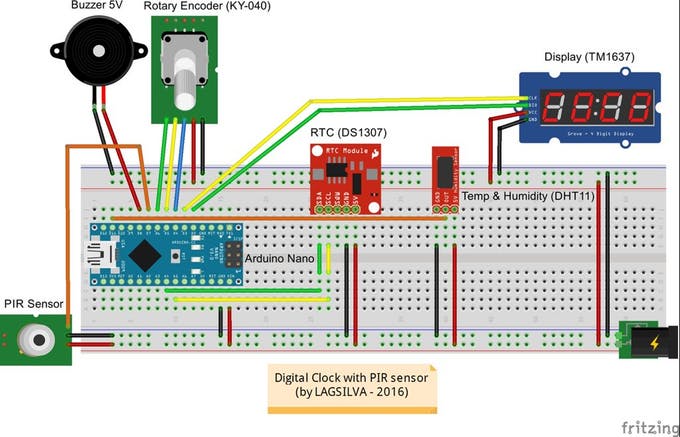 The assembly of these components is very easy.
Just follow the assembly diagram and pay attention to the connections between the components.
Here is the summary of the main signal pins of the sensors and modules to be connected in the Arduino:
Components X Arduino Pin
Display DIO X Digital Pin #2
Display CLK X Digital Pin #3
Encoder SW X Digital Pin #4
Encoder DT X Digital Pin #5
Encoder CLK X Digital Pin #6
Note: In the diagram is shown the Arduino Nano for an application in a more compact size, but in the photos you can see my prototype using an Arduino Uno and a Sensor Shield to facilitate the whole assembly, but of course you can use protoboards to connect All Components.
Read More:  Complete Digital Clock including Alarm and Motion Sensor