*** I AM THIRTEEN. I REALLY ENJOY PUTTING TOGETHER THESE INSTRUCTABLES. PLEASE SHOW SUPPORT BY VOTING FOR ME IN THE LASER CUTTER CONTEST – http://www.instructables.com/contest/epilog3/***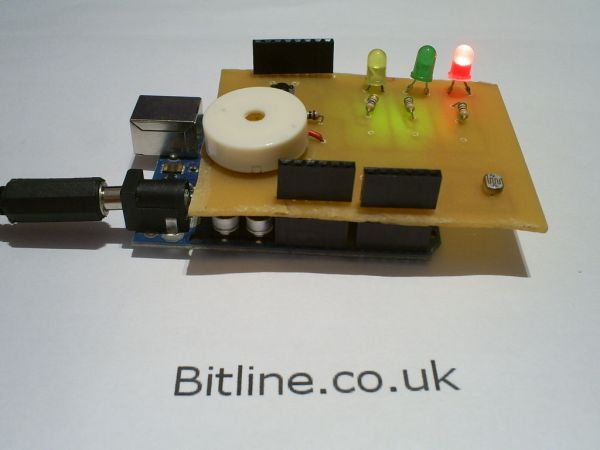 I started thinking about this project a couple of months ago now. A laser tripwire that can log when the beam is broken and has the ability to take a picture when the beam is broken. Perfect for the bedroom intruder and what's more protecting food! So I had a look around online only to find nothing. So I suppose this is why it is now released as an open source project. If you need any help with anything feel free to contact me,
This Tutorial Is Also Here With All Images And Schematics – http://www.bitline.co.uk/index.php?cID=78
PURCHASE THE KIT HERE – http://www.bitline.co.uk
YOUTUBE VIDEO INSTRUCTABLE – http://www.youtube.com/watch?v=6uKcXURNtJg
Step 1: Parts that you will need
All of the parts for this project should be readily available from hardware and small electronics stores. Me, myself, living in the heart of Somerset I can pretty much guarantee they are available pretty much any where. However if you do have trouble finding the parts then a kit excluding the arduino is for sale here .
Right, Parts Needed:
1x Arduino
1 x LDR – Light diode resistor
1 x 6V Buzzer (Five volts if possible)
1 x breadboard or PCB
1 x 10k Resistors
4 x 560 ohm Resistors
3 x Leds – Preferably Red, Green and Yellow.
PLEASE IGNORE THE RESISTOR DIAGRAM BELOW. YOU ONLY REQUIRE ONE 10K RESISTOR AND INSTEAD FOUR 560 OHM RESISTORS.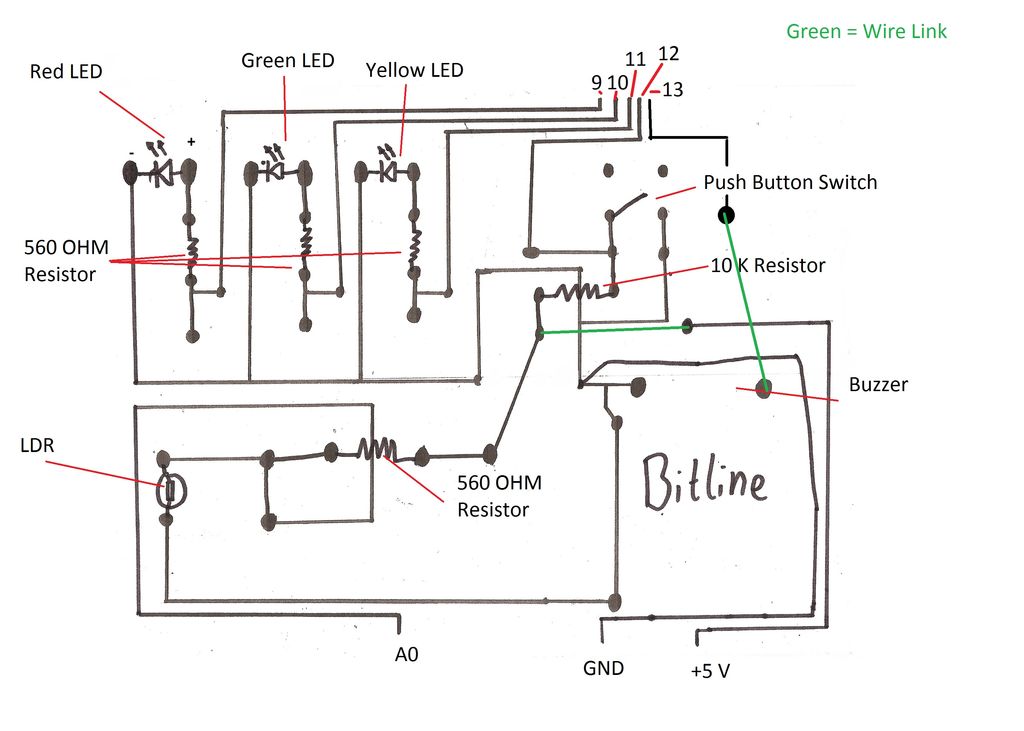 Step 2: Time to get wiring
If you cannot see the images here for any reasons I have made them available here – http://www.bitline.co.uk/index.php?cID=78
PLEASE NOTE THAT ONE OF THE SCHEMATICS BELOW HAS WIRING INSTRUCTIONS ON.
Below you can see the schematics. If you have a problem reading these then, please, contact me.
[box color="#985D00″ bg="#FFF8CB" font="verdana" fontsize="14 " radius="20 " border="#985D12″ float="right" head="Major Components in Project" headbg="#FFEB70″ headcolor="#985D00″]1x Arduino
1 x LDR – Light diode resistor
1 x 6V Buzzer[/box]
For more detail: Arduino Laser Security Shield