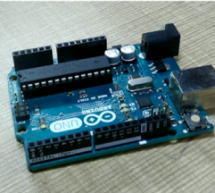 Many times we make projects using Arduino, while working with it we need to connect it with PC to upload program using USB cable. In this tutorial, I'm going to replace this USB cable with a wireless programming shield. This shield is build using a Bluetooth module HC-05. Program Arduino boards without using traditional USB cables. By using cheap Bluetooth module HC-05 you can Program the Arduino boards wir ...
Read more

›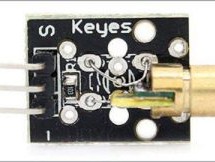 This project turns on and turns off a laser LED after every second. It can also monitor its own supply voltage level. The circuit can be extended for use as an audio-visual alarm system for security applications. Keyes KY-008 laser transmitter module is available at www.ebay.com. But there is a lot of confusion regarding this particular module; it is impossible to find its datasheet or any kind of related d ...
Read more

›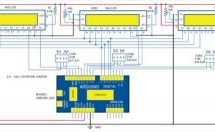 Here we describe interfacing of three 16×2 LCDs with common data lines to an Arduino Uno board. Four data lines of all the three LCDs are connected to digital pins of the Arduino Uno board but data displayed on each LCD is different. Circuit and working The circuit diagram for interfacing of three LCDs with Arduino is shown in Fig. 1. It is built around popular Arduino Uno board (BOARD1), three 16×2 ...
Read more

›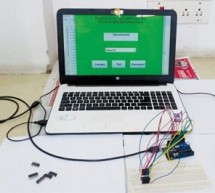 Testing of digital electronic systems generally involves applying a set of test stimuli to inputs of the device-under-test (DUT) and analyzing responses of the system using a response analyzer. If the DUT generates correct output responses (also called the golden response) for all the input stimuli, the DUT is regarded as fault-free. Those DUTs that fail to meet the golden response are regarded as faulty or ...
Read more

›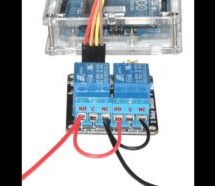 There is a wide application of linear actuator where one wants to move something but they do not want to physically get involved in moving it. There are quite a number of ways to control linear actuators depending on the application and the user experience required. These are the key aspects determining the setup and the way this setup will operate. It is common for most movements to involve manual control ...
Read more

›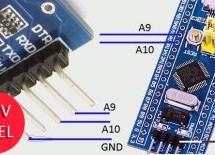 Described here is a simple way to load a program without bootloader. An additional thing needed is a USB to Serial/UART/TTL adapter (3.3V level). Connect the USB to Serial board as follows, and power up the STM32 board from a USB port/power supply. • RXD – A9 • TXD – A10 • GND – GND I assume you have already installed the Arduino IDE. Next, you need to go to 'Board Manager' under 'Tools' and install the sup ...
Read more

›
Nowadays smartphones can be used to control a host of electrical and electronic devices including motors, music systems and lights. Here we present an Arduino based robot car, which can be controlled using an Android smartphone having ArduinoRC application installed in it. This bot receives commands from your smartphone with the help of a Bluetooth module. The authors' prototype is shown in Fig. 1. Authors' ...
Read more

›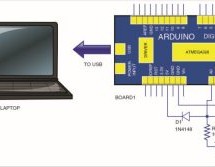 Oscilloscopes are an essential tool for electronics hobbyists and professionals to verify that their designs would work as expected. PC-based oscilloscopes score over standalone oscilloscopes due to their compact size, low cost and ability to do offline analysis. Here we describe how you can make your own oscilloscope at a very low cost using your PC and an Arduino board as the hardware for signal acquisiti ...
Read more

›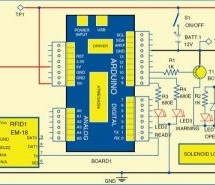 RFID is a non-contact, automatic identification technology that uses radio signals to identify, track, sort and detect a variety of objects including people, vehicles, goods and assets without the need for direct contact or line-of-sight contact (as found necessary in bar code technology). RFID technology can track movement of objects through a network of radio-enabled scanning devices over a distance of se ...
Read more

›
LCDs are widely used in applications like token-display machines in smalls and supermarkets, order number displays in restaurants and café, and so on. The project presented here demonstrates the working of Arduino based message display on LCD using Bluetooth. Circuit and working This circuit uses Arduino board that accepts data via HC-05 Bluetooth module from various types of gadgets like Android bas ...
Read more

›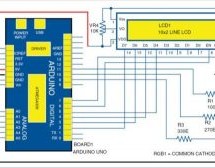 Red, green and blue (RGB) are the basic colours for generatingvarious other colours by mixing colours in a particular proportion. This technique is used in TVs, mobiles etc. Similarly, Web designing using HTML or any other language requires the hex code of a particular colour in the design. Presented here is the circuit for learning the concept of RGB colour code generator and the respective hex codes of th ...
Read more

›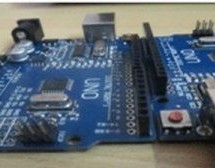 Networking is the one of the most important mean of communication used to communicate with people who are connected to one. Most of the available network communication modules in the market are not affordable by the overall end users. Considering this problem, a prototype has been developed, which can be used as networking module. It is made up of cheap and easily available standard modules. Working of the ...
Read more

›