Advantech, a leading embedded computing solutions provider, is thrilled to announce the release of its new Type 7 COM Express Basic Module designed for a ruggedized applications, SOM-9590. The SOM-9590 provides an ideal foundation for new product designs due to its server-grade computing capability. With all solder-down design components, SOM-9590 meets the requirements of users requiring a reliable, high-performance solution. Target applications include railway transit, defence, mining, and communications requiring high computing power, data bandwidth, and the ability to work in harsh indoor and outdoor environments.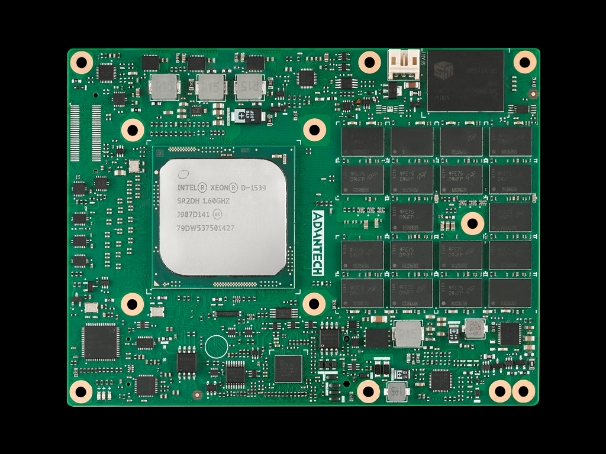 Integrated Server Performance And Enhanced Security Protection
SOM-9590 delivers powerful server-grade performance powered by Intel ® Xeon® processors and integrated with two 10GBASE-KR interfaces to help fulfill ever-increasing computing application demands in the area of edge networks. Users can take advantage of SOM-9590's native 10GBASE-KR interface to design 10GbE carrier boards. TPM 2.0 is secured with 128bit capability (up to 256bit), a secure boot, and frozen BIOS to provide the best possible protection for user applications.
Reliability Guaranteed For Mission-Critical Applications
SOM-9590 features many design elements that fulfill the requirements of demanding environments. All components, including the processor, DDR4 memory, and SSD storage use onboard design, meet industrial-grade standards, and are IPC-A-6012 class 3 compliant in the hardware and layout phase. With certification from the MIL-STD-810G standard, SOM-9590 meets the exact demands of military applications. It's capable of survival at vibration 7.7Grms (Method 514.7C-4), operating at a 50,000 feet altitude (Method 500.6 Procedure II), and it can perform in a -40 ~ 85°C temperature range. SOM-9590 has the IPC-A-610G Class 3 qualification—defined by IPC-org as fulfilling the highest quality product demands for critical applications.
Read more: ADVANTECH RELEASES SOM-9590: DEFENCE-GRADE COM EXPRESS FOR EMPOWERING DEFENCE & COMMUNICATION APPLICATIONS