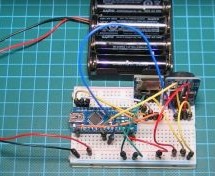 Introduction A data logger is an electronic device or instrument that records data over a period of time. It allows the user to record time or location stamped data which can be viewed at a later time or real time. Irrespective of the type of data being logged or the kind of data logger, these devices usually contain two main units, the sensor unit and the storage/communication unit. The sensor unit may inv ...
Read more

›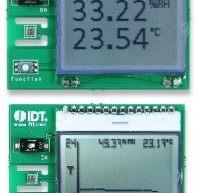 California based company, Integrated Device Technology (IDT) has recently announced their new HS300x family of MEMS high-performance relative humidity (RH) and temperature sensors of dimension 3.0 × 2.41 × 0.8 mm DFN-style 6-pin LGA. Currently, there are four devices in this family—the HS3001, HS3002, HS3003, and HS3004. They are all the same from the view of functionality but differ slightly in terms of th ...
Read more

›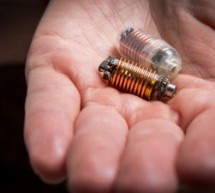 Researchers led by Kourosh Kalantar-Zadeh, at RMIT University in Melbourne, Australia have developed the first intestinal gas-diagnosing pill to be tested in human. During the study, which was published on January 8 in Nature Electronics, the swallowable gas sensors were tested in seven healthy participants who ate low and high-fiber diets. This 'smart' capsule is capable of measuring levels of Oxygen, Hydr ...
Read more

›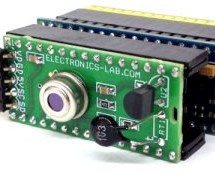 This 3 in 1  shield for Arduino Nano helps to develop various temperature measuring applications. Arduino Nano shield consists of 3 different types of temperature sensors. MLX90614 non-contact temperature sensor 10K NTC Analogue Temperature Sensor Programmable Resolution 1-Wire Digital Thermometer With this board is easy to make a contactless temperature meter using the earlier published 4 Digit display Nan ...
Read more

›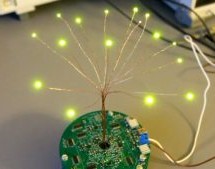 The beautiful workmanship in [Andrew]'s LED tree is gorgeous all on its own, but of course there's more going on than meets the eye. This  LED tree can be blown out like a candle and it even playfully challenges a user to blow out all the lights at once in a single breath. Some of you may remember the fascinating example of an LED you can blow out like a candle which had the trick of using the LED ...
Read more

›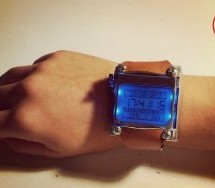 I apologize if you find spelling errors or nonsensical text, my language is Spanish and has not been easy to translate, I will improve my English to continue composing instructables. In today's technology, especially electronics have come a long way, to the point that today can make projects a few years ago were very complicated to implement, thanks to these technological advances are now able to design and ...
Read more

›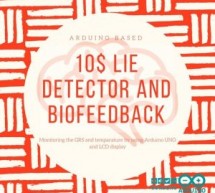 This tutorial will explain how to build a machine for biofeedback. But first a bit of theory. What is biofeedback? [Font: Wikipedia | https://en.wikipedia.org/wiki/Biofeedback] Biofeedback is the process of gaining greater awareness of many physiological functions primarily using instruments that provide information on the activity of those same systems, with a goal of being able to manipulate them at ...
Read more

›
Adafruit has announced the availability of the LPS33HW Water Resistant Pressure Sensor offering 24bit pressure data and 16 bit temperature data, allowing it to provide users with pressure readings with +/- 0.1% hPa accuracy. The small sensor can measure from 260 to 1260 hPa and is able to withstand pressure up to 20 times its measurement range. Sometimes you need to sense pressure in a damp or caustic envir ...
Read more

›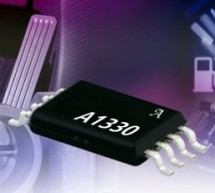 Angle sensing has always been challenging particularly in industrial and automotive environment because of the need for precise and accurate sensing at high speeds. Allegro Microsystems developed the A1330 an integrated circuit angle sensor that works based on magnetic Circular Vertical Hall (CVH) technology. Unlike other angle sensors Allegro's A1330 does not require a concentrator or a complex packaging a ...
Read more

›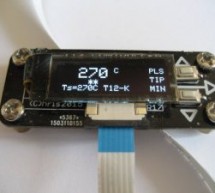 Theory of operation In series thermocouple soldering iron have a thermocouple in series with their heating element and thus only have two connections (actually one more which is electrically connected to the tip for ESD purposes). When a voltage is applied to the two terminals the tip heats, when unpowered the thermocouple voltage can be read. This controller uses a skipped variable puls modulation to keep ...
Read more

›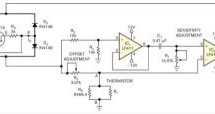 Designers often use thermistors rather than other temperature sensors because thermistors offer high sensitivity, compactness, low cost, and small time constants. But most thermistors' resistance-versus-temperature characteristics are highly nonlinear and need correction for applications that require a linear response. Using a thermistor as a sensor, the simple circuit in Figure 1 provides a time period var ...
Read more

›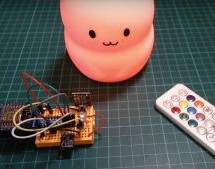 Sometimes a clever hack of an off-the-shelf product can come courtesy of its dismantling and hardware modification, but at other times the most elegant of hacks can be made without ever turning a screwdriver. [Brian Lough] was given the request by a friend to replicate a commercial child's night light that changed colour with temperature, and his response was to use an off-the-shelf colour changing kids lig ...
Read more

›