The 1Mbit SPI FRAM is in an 8-pin wafer level chip scale package (WL-CSP) which is an additional package variant to the existing product MB85RS1MT. In comparison to the industry standard SOP-8 package, the new WL-CSP package, which measures 3.09 x 2.28 x 0.33 mm, reduces the surface mounting area by 77%, and the device height by 80%.
The WL-CSP package makes FRAM a non-volatile memory solution for wearable and sensor applications. These fast expanding markets request ultra small device dimensions, extremely low power consumption for maximum battery lifetime, and high endurance in write cycles in case of real time logging, which matches the characteristics of FRAM.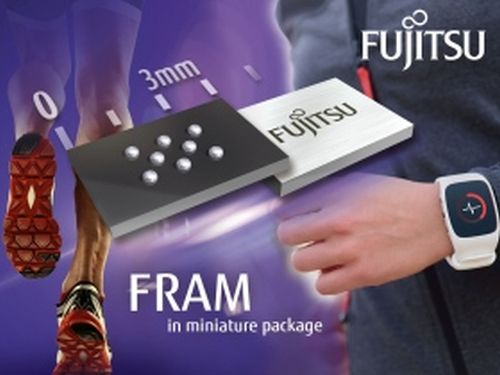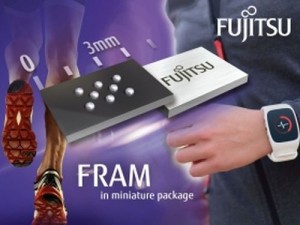 Non-volatile memories such as EEPROM or Flash memory offer an endurance in the range of only 1 million write cycles, the MB85RS1MT FRAM device provides an endurance of 10 trillion read/write cycles, allowing a flexible storage of real time logging data. In contrast to the block access of EEPROM and Flash, FRAM can be overwritten fast and flexibly into each memory cell without any waiting time. As a result, FRAM consumes much lower energy in the writing access, and contributes a great deal to extend the battery lifetime, especially for wearable/sensor applications with frequent logging functions. The 8pin WL-CSP package, which is only 5% of the mounting volume of SOP-8, allows the customers to realise more miniature applications.
The MB85RS1MT device operates in the voltage range of 1.8V – 3.6V and guarantees a data retention of 10 years at 85°C. The operation temperature ranges from -40°C to 85°C. This device is being offered in SOP-8 and 8pin WL-CSP packages.
Fujitsu Semiconductor Europe; www.fujitsu.com/de/
For More Details: 1Mbit SPI FRAM comes in chip-scale packaging