One thing I love about the computer industry is that the records are meant to be shattered. You can never wear the crown for long period, it is like Game Of Thrones, but unlike this, you never last on that throne and in the Mini PC Industry, thrones are meant to be shaken. A few times last year, we talked about the Mi Mini PC Project, a powerful mini computer with focus on it's size. The Mi Mini PC despite its small size could still stand toe to toe with some modern laptops, and the team behind it went on securing over a million dollars in crowdfunding on Indiegogo. Zotac ZBox Pico PI225 is a similar mini PC but it is way smaller than the Mi Mini Pc project.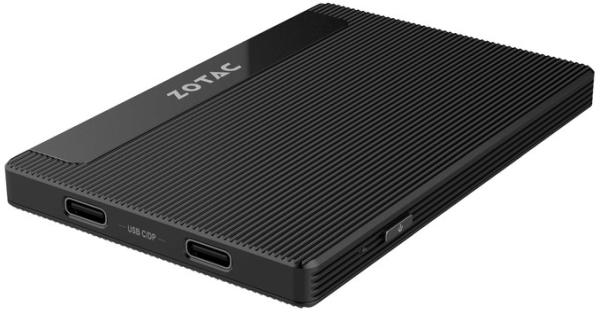 The Zotac ZBox Pico PI225-GK mini PC is a computer with a super small form factor; the computer is about the size and thickness of a standard 2.5″ solid state drive (SSD). The Zotac Pico measures just about 95.4 x 63 x 8 mm and comes pre-installed with Microsoft's latest Windows 10 operating system.
At the core of the Zotac ZBox, Pico PI225-GK is the Intel Gemini Lake processor, and it is accompanied with a 4GB of RAM and an inbuilt 32GB of internal storage. Unlike the Mi Mini PC which is not really a direct competitor to the Zotac ZBox, the Zotac doesn't have any built-in display screen and comes with limited ports. Nevertheless, it is still capable of driving a 4K display.
The Zotac Pico PI225 comes with Bluetooth 5 connectivity, 5G WiFi (802.11ac using an internal antenna), 2x USB 3.0 Type-C ports and a universal power adapter with interchangeable tips. The Pico features a silent performance (zero noise) and an ultra-compact design
Zotac Pico Pi225-GK (ZBOX-PI225-GK-W2B) specifications include :
SoC – Intel Celeron N4000 dual-core "Gemini Lake" processor @ 1.1 / 2.6 GHz with 12 EU Intel UHD Graphics 600 (6W TDP)
System Memory – 4 GB LPDDR4
Storage – 32 GB eMMC flash, micro SDXC slot
USB – 2x USB 3.0 type C connectors with data and DisplayPort Alternate mode support
Connectivity – 802.11ac WiFi 5, and Bluetooth 5
Misc – Power button, power LED
Power – 1x micro USB port
Dimensions – 95.4 x 63 x 8 mm
Read more: ZOTAC ZBOX PICO PI225-GK IS A MINI PC ABOUT THE SIZE OF A 2.5″ SSD