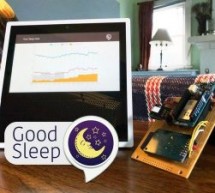 Get the best night's sleep by using Alexa and Arduino to monitor the conditions in your bedroom, make suggestions and help you sleep better. Story Introduction and Idea Everyone deserves a good night's sleep. Without good sleep, it's difficult to function at full speed and face the day ahead. A restless night can happen for many reasons, and it's hard to diagnose. That's where Good Sleep comes in. With Good ...
Read more

›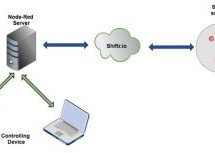 A web-controlled smiling snowball based on the Arduino MKR1000 controlled via WiFi using MQTT, Shitr.io and Node-red. Story Introduction This project started with the intention to be a proof of concept for some techniques that I wanted to learn. Since it is winter now and it started to snow, I came up with the idea to build it as a smiling snowball. The main goal is to make the Smiling Snowball controllable ...
Read more

›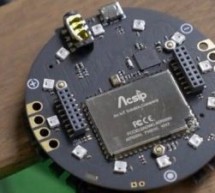 ReSpeaker Home Automation Sample using Arduino MKR1000, Microsoft Cognitive Service Speech API, Api.ai and MQTT Story Probably you all heard about ReSpeaker, it is a hackable open hardware voice inteface. It is a development board based on Mediatek's MT7688 WiFi module and runs on OpenWrt. You an program it using Arduino, Python, Node.js, Lua and C/C++. ReSpeaker also supports various hardware add-ons like ...
Read more

›
ESP8266 is a great thing for starting to Wifi And IOT It is also cheap and be used for making cool projects connected to the Internet .Learn how to make a simple IOT Project with it .The ESP8266 WiFi Module is a self contained SOC with integrated TCP/IP protocol stack that can give any microcontroller access to your WiFi network. The ESP8266 is capable of either hosting an application or offloading all Wi-F ...
Read more

›
In this project you're going to monitor the status of a door using an ESP8266. The goal of this project is to show the endless possibilities that this $4 WiFi module offers when integrates with a free platform that I'm about to show you. Before continue reading this project, please complete the following tutorials or use them as a reference: How to get started with the ESP8266 How to Install the ESP8266 Boa ...
Read more

›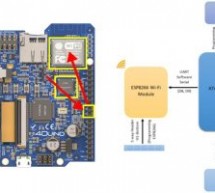 In this project, we will learn how to get started with the ESP8266, an inbuilt 4Duino Wi-Fi module and connect to a local access point. The 4Duino display is used to print the status of the connection for debugging purposes. UNDERSTANDING THE SOFTWARE The ESP8266 Wi-Fi Module is embedded in the 4Duino. ATmega32U4 communicates and controls the ESP8266 via Software Serial with a default baud rate of 115200 bp ...
Read more

›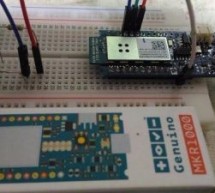 Using Arduino/ Genuino MKR1000 to connect ARTIK Cloud control I/O light LED. Story https://www.arduino.cc/en/Main/ArduinoMKR1000 A simple project let mkr1000 connect to artik cloud, but it took me 2 weeks time. Since there are few tutorials for using MCU to connect artik cloud through WIFI, I write my way here. Or you can see example here (Not Easy to find the official tutorials). step 1. Prepare: You need ...
Read more

›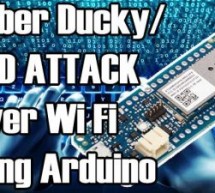 Arduino MKR1000 as a HID, for performing HID penetration testing over WiFi networks. Story Today I have an Arduino MKR1000 which is a board with built-in wifi chipset specially designed for IOT projects. Recently I came to know that, this little board can act as a Human Interface Device such as a keyboard or a mouse. So I thought of using it for some HID attacks over WiFi. In this video, I will show you a s ...
Read more

›
There are but a few things better than (succesfully) programming and using your Arduino. Surely one of those things is using your ESP8266 as an Arduino with WiFi! In this instructable I will show you an EASY way to get the ESP8266 working as a web server AND accessing that server from anywhere (over the internet) Also if you find this instructable interesting, perhaps you'll like some of my others: EASY Ard ...
Read more

›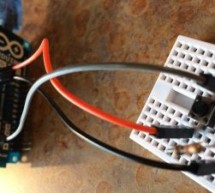 A project using the AmazonDRS library for WiFi101 connected Arduinos. Just like the AWS IoT button, but completely open source! Things used in this project Story TL;DR; Buy some stuff on Amazon by clicking a pushbutton connected to your WiFi101 enabled Arduino. It's like a Dash button, but cooler! Motivation Back in the Spring of 2015 Amazon released the Dash Button to help facilitate frictionless product p ...
Read more

›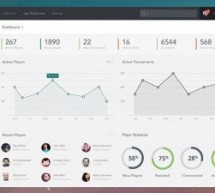 This project is about building a simple weather dashboard using MKR1000 and Losant platform. Things used in this project Story Introduction This project shows you how to make use of MKR1000 and Losant platform to build a simple weather dashboard monitoring temperature and humidity.  With additional sensors, other weather metrics can be collected and analyzed so that more complex dashboard can be built. Setu ...
Read more

›
Do you want make a little and simple Smart Object? Do you want a platform that leave you to express your idea, without many complications? Story Do you want make a little and simple Smart Object? Do you want a platform that leave you to express your idea, without many complications? Arduino MKR1000 & Cayenne is the solution! Arduino MKR1000is a tiny and smart Arduino that have wifi101 shield inside. You ...
Read more

›