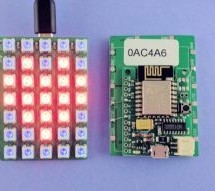 Last Thursday I had a lot of fun doing a workshop at my college (UMass Amherst) where I taught students to use a WiFi-enabled Color LED matrix combined with Javascript programs to create animations displayed onto the LED matrix. The matrix is made of 5×7 WS2812 (NeoPixel) LEDs. I've actually designed it two years ago and wrote a blog post about it. Back then I was using an Arduino-compatible SquareWear Mini ...
Read more

›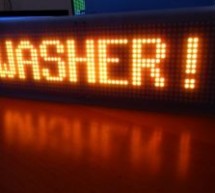 My MQTT network at home moves up and down a lot of messages: sensor values, triggers, notifications, device statuses,… I use Node-RED to forward the important ones to PushOver and some others to a Blynk application. But I also happen to have an LED display at home and that means FUN. LED displays are cool. Your team's score, your number in the IRS queue, the estimated arrival time for your next commute,… No ...
Read more

›
I will show you how to send emails from any ESP8266 wifi module using Gmail server. This instructable relies on Arduino core for ESP8266 WiFi chip, which makes a self-contained microcontroller from it (no need of AT commands and master devices). You can connect sensors and get notified by email about changes. Before we begin Required hardware: Any ESP8266 (I'm using ESP8266-07 ebay link). In my case USB UAR ...
Read more

›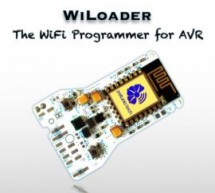 Introducing WiLoader, The new generation of programmers Have you ever thought of programming wirelessly ?    WiLoader is the answer. But HOW ???? WiLoader easily connects to your WiFi network, then you can program your AVR, Arduino boards and Robots. It doesn't need any kind of cable for computer connection, especially those huge old USB ones. Because it employs WiFi, even your smartphone can be used to con ...
Read more

›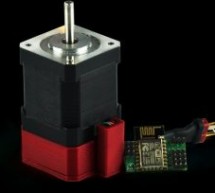 Revolutionizing Motor Control If you're a tinkerer or creator, motors are an essential part of your many projects. We are accustomed to controlling them with Arduino boards and creating a mess just to solve a simple problem. Everyone has an idea that needs a motor, but not everyone appreciates the effort required to get one up and running. We are OpenMYR, and we are changing the way you control motors. We'v ...
Read more

›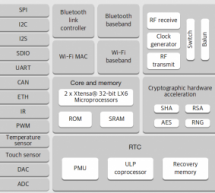 It has been about one year since the announcement of ESP32 SoC and the beginning of its beta testing for some developers. Last Month we covered the release of ESP-WROOM-32 module datasheet,  which promised that "New SDK features, tutorials and example applications will be released over the next few months.". The ESP-32 datasheet was released at the end of August. So let us discover the details of ESP-32 SoC ...
Read more

›
The Arduino Uno WiFI Rev2, available now from RS Components, comes with a brand new 8-bit microprocessor from Microchip, and an onboard IMU. The WiFi connection is made secure with the new ECC608 crypto chip accelerator. The kit has 14 digital input/output pins (of which six can be used as PWM outputs), six analog inputs, a 16MHz ceramic resonator, a power jack, an ICSP header, a USB connection and a reset ...
Read more

›
Readers of Hackaday are no strangers to using a microcontroller to push data to WiFi. Even before the ESP8266 there were a variety of ways to do that. Now Microchip is joining the fray with a $29 board called the AVR-IOT WGthat contains an 8-bit ATmega4808, a WiFi controller, and hardware-based crypto chip for authenticating with Google Cloud. The board has a section with a USB port for charging a battery a ...
Read more

›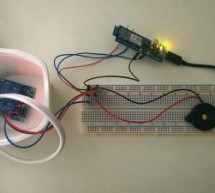 If the WiFi connectivity goes down, this will reboot the router. Story There are times you are unable to connect to your WiFi router. This can be especially problematic when you have increasing number of WiFi dependent IoT devices. Many times, the remedy is to simply reboot the router i.e. unplug the power cord, wait for a few seconds and plug it back again. If you do not want to go through that trouble on ...
Read more

›
Electronic greenhouse controlled real-time, because the environmental conditions change continuously, so we need an efficient monitoring. Story Overview The greenhouse environmental conditions change continuously, for this reason we need an efficient monitoring. There are a lot of benefits of using an automatic system, for example less work or most important the users can check their own investments from th ...
Read more

›
One of the essential elements of building IoT project is the ability to connect devices. Wi-Fi and Bluetooth are good low cost choices, but they work only at close ranges, or in hotspot areas. When the device needs to be at a remote location GSM is a good and easy to setup option. In this Instructable, I will show you how easy it is to send and receive SMS messages over GSM with Arduino. In the following In ...
Read more

›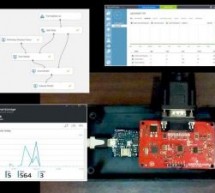 Smart cloud-based vehicle OBD-II diagnostics logging and analysis using Azure IoTHub, Stream Analytics, and Machine Learning. Story Overview Cloud-based services are going to be a central part of IoT (Internet of Things) development. This project explores a potential real-world application, automobile engine data collection and analysis. All vehicles include an OBD-II diagnostics port that provides access t ...
Read more

›